Philippines Travel; Feel the Relaxing Lifestyle of the Philippine Islands

Philippines travel welcomes you to the "Pearl of the Orient". The Philippines is an archipelago consisting of approximately 7,107 islands spread throughout tropical Southeast Asia.
Philippines travel is all about enjoying the unique Philippine environment and the warmth and friendliness of the Filipino people.
You can just as easily spend some time in the bustling metropolis of Manila or relaxing under a palm tree on some of the finest beaches in the world.
The Philippines boasts some wonderful marine life, countryside, city, shopping malls and tourist spots. The country is also rich in cultural heritage including the UNESCO heritage site Banaue Rice Terraces in Ifugao.
The three main areas of the country are; Luzon in the north, Visayas in the center, and Mindanao in the south. The capital is Manila, which is on the island of Luzon. The area around Manila is also called the National Capital Region consisting of several cities including Quezon City. Cebu City is the primary city in the Visayas, which was the landing place of the Spanish explorer Ferdinand Magellan. Davao is the main city in Mindanao.
The Philippine Islands are situated near the equator, so the climate is tropical year around. Hot and humid describes the typical day in the Philippines. However, in the mountainous areas it can be quite cool, such as in Baguio City.
Scuba diving, snorkeling, and other marine activities are very popular around the island chain. The Philippines is known to have one of the most diverse marine eco-systems in the world. You will be amazed and delighted at the coral reefs, tropical fish, manta rays, and the gentle whale sharks.
Philippines Travel - Boracay Beach
The number one Philippines travel tourist spot for both foreign and domestic tourists is Boracay. Boracay is a small island located in the center of the Philippines. It has been recognized as one of the best beaches in Asia and it certainly deserves the title. It has an approximately six kilometer long beach with numerous resorts lining its shore. There are accommodations to fit everyone's budget, from five star all-inclusive resorts, to pension houses for backpackers.
The primary points of entry into the country are through Manila's Ninoy Aquino International Airport (NAIA), Clark Airport (Diosdado Macapagal International Airport) at Angeles City, Cebu City (Mactan-Cebu International Airport), and Davao City (Francisco Bangoy International Airport).
Through our Philippines travel guide we bring you the most current and relevant information related to Philippines travel so that you can truly enjoy your time around the islands.
* PH Continues Winning Streak in Shanghai; Wins "Best Tropical Island Destination" Award
The Philippines was given the "Best Tropical Island Destination" award by the prestigious Shanghai Morning Post...
* Holidays to the Philippine Islands; a Top Travel Destination
Located in the eastern edge of Asia, the Philippines is home to over 7,000 islands...
* Philippines Recognized as a Top Destination by TripAdvisor, Lonely Planet
The beauty of the Philippines keeps shining through as White Beach, Boracay tops the list...
* Hottest Destinations 2013 - PHL 'Fun' Reaps Global Recognition From Travel Magazines
Conde Nast Traveller and Travel+Leisure, recently listed the Philippines as one of the hottest destinations for 2013...
Philippines Travel by Region
Cordillera Administrative Region (CAR)
Provinces: Abra, Apayao, Benguet, Ifugao, Kalinga, Mountain Province and regional center Baguio City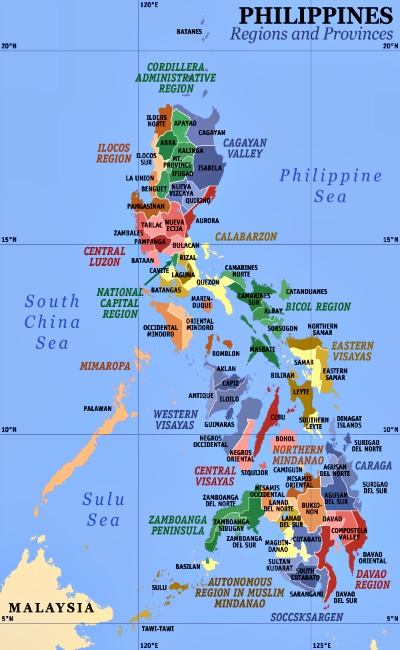 Click to Enlarge
• Kalinga Philippines' Self-Identity is the Key to its Tourism Promotion »
With its rich culture, history, nature and local industry, Kalinga has vast potential to flourish as a tourist destination
Cordillera
• Cordillera Administrative Region Noted for Sports and Adventure Tourism »
Carving out a niche in sports and adventure tourism for this mountainous region...
• Cordillera Region and DOT Pursue Extreme Sports, Eco-Adventure »
The region is known for its majestic mountains and rivers...
Baguio
• Baguio Tourism Revved up by Special Tourist Police on Bicycles »
Tourists visiting Burnham Park and adjacent Rose Garden now feel safer...
• Baguio Philippines : The Summer Capital of the Country »
When you speak of Baguio, you think of the cool weather that clips to a cooler but still bearable 14 degrees Celsius....
• The Annual Baguio Flower Festival Fills the Air With Excitement »
With the theme, "Our Festival…Yours Too!" the Baguio Flower Festival attracts an average of a million local and foreign visitors...
Benguet
• Sustainable Eco Tourism Organic Farms Sprouting Up in Benguet »
Sustainable eco tourism organic farm...
• Trekking Mt Pulag in Benguet Province »
Experiencing Mt Pulag and the spectacular beauty and serenity of the surrounding area is the goal...
Ilocos Region (Region I)
Provinces: Ilocos Norte, Ilocos Sur, La Union and Pangasinan - regional center: San Fernando City, La Union
Ilocos Region
* Dragon Fruit Spews Treasure for Ilocanos
Dacuycuy began cultivating the fruit in her backyard until word spread of the fruit's curative effect...
• New Tourism Trail Explores Other Side of Ilocos Norte »
There is more to Ilocos Norte than beaches and famous landmarks...
• Ilocos Norte Unveils New Tourist Attraction »
The newest tourist destination in the province that showcases the indigenous arts, practices and cultures of the residents has been unveiled in Nueva Era...
• Ilocos Norte Tourism Continues to Boom, Benefits Locals »
The preferred tourist destination because of its rich cultural and historical heritage and diverse activities...
• Ilocos Norte's own Pines City to be Enhanced »
The bucolic town of Adams, the province's only mountainous sanctuary is heading for more enhancement...
• Attractive Tourism Adventure Hub Launched by Ilocos Town »
The tourism adventure zone was dubbed, "Narvacan Outdoor Adventure Hub (NOAH)."...
• New Bacarra Museum: An Oasis of Religious and Cultural Artifacts »
Next to the Bacarra church is a museum of religious and cultural artifacts housed inside the restored St. Andrew the Apostle convent...
• Ilocos Norte Philippines Ilocandia's Fruit Farm is Also an Agri-Tourism Site »
The first dragon fruit plantation in the Ilocos Region is now a sight to behold..
• Ilocos Region Tourism Scene Concentrates on Family Vacations »
Family getaways and a chance to experience the Ilocano lifestyle....
Laoag
• Laoag Philippines SandBoarding Draws More Tourists »
There is no other place in the country like Laoag which boasts of this unique sand formation...
La Union
• Master Plan Breathes New Life into La Union Freeport Zone »
A new development plan will be breathing new life to the Poro Point Freeport Zone (PPFZ) by transforming it into a premier business and leisure destination in Northern Luzon...
• La Union Beaches, Golf, Surfing, Snorkeling and More »
La Union is the smallest province in Region I, on Luzon Island, whose bustling industries mark the beginning of what used to be called "Marcos Country."...
Vigan
• Well-Preserved Vigan Heritage is also Model for Community Efforts
• UNESCO Declares Vigan City World Heritage Management Awardee »
Vigan was listed by UNESCO as a World Heritage Site on December 2, 1999...
Cagayan Valley (Region II)
Provinces: Batanes, Cagayan, Isabela, Nueva Vizcaya, and Quirino - Cities: Cauayan City, regional center: Tuguegarao - commercial center: Santiago City
• Hidden Treasures of Sta. Teresita, Cagayan
Beyond the rustic simplicity of Buguey, Cagayan's former biggest barangay, Barrio Namunit, is a sleeping tourism gem waiting to be polished...
• "I Am The Rock", Campaign of the Century for St. Peter's Metropolitan Cathedral
Signified by majestic iconic structures like the centuries-old St. Peter's Metropolitan Cathedral...
• First Basco Museum Established
The first Basco ecclesiastical museum in Batanes province...
• Vannamae, What?
The first time residents of Northern Philippines heard the name vannamae, most thought it was a lady's name...
• Our Lady of Piat: Part of Cagayan's Culture and Source of Courage for Cagayanos
These are just but a few of the many graces, miracles or extraordinary favors granted to countless devotees of the Lady...
• Batanes, "Home of the Winds," Beckons Tourists »
Batanes, comprising 10 islands in the Luzon Strait in the north of the Philippines between Luzon and Taiwan, beckons local and foreign tourists...
• Palaui Island, Philippines in CNN's Top 10 Best Beaches in the World »
Palaui Island ranked 10th in Cable News Network's (CNN) choice of 100 best beaches in the world...
• Cagayan's Callao Cave: Home to an Ancient Filipino »
Cagayan also takes pride in having historical as well as cultural and religious landmarks...
• Cagayan Valley Goes for Image Branding to Attract More Investors and Tourists »
Tagged as "Bountiful Cagayan Valley Region," the image highlights abundant natural resources...
Nueva Vizcaya
* Nueva Vizcaya Women Turn Water Lilies Into Cash
It all started with a massive clean-up of the water lilies...
• Threading the Foot Trails of Nueva Vizcaya

• Lower Magat Eco-Tourism Park - Nueva Vizcaya's Eco-Tourism Center »
This town connotes a colorful fruit called Bignay that abounds in its mountains...
• Nueva Vizcaya Philippines and Ammungan Park: a Center of Cultural Exchange and Preservation »
If you want your curiosity about Nueva Vizcaya to be satisfied, visit the province...
• Nueva Vizcaya and the Capissaan Caves: A World-Class Tourist Attraction »
Now touted as the fifth longest cave system in the country...
Central Luzon (Region III)
Provinces: Aurora, Bataan, Bulacan, Nueva Ecija, Pampanga, Tarlac, and Zambales - Cities: Balanga, Malolos, Meycauayan, San Jose del Monte, Cabanatuan, Gapan, Muñoz, Palayan, San Jose, Angeles, Mabalacat, San Fernando, Tarlac, Olongapo and Subic
• Zambales has Bounced Back From Pinatubo's Wrath; a Rising Tourist Destination »
Towards the northeast of Olongapo City, Philippines is an imposing sight -– the hitherto dormant Mt. Pinatubo...
Angeles/Clark
• Prism Lounge-The Newest Lounge Bar in Clark Pampanga Philippines »
Widus Resort and Casino Prism Lounge; an upscale bar that offers different cocktails in a relaxing atmosphere...
• Visit Clark Philippines for World-Class Leisure and Recreational Facilities »
Clark has also transformed itself into a prime tourism destination in Northern Philippines...
• Clark Airbase Travel Leisure Guide - Mimosa Leisure Estate »
Fine dining restaurant, wine bar and a charming London Pub...
• Clark Philippines; Nayong Pilipino sa Clark, Highlighting the Best of the Regions »
The 45-acre park contains replicas of famous edifices of pre-colonial and colonial eras of Philippine history...
• Angeles City Guided City Tour »
Take a walking tour and experience the Kapampangan regard for the culture and the arts...
Bulacan
• Bulacan Philippines Set to Open Extreme Sports Water Park »
Set to launch a water park, which caters to a variety of extreme sports...
Subic Bay
• Subic Tourism Had a Fruitful Year According to SBMA » Marking a year of outstanding growth in its tourism promotions program...
• Conference Facility Subic Bay Exhibition & Convention Center Cited as Convention Capital »
Subic Bay Exhibition & Convention Center is the premier conference facility in Central Luzon...
• Subic Bay Tourism - It's More Fun-tastic in Subic Bay! »
Explore, Experience, and Enjoy Subic Bay Tourism...
• Subic Bay Introduces Hop-On, Hop-Off Bus Transport for Tourists »
Subic visitors can buy a one-day-pass ticket from WoWCard kiosks...
• Subic to Become First Philippine Skydiving Destination »
World-class skydiving at Subic Bay Freeport...
Pampanga
* Pampanga Cuisine and Culinary Delights
Kapampangan cuisine: This is paradise...
* Vacations are Best Spent in Pampanga Resorts
Pampanga offers some the best places where rest and relaxation can be savored...
National Capital Region (NCR)
16 cities: Manila itself, Caloocan, Las Piñas, Makati, Malabon, Mandaluyong, Marikina, Muntinlupa, Navotas, Pasay, Pasig, Parañaque, Quezon City, San Juan, Taguig, Valenzuela
Metro Manila
• Yats Wine Cellars Publishes List of Wine Corkage Charged by Manila Restaurants
• Roxas Boulevard, Manila to be Restored to Serve Pedestrians – DOT
It is meant to restore Roxas Boulevard to the people in order to serve—the pedestrians...
• Mall of Asia in Manila
SM Mall of Asia is supposed to be the mall that is the biggest in the Philippines...
• Manila Taxis - Taxi Stings in Manila
Always make sure the taxi meter is not covered and is clicking over from the start point...
• Best Restaurants in Manila Joined by Re-Opened Spiral »
Spiral, Sofitel Manila's flagship restaurant, introduces unparalleled gourmet offerings...
• Ternate - A Beach Paradise Just South of Manila »
Feast your eyes on the picturesque scenery as you travel one hour and a half from Manila...
• "Conscripcion" at Manila Museum Showcases Ilocano Culture »
Depicting the "bloody" history and rich culture of Ilocos Sur during the Colonial Era...
• Manila City Rizal Park Features 'Musical Dancing Fountain' »
Visit Rizal Park in the heart of Manila City...
• Ecotourism in Metro Manila Bolstered by World-Class Quezon City Park »
A first-rate ecological tourist attraction in the heart of Quezon City...
• Manila, Philippines - Chinatown: An Intriguing Adventure Awaits You »
A shopping and destination ambiance that is uniquely Filipino-Chinese...
Calabarzon (Region IV-A)
Provinces: CAvite, LAguna, BAtangas, Rizal, and QueZON - regional capital: Calamba City
• Angono Petroglyphs: a Shelter of the Past
There are 127 ancient carvings and figures engraved in the walls of the rock shelter...
Calamba City
• Calamba City and The Healing Wonders of Pansol's Hot Springs »
Soaking in the spring's hot therapeutic water renews the body...
Cavite
• Indang, a Haven for Cold Springs and Some of the Best Resorts in Cavite »
Plunge yourself into the refreshing waters of the various cold springs...
• Cavite Resorts Offer Alternative Summer Escapades »
Escape the Heat at at Cavite's mountain and beach resorts...
Laguna
• Laguna Mountain Campground: Mt. Makiling Has Lots to Offer Tourists »
Legends surround the mountain, a popular hiking destination, many of which relate to Maria Makiling, said to be the 'guardian fairy' of the mountain...
• Ecotourism Holiday In Laguna, Philippines Gets a Boost With an Agro-Ecotourism Village »
Fragile, pristine and protected areas operated as an agro-ecotourism village...
• Laguna Philippines Caliraya Lake, a Captivating Man-Made Lake in Laguna »
A great place for aqua sports such a boating, wind surfing, and water skiing...
Tagaytay
•
Tagaytay Philippines: Character City Boasting Resorts, Adventure, and Retirement »
Invigorating climate with its exhilarating atmosphere invites visitors...
MIMAROPA (Region IV-B)
Occidental Mindoro, Oriental Mindoro, Marinduque, Romblon and Palawan
* MIMAROPA Pushes for "Philippines' Eco-Tourism Star" Tag »
Tourism stakeholders in MIMAROPA (Mindoro, Marinduque, Romblon, Palawan) are pushing to make the region the country's ultimate eco-tourism destination...
Oriental Mindoro
• Stella Maris Fish Sanctuary: Endeared by Sea Turtles in Oriental Mindoro
Stella Maris is a coral rich fish sanctuary in picturesque Barangay Calima, Pola town, Oriental Mindoro...
• Bulalacao, the Hidden Gem of Oriental Mindoro »
A sanctuary for stressed city dwellers looking for a respite in an idyllic environment...
Palawan
* Rejoicing in the Blue Waters in Palawan Province
This nature-tinted lonely province acts as the left arm of the Philippines where the atmosphere is kept truly blissful....
• Quiet Days Ahead: Sailing to Pristine Islands of El Nido Philippines
The quiet but enthralling town of El Nido in Palawan has more than just plants and animals, crystalline blue waters and white sand...
• Puerto Princesa Palawan After Summer Specials
Puerto Princesa City in the province of Palawan welcomes visitors 365 days a year without let up...
• El Nido Resorts Bagged the Tourism for Tomorrow Award »
It's another win for the country as El Nido Resorts bagged the Tourism for Tomorrow Award (TTA)...
• Community-Based Sustainable Tourism is the Focus of Puerto Princesa »
Community-based sustainable tourism gives travelers the chance to feel what it is like in the local communities...
• El Nido Palawan and Pangulasian Island, PHL's Newest Eco-Luxury Getaway »
Pangulasian Island, El Nido Palawan's newest premier eco-luxury destination...
• Puerto Princesa Underground River and DOT Prepare for More Tourists After Win »
Puerto Princesa Underground River is reputedly the world's longest underground river system...
• Palawan Resorts Include Arena Island: a Pawikan (Turtle) Habitat »
Environmental consciousness and sustainable tourism...
• Tubbataha Reef Lures Underwater Lovers With its Exotic, Aquatic, Coral Reef »
Scuba diving tourists from around the world flock to Tubbataha, the country's only marine natural park and a UNESCO World Heritage Site...
• Palawan Underground River : Philippine's Bet in the New7Wonders of Nature »
The renowned Palawan Underground River, will be the Philippines' bet in the New7Wonders of Nature race...
• Palawan and the Tourist Haven of Puerto Princesa »
They arrive in droves at Puerto Princesa, and proceed to Coron, Busuanga, El Nido, Sabang, Taytay, Roxas, and dive spots in the more than 1,700 islands of Palawan Philippines...
• Enchanting El Nido Philippines : A Tourist Poster Destination »
Its majestic limestone cliffs stand guard over clear waters, with hundreds of species of tropical fish and corals, and three species of endangered sea turtles...
Puerto Galera
• Scuba Dive Travel - Puerto Galera, Philippines the Most Searched Tourist Destination »
Scuba dive travel site Puerto Galera takes the top search spot...
Bicol Region (Region V)
Provinces: Albay, Camarines Norte, Camarines Sur, Catanduanes, Masbate, and Sorsogon - Cities: Naga City, Iriga, Legazpi, Ligao, Masbate, Sorsogon, and Tabaco
• 'Pilgrim City' Escapades are Diversely Religious, Historic and Exciting in Naga City »
Next to Manila and Cebu, Naga City is the third oldest Spanish-colonial city...
• Eco-Friendly Pedicabs are the Pride and Joy of Albay's 'City of Love' »
On all thoroughfares of economically successful Tabaco City pedal-driven vehicles locally called "padyak" (pedicab) are all around...
• Albay Attractions Boost Tourism to New Heights »
a visit to Albay is not complete without the proverbial moments with the magnificent Mayon Volcano...
• Bicol Philippines - Nature, Water Sports, Perfect Cones, and Gentle Giants »
Bicol presents several unique attractions and exciting adventures quite unlike any other place in the country...
• Mayon Volcano »
Mayon volcano in Albay Province occasionaly shows signs of restiveness and will spew a 200-meter high ash column...
• 'Visit Daet' Showcases a Charming Town »
Daet hides its spectacular secrets of exquisite and unspoiled postcard-perfect beaches and rich coral gardens...
Donsol, Sorsogon
• Whale Shark, Gentle Giants of the Sea »
Donsol witnesses the peak of the Whale Shark Interaction Season during the months of March to June....
• Donsol Whale Sharks, Ticao Manta Rays Double Treat for Summer in Bicol »
Underwater interaction with whale sharks homing at the coastal waters here now has an added treat...
Legazpi City
• Embarcadero de Legazpi Offers High-End Adventures in Legazpi City »
Expanding into a high-end destination for thrill and adventure seekers...
Masbate
• Masbate Beach Promotes Fun and Adventure Throughout Masbate's Unbeaten Eco-Tourism Sites »
The path leading to Masbate's magnificent eco-tourism spots remains unbeaten...
• Emerging Tropical Getaways - 'Sombrero Island' Near Masbate »
Philippine tropical getaways make for exceptional tropical vacations...
Western Visayas (Region VI)
Provinces: Aklan, Antique, Negros Occidental, Capiz, Guimaras, Iloilo - regional center: Iloilo City
• Hugging 'Big Bell' and Feeling the Fun in Capiz »
When the Spaniards came to the Philippines centuries ago, they established their second settlement in Panay town in Capiz next to Cebu
• Western Visayas Tourism Focuses on Bridges and Japanese Tourists »
A new tourism product dubbed "Tour of Seven Bridges of Blessings"...
• MassKara Festival Makes it to National Geographic List »
National Geographic has chosen Bacolod's MassKara Festival as one of the 12 must-do things in the world for October...
• Turning the Philippines and Western Visayas into a Must-See Destination » Indeed it's more fun in the Philippines an Western Visayas...
Boracay
• Boracay Beach : Paradise for Sun & Sand Lovers »
For so many certified sun-worshippers the world over, paradise goes by the name Boracay Beach...
• Boracay Island Named One of The World's Best Beaches »
Boracay captivates the traveler with sea sports, beach volleyball, skim boarding, kite surfing, sailing and snorkeling tours, bar hopping, sunset viewing, trail hiking, and mountain climbing...
• Is Boracay the Best Beach in Asia? »
Its white sand beaches and warm blue waters are the island's main attractions and some people claim it's the best beach in Asia. ...
Panay
• Panay : Where Fun and Festivities Never End »
Panay can boast of having the most number of festivities that have caught the fancy of the world. They include the famous Ati-Atihan and Dinagyang,...
Roxas City
• Roxas City Capiz - Explore the "Seafood Capital of the Philippines" »
Discover heritage sites, cultural landmarks and tourist attractions...
Iloilo
• Philippine Army-DOST Coral Restoration Project in Nogas Island Completed Soon »
Restoring a two-hectare coral reef or 20,000 coral fragments in Nogas Island, Anini-y, Antique...
• Iloilo River Rehabilitation Project Sets Example - 7 Bridges in Tour Package »
Iloilo River is back to its old stage as a major waterway for livelihood, fun and leisure and a heritage site...
• 'Destination Marketing Project' to Boost Iloilo City's 'MICE' »
The launch of the "Destination Marketing Project" will strengthen the capacity and standards of Iloilo City...
Central Visayas (Region VII)
Provinces: Bohol, Cebu, Negros Oriental, and Siquijor - Cities: Cebu City, Lapu-Lapu City, Mandaue City
• DOT 7 Exec Invites Tourists to Other Areas in Central Visayas
Bohol
* The Lost Giant Clams at Lamanoc Point Return
These clams, believed to be special vessels used by early pre-historic Boholanos in their offerings to the spirits...
• RiverWatch Floating Restaurant gets Tripadvisor 2013 Thumbs-up for High Ratings »
In Bohol, RiverWatch Resto has slowly carved a niche of its own as a tourist service and destination...
• Bohol Welcomes Tourists at New Bohol Tourism Complex »
The new Bohol Tourism Complex is a visible sign of Bohol's eco-cultural tourism centerpiece...
• Bohol Travel - ZooColate Thrills Another Reason to Visit Bohol »
Bohol now has a new adventure theme park that offers captivating attractions...
• Top Environmentally Sustainable Tourism in Philippines; Bohol Dolphins and Tarsier »
Dolphin-watching, tarsier-sanctuary in Bohol are top environmentally sustainable tourism destinations...
• Bohol Tourism Ideal as Niche Destination Says Renowned Author »
Niche tourism would make Bohol cater only to few but more environment and culture conscious learning tourists...
• Bohol's 1st Wakeboard Cable Park Facility Opens in Getafe »
Visayas' first wakeboarding facility in Pandanon island, Getafe...
• Zipline Tours Bohol Philippines Sky Ride: Evoking That Pleasant Feeling of Freedom »
Ziplines, the latest craze in extreme adventure tourism...
• ParaGliding Flights Offered by "Air Danao" in Bohol »
Paragliding operates on the theory of parachutes...
• Bohol Island "DATE Park" - Catigbian's Latest Eco-Recreational Adventure »
A thorough recreational and educational experience...
• Bohol is a Tourist Paradise »
The oval-shaped island province of Bohol has been recently named as a world-class destination...
• Adventure Tourism Canyon Swing Rated High Thriller by Extreme Outdoor Enthusiasts »
Danao claims their best extreme adventure experience as of yet is a 550 meter zip-line where tourists slide for their life...
• Pamilacan Island Bohol Features Manta Rays, Dolphins, and Whale Watching »
Pamilacan Island is a small island which is nestled in the heart of the Bohol Sea...
• Bohol is a Model for Eco-Tourism »
Entirely packaging tourism that is a spin-off from the traditional definitions...
Dumaguete
• Powered by Grass, Not by Gas - Modern Tartanilla in Dumaguete »
What vehicle is powered by grass and not by gas? Answer: tartanilla, the horse-drawn carriage...
Siquijor
* Siquijor Tourism Heading in the Right Direction, DOT
Eastern Visayas (Region VIII)
Provinces: Biliran, Eastern Samar, Leyte, Northern Samar, Samar and Southern Leyte
Eastern Visayas
• Philippine Eco-tourism Sites Promoted in Eastern Visayas Exhibit
• Exciting Eastern Visayas Tour Packages »
Tourism gems of Leyte, Southern Leyte, Biliran, Samar, Eastern Samar and Northern Samar...
Leyte
• Islands of Leyte and the Secret Spot Called Digyo Island »
Shimmering white sand wraps a lovely loop around the islet...
• Travel Leyte Philippines : Kalanggaman, Leyte Island Emerging Destination »
Strikes a sensitive balance between tourism and preservation of its natural charm...
• Leyte Gulf Site of Landings Commemoration »
Leyte annually witnesses the attendance of dignitaries coming from the Allied Forces and from Japan to the Anniversary of the Leyte Gulf Landings on October 20...
Samar
• Samar Island Natural Park Eco-tourism Spots Identified »
Several areas within the Samar Island Natural Park (SINP) have been identified as eco-tourism sites...
• Samar Island Opens Doors to Fun and Adventure Tourism »
Samar, the country's third largest island, offers a perfect destination for people who seek fun and adventure...
• Pink Beach in Northern Samar - It's More Colorful in the Philippines! »
Nature's way of advertising its beauty has manifested itself in the pink beach...
• Samar Philippines ; Uncovering the Secrets of Northern Samar »
Pinipisakan Falls and Ginagatusan Caves offer a rugged and remote location, and the surrounding ecosystem in Northern Samar is ideal for recreational and ecotourism purposes...
Eastern Samar
• Philippine Eagle Abounds in the Rich Forests of Taft, Eastern Samar
The ecologically important bird species, the Philippine Eagle with the scientific name of Pithecophaga Jefferyi naturally inhabits the rich forests of Samar...
Samar
Zamboanga Peninsula (Region IX)
Provinces: Zamboanga del Norte, Zamboanga del Sur, and Zamboanga Sibugay - Cities: Dipolog, Dapitan, Pagadian, and Isabela
Dipolog
• Dipolog Philippines - Breathtaking Panorama Atop Linabo Peak »
Dipolog's spectacular landscape comes in full view 3,003 steps up the Linabo Peak...
Zamboanga
• A Glimpse of Ambulon Beach, Biodiversity Park »
From the town proper, it takes only 15 minutes to reach a quiet beach resort, Ambulon Beach with white sand and clear blue water...
• White Beach, a Piece of Heaven in Basilan »
Most visitors coming to this place do not know that behind Malamawi islet across the wharf of Isabela, the capital city, is a little piece of heaven on earth...
• Triton Island: Beckoning Nature Lovers to Experience its Mystic Beauty »
In Zamboanga del Sur see unspoiled, flawless beauty...
• Zamboanga del Norte Aims to be Tourism Capital »
Zamboanga del Norte is equally famous for Dakak Beach, the province's foremost natural attraction...
• Zamboanga Mindanao - Taking Pride in Pasonanca Natural Park »
The beauty and wonder of the densely forested area of Pasonanca Natural Park...
• Zamboanga del Sur and Lakewood's Alindahaw Lakeview Resort »
Amazing stillness of the mystic 800 hectares of water named Lake Wood...
• Zamboanga City Mayor Discovers Hidden Waterfalls »
A perfect site for eco-tourists or adventure tourists...
• In Zamboanga Discovering the Merloquete Treasure »
A "piece of heaven" in Zamboanga...
Northern Mindanao (Region X)
Provinces: Bukidnon, the island province of Camiguin, Lanao del Norte, Misamis Occidental and Misamis Oriental - Cities: Cagayan de Oro City and Iligan City
• Roaming Around Gingoog City and its Superb Tourism Spots »
Gingoog City in the province of Misamis Oriental that is endowed with great bounties of nature and numerous tourist spots...
• Baliangao Protected Landscape & Seascape - Eco-Tourism Site Near Cagayan De Oro »
21 species of mangroves with a 75 hectare marine sanctuary which is home to 39 colorful fish species...
Bukidnon
• Banig Weaving; Entwining Tradition With Art
Near Bukidnon, old women spend the day weaving "banig" or sleeping mats inside their huts...
• Nurturing Bukidnon's Magnificent Flower - the Rafflesia
Rafflesia - the flower that conquered the world, a flies delight, lauded and maligned, the paradoxical and amazing flower...
• Experiencing Kampo Juan in Bukidnon
It's really more fun in the Philippines!" exclaimed Gary Feliciano, who at 60 still tried riding the Anicycle—an aerial bike...
• Zip Lines - Bukidnon's Zip Zone Has Philippines Eco-Tourism Soaring »
Bukidnon's 840 meter dual zip lines at the Dahilayan Adventure Park...
Cagayan de Oro
• Ecotourism Vacations in the Philippines: Mantianak Botanical Garden and Zoological Park »
In Sugbongcogon, not far from Cagayan De Oro City...
• Cagayan de Oro and the Excitement of White-Water Rafting »
If you are looking for some action, the Bubunawan River comes roaring out of the forested north slope of Mt. Kitanlad...
Cagayan de Oro City Museum Showcases Philippines Mindanao Culture »
Right at the heart of Cagayan de Oro City...
Camiguin
• Camiguin Philippines: A Calm Tranquil Island Adventure
This island is unique in so many ways and my visit there was so tranquil I am yearning to return for more...
• Savoring Camiguin Island Philippines' Nature
The cold, soda and hot springs are all crystal clear water oozing up from the ground...
• Camiguin Full Moon Zipping »
Imagine how splendid the lagoon will look as it lay meekly with the moon's reflection, while you fly your way across its vast expanse...
• Adventure Traveling? Sunken Cemetery, Camiguin's Rarest, Must-See Site »
The eruption of Mt. Vulcan Daan in 1870s left Camiguin an extraordinary, not-to-be-missed tourist attraction...
• Camiguin's Soda Pool is an Added Treat for Visitors »
Camiguin never runs out of surprises. Yes, this beautiful volcanic island, lying off the north east coast of Mindanao, offers another extraordinary treat for tourists...
• Camiguin Island Boasts of Another Feature for Tourists - Mountain Climbing »
As its name suggests, Camiguin Island, or "the island born of fire," offers great outdoor adventures...
• Camiguin Philippines is Where You Should Be »
There's a small place where people are so warm, friendly and hospitable and the air cleanses your spirit....
Davao Region (Region XI)
Provinces: Compostela Valley, Davao del Norte, Davao Oriental, and Davao del Sur
Davao
• Tune Hotel Davao Strengthens City's Marketability
15 minutes from the Davao International Airport, a few minutes from the SMX Convention Center at SM Premier Davao...
• Power Firm to Develop Nature Park in Davao City
Aboitiz Power is developing a sprawling property in Davao City as a nature park...
• San Antonio Park Horse Track Formally Opens in Davao City »
The world-class San Antonio Park horse race track was formally opened inside the Nenita Farms in Marapangi, Toril, Davao City...
• Tourism in Davao Now Offers Affordable Packages »
the 'lets touR DavnoR' Tourism Circuit Packages to offer bundled trips to the top destinations in the province...
• Secluded Island Vacations on Passig Islet: A Treasure of Davao del Sur »
This little island called Passig Islet is one of Davao del Sur's treasures...
• Davao Car for Hire - The City's Black Taxis Are Among Philippines Most Modern »
• New Hotels in Davao to Boost Tourist Traffic »
Expect a vibrant tourism sector in the coming year with the entry of three new hotels...
• Fruit Bats Protectionist in Davao Named a Disney Worldwide Conservation Fund Hero »
Tireless efforts on bat protection in her family-owned Monfort Bat Cave...
• Leatherback and Hawksbill Sea Turtles call Kopiat Island Home »
A key biodiversity area (KBA) in the Philippines...
• Tagum City, Davao del Norte, Promotes "Trayxi" Tour Around the City »
Explore the city on board a "trayxi" (short for tricycle)...
• Samal Island Beaches Doing Brisk Business »
Clean and pristine beaches particularly those found in southern Mindanao...
• Pearl Farm in Davao : The South's Jewel Resort »
Pearl Farm Beach Resort off the coast of Davao lies in a secluded cove on palm-fringed Samal Island...
• IGACOS Bats, One of the Greatest Wonders of the Davao Region »
Current estimates by American bat conservationists who have recently visited the IGACOS caves put the bat population at five million...
Tagum City
• Tagum Philippines : The City of Festivals »
After all, there are at least 15 festivals in the city as of last count...
SOCCSKSARDEN (Region XII)
Provinces: South Cotabato, Cotabato, Sultan Kudarat, Sarangani and General Santos City - regional center: Koronadal City
* Tourism Boom Expected After Lake Sebu Named a Philippine Gem »
Following official declaration of Lake Sebu as one of the 10 Philippine Gems, officials expect an influx of tourists to the area also dubbed as the "Summer Capital of the South."...
• Weekend Tourism Package Launched in Mindanao »
At a fixed cost of P3,900- one can choose to travel comfortably among the top tourism destinations in Mindanao for the weekend...
• General Santos and the Region of SOCCSKSARGEN-Philippines »
For your next adventure keep General Santos City in mind and take a walk on the wild side...
Cotabato
• North Cotabato Philippines Asik-Asik Falls Mysterious Water »
Positive descriptions have been accorded to Asik Asik Falls, North Cotabato's newest tourist attraction...
• Asia's Longest Zip-Line Opens in Makilala, North Cotabato »
Asia's longest zip-line is now open for tourists and adventure enthusiasts...
• Lake Sebu in South Cotabato Offers Up a Variety of Fun Activities »
Spend time communing with nature or relaxing from hectic urban life...
• Lake Sebu Sits Atop South Cotabato's Tourism Pedestal »
Carefully molded by God's magnificent hands and embellished by nature's lavish grace...
Sarangani
• Paragliding Holiday Takes Off in Sarangani Philippines »
Sarangani is a good flying site for paragliding, says professional instructor...
• Newest Resort in the Philippines: Island Garden of the Sea, Sarangani »
Pinkish, white sand pebbled shoreline and crystal clear seawater...
Caraga (Region XIII)
Provinces: Agusan del Norte, Agusan del Sur, Dinagat Islands, Surigao del Norte and Surigao del Sur - Cities: Butuan, Surigao, Bislig, Cabadbaran and Tandag
Siargao
• Siargao's "Cloud Nine" »
Considered one of the ten best surf waves in the world...!
Surigao del Sur
• Britania Island : A Paradise for Tropical Islands Vacations »
Mesmerizing, enchanting, absorbing, unsullied beauty and exquisite uniqueness...
Autonomous Region of Muslim Mindanao (ARMM)
Basilan, Lanao del Sur, Maguindanao, Sulu and Tawi-Tawi, and the Islamic City of Marawi - regional capital: Cotabato City