Camiguin Full Moon Zipping
Join the country's first ever full moon zipping and be a part of the picture perfect moment.
Imagine how splendid the lagoon will look as it lay meekly with the moon's reflection, while you fly your way across its vast expanse.
Camiguin has launched the first ever full moon zipping experience in a three-lane zip line, located at the Benoni Lagoon in Mahinog, Camiguin.
The zip line has a distance of more than 700 meters from Station 1 to Station 2, which crosses over the Taguines Lagoon while overlooking the coast of Benoni and Mantigue Island. An additional 360-meter zipline is also being eyed in same site.
Right after descend, visitors' may try an array of fresh and delicious seafood dishes served from the floating restaurant located right inside the lagoon area and nearby Bistro.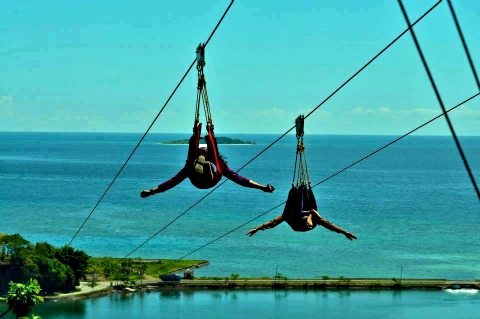 Camiguin Full Moon Zipping via cdodev.com
It offers not only the Thai, Indonesian, and local cuisine but also a magnificent view of the lagoon. A brackish water engulfed by a century old crater, ideal for boat and fishing.
The lagoon likewise offers a great early morning view and cool afternoon shade while guests wait for their favorite seafood, caught and cooked to order.
At around sunset, vast view of the beach expands along its horizon, where one can see many of the locals here, collecting food from the sea.
This island continues to offer non-stop beautiful tourist destination, as well as adventures.
Diving enthusiast might want to check its Tridacna Superstar, a giant clam growing in the water of Kabila White Beach at Cantaan Clams Sanctuary in Guinsiliban town.
Visitors can also try trekking the old volcanoes peak and sleep overnight near its old crater, as well as, enjoy the majestic view of the sunrise, when you are hundreds of feet above, touching the clouds and awaiting as unfolds the beautiful scenery below.
Camiguin a tropical paradise, is one of the country's most beautiful islands. It is the home of the sweetest lanzones and the list just goes on and on. Adventure, food, historical relics and wonderful scenery awaits that gives local and foreign tourist an unforgettable island experience. (Jorie C. Valcorza/PIA 10)