Vacations are Best Spent in Pampanga Resorts

When you are on holiday or taking a vacation in the Philippines be sure to spend some time at resorts. One need not go far since Pampanga offers the best places where rest and relaxation can be savored. Here are some of the best:
Abe's Farm
An unforgettable experience would be to partake of the flavor of a full menu of Capampangan food which include pinakbet Capampangan, gule magalang, pako salad for vegetables; main course of sisig, chicharong bulaklak, arobung kamaru, binukadkad na pla-pla, knockout knuckles, crispy tadyang and tidtad; for soup there would be sinigang na bangus belly sa bayabas, sinuwam na mais; for desserts they offer ube jalea, sikreto ni Maria, and Claude's Dream.
Another uniique experience would be an overnight stay in an Igorot hut or ulog built for two. But before retiring, you can get a wonderful therapeutic massage at the Spa Village.
The farm is at 98 Livestock Village, Barangay Ayala in Magalang.
Villa Alfredo's Resort
The resort boasts of an aviary where exotic birds can be viewed. There are also aquariums of various marine life. It can accommodate large groups since it has 90 rooms classified into villas, cottages , hotel type rooms, and cabanas.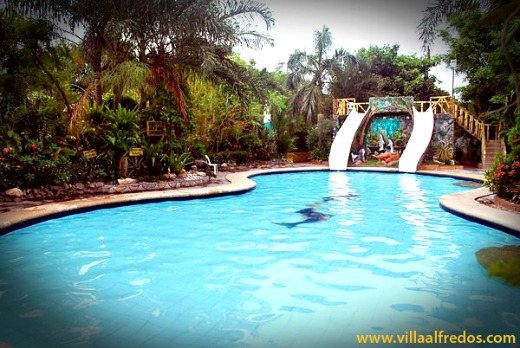 Villa Alfredo's Pampanga Resort
Other amenities include six themed swimming pools, children's wading pool, and two jacuzzis. Flora and foliage of all kinds grow lushly in every nook and cranny of the resort.
This resort can be found in Barangay Baliti, San Fernando City, also home of the Virgen delos Remedios Parish, patroness of Pampanga.
DFarm Resort
Located in San Isidro, Bacolor, who would imagine that a park, farm ,and resort rolled into one would arise from the ravages of lahar. The farm is divided into theme villas. The Mangoesville has gardens landscaped under mango trees. See for yourself what's in store at the Heroesville.
Boats that can accommodate two persons each can be rented and one can also go fishing in the man-made lake.
Walking and jogging are great activities since it is safe and pleasant in the park.
Poracay Resort
Found in Manibaug Pasig, Porac it was named as Poracay (with pun intended of Boracay). It is now a favorite destination of group tours because of its zipline. Its amenities include a clubhouse, adult pools, kiddie pools, lake, garden, sawali nipa huts, villas and steel cottages. (CLJD/Rebecca Grace S. David-PIA3)