Islands of Leyte and the Secret Spot Called Digyo Island

Shimmering white sand wraps a lovely loop around the islet. Clear aquamarine waters lap gently on the shores of a tropical island.
A breath-taking scenery with peaceful surroundings and palm-fringed coral sand, Digyo Island is still far from the usual "tourist trail" for beach goers. From the municipality of Inopacan, Leyte, Digyo Island is one of the islands that composes Cuatro Islas. The other three islands are Apid, Mahaba and Himokilan.
Boarding a private vehicle or hired van from Maasin City, you will reach the town of Inopacan in about an hour. A pumpboat or "lantsa" will then take a group of around 25-30 passengers to the island of Digyo (pronounced as di-jo) with P3,500 as a regular round trip fare or P4,000 for an overnight stay on the island.
According to "TravBuddy" blog, Digyo Island measures 3.5 hectares. By experience, you can explore the island from end to end in 15 minutes. It is the farthest of the four islands.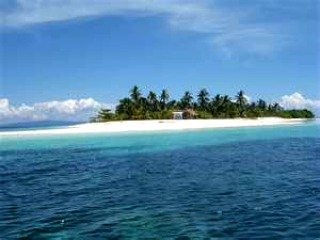 The entrance fee of P40 is worth it though the island has no electricity and fresh water for drinking and for bathing. A caretaker collects rainwater for bath use and charges P25 per container. With only a few cottages to rent, an overnight stay charges P300 and P200 for regular stay. There is also a charge of P5 for every use of the lone restroom for visitors.
It was learned that the island is claimed by one Bismark family, as seen in the coconut trees with these markings, "This is a Bismark property."
In addition, the islands of Apid, Digyo, and Mahaba make up one barangay belonging to the municipality of Inopacan while Himokilan, the largest of the four islands, belongs to Hindang town, from the Leyte province. Further, of the four, only the islands of Mahaba and Himokilan are inhabited.
Though Digyo is still far from being a crowd drawer, there is a steady trickle of travellers who brave the way to the islands. (Rebecca S. Cadavos/PIA 8-Southern Leyte)