Samar Philippines ; Uncovering the Secrets of Northern Samar

Pinipisakan Falls and Ginagatusan Caves in Samar Philippines
Being recognized for its rugged and remote location, Pinipisakan Falls and Ginagatusan Caves, and its surrounding ecosystem in Northern Samar are ideal for recreational and ecotourism purposes.
Navigating the Catubig River, which traverses the entire municipality of Las Navas, on your way to discover the awesome Pinipisakan Falls, will make you also want to promote the scintillating secret ecotourism destinations in this district.
With the use of a motorized banca, navigating the Catubig River is the primary thoroughfare for traveling in Las Navas. The same leads to the province's best-kept secrets, a subterranean natural pool, the Ginagatusan Caves and Pinipisakan Falls, a multi-layered cascading attraction., sure to deepen your appreciation for Samar Philippines.
At the upper most stream, the Pinipisakan Falls, a series of starlike waterfalls, a multi-layered cascading attraction, located 15 kilometers away from the town of Las Navas, a subterranean natural pool, and the Ginagatusan Caves are the main attractions of the area and are only accessible by motor boats.
To get to these spots, take an hour-long boat ride and then enjoy a "short walk", as the local guides describe it. This short walk, as one will discover, is actually a 3 kilometer trek that involves negotiating very steep upward and downward slopes as well as narrow dirt roads — a group will have to walk single-file, one person at a time.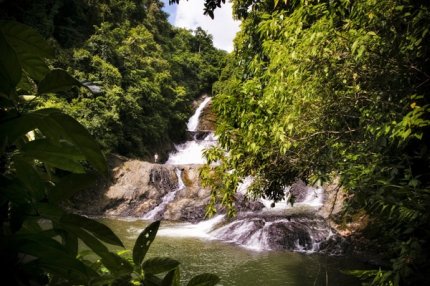 Samar Philippines; rugged beauty and natural wonders
Once you have found what you set out searching for, you will surely forget how difficult it was to get there, as the waters shimmer in an inviting shade of aquamarine, all that you will hear are the sounds of the current and wonder at the magnificence of the Pinipisakan Falls.
Advocacy to promote the best-kept secret wonders of Northern Samar, was given a great boost, recently, as the local government of Las Navas and the Department of Environment and Natural Resources Regional Samar Philippines Director inked a memorandum of agreement to take responsibility for overseeing the development, management and maintenance of the Pinipisakan Falls and the Ginagatusan (unexplored) Caves at Barangay San Isidro.