Philippines Jobs are Available
Philippines jobs are available for Filipinos and expats/foreigners if you want to spend more time in the perfect tropical Asian location.
I've been living, earning, and working for several years now in the Philippines and Cebu. In general, salaries in the Philippines are lower than in other countries.
For Filipinos the highest paying jobs are in the BPO (Business Process Outsourcing) industry, or call centers. If you are interested in this type of work you may need to study and improve your English and/or go through one of the training courses available. For expats, call centers MIGHT be a source of employment - if you have management experience in the industry then it's a reasonably well-paying job, - if you don't have experience, expect a very low local salary. The multi-national corporations with operations in the country might also be a source of employment, but you will have to arrange a job BEFORE arriving in the country.
There are 3 ways that you can find Philippines jobs, Cebu jobs and work, earn and live in the Philippines:
• Create an online small business/internet job that truly works for you! Simple, straightforward and easy to understand.
• International ESL Jobs (English as a Second Language) teaching English to Korean and Japanese students.
• As a trainer or management for a call center (Business Processing Outsourcing Company), providing immediate customer service for major western corporations.
Create an Online Small Business - Build a Life
Instead of traditional Philippines jobs, why not try a job online? In today's world of high speed DSL internet access a lot of jobs are being created using the instant communication features of the internet. If you were able to choose what you really want to do, what would it be? On the top of my list involved the freedom to travel and to choose when and where I wanted to work. It also had to involve one of my hobbies and something I was passionate about.
There are legitimate real business people who have taken a logical, intelligent and sincere approach to working and conducting business on the internet. Creating a job and building an income online can be done. It requires effort, some time, and a learning curve, but what job doesn't?
Follow your passion and interests and build yourself a long term income at the same time. Join others just like me who longed for freedom and a chance to do what you truly enjoy. Experience the sense of freedom, self-reliance, joy of living, passion... all the things that REALLY matter.
Teach English
There are international ESL jobs at schools in the Philippines for Korean and Japanese students. The schools are heavily advertised in Korea and Japan, but not widely known to advertise their open positions for native English speaking ESL teachers. These schools have become popular with Koreans and Japanese because of the small class size. The class size will usually be a maximum of 6 to 8 students.
Be Aware: The Philippine Government is NOT Currently Issuing Visas for Native Speaking English Teachers (March 2016)
Some websites and schools in the Philippines are advertising that they can get Native Speaking English Teachers a working visa, this simply is NOT true.
As a Native Speaker, the only way to teach English legally is to marry a Filipino and become a permanent resident. Do not be fooled by schools that promise a working visa.
If you are caught working illegally, you will be detained in jail, deported, and then blacklisted from ever entering the country again. The school will not be punished, ALL of the blame will fall on you.
Through extensive research, teaching experience and networking we have created a complete online list of English schools in the Philippines. To get an idea of what it's like to teach English in the Philippines read what a Filipino English teacher has to say about teaching in Cebu
• Learn English at the #1 English language course in Cebu »
Good jobs require good English - low cost, high quality...
• Philippines to be Asia's Hospitality Management Education Hub »
The hope is to attract especially Asian students to come to the Philippines...
• Theodolite English School in Cebu »
Internationally recognized English training center opens in Cebu...
• Learn to Speak English - Cebu is Becoming an English Learning Hub Destination »
Cebu is being eyed as the Philippines prime destination...
• Philippines Keeps Edge in Korean ESL Market »
Philippine ESL schools continue to be one of the best places to learn English for the Korean student market...
BPO Industry - Call Centers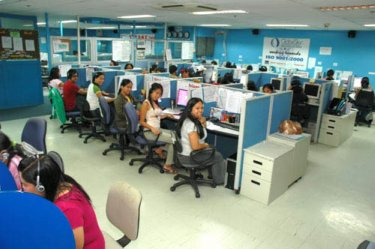 Philippines Jobs - Philippines Call Center
The Call Center industry (Business Processing Outsourcing, BPO) is also booming. Philippines jobs in the call center industry have exploded in the past few years. Jobs in this industry have become more common recently. They sometimes have positions open for expats.
Be Aware - Expats, Foreign Nationals - do not come to the country thinking that you can find a job - arrange a job contract prior to arriving. Also, there is a strong ethnic preference in the country - you might be well-qualified for a position - but simply the wrong ethnicity.
A call center is an organization that handles inbound/outbound communications with customers. It is a centralized office that answers incoming telephone calls from customers or that makes outgoing telephone calls to customers (telemarketing). They may also respond to letters, faxes, e-mails and similar written correspondence. Your job might be as a trainer or English monitor to ensure the quality of English used by the Filipino staff.
These Philippines jobs may involve shift work, for example, you might have to work the graveyard shift. There are also other positions available with call centers, such as in management, that require you to have prior call center experience. Read what a Filipino call center agent says about working at a call center in the Philippines
• Call Center Jobs Philippines - Working at a Philippine Call Center »
Investors of call centers prefer the Philippines as a location of choice...
The top Philippines jobs websites: