White Beach, a Piece of Heaven in Basilan

Basilan has been notorious for bombings, kidnappings and killings. This has led travelers to not include the place in their itinerary of must-see places in the Philippines.
A few brave souls, however, have experienced the Basilan adventure, including its beaches and unsullied sandbars.

Most visitors coming to this place do not know that behind Malamawi islet across the wharf of Isabela, the capital city, is a little piece of heaven on earth.
How do you get there?
From Zamboanga City, you can take an hour-and- a-half ferry boat trip to Basilan. There are at least 10 trips a day.
Then a five peso, two-minute ride on motorboats are can take the tourist across the channel to the islet.
You can then take a "habal-habal" (a local term referring to the single motorcycle that could carry two to three persons) ride for light travelers. Group travellers may rent elf and mini-trucks to traverse a typical village road with lush vegetation around. A breathtaking view awaits the tourist.
Travel by motorized boat will allow you to sail through mangrove areas and those oft-photographed houses on stilts that speak of the Badjao's peculiar way of life.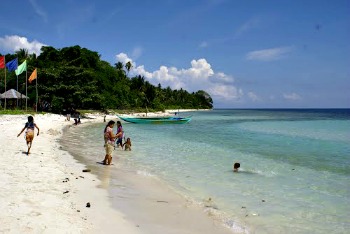 The boatman will provide service for the entire duration of your islet travel.
White Beach offers an awe-inspiring sight with rustic ambience. The sand is naturally white, unlike other resorts filled with white sand coming from other sources. Taking a dip, lazing on a hammock, playing beach volleyball, snorkeling, or simply lazing under the shade are just few of the things you can do there. Walking on the sandbar will be like walking on clouds.
When the tide has ebbed, picnickers are transformed into beachcombers who scour the stones on the side of the beach for edible finds. You can also find some amazing starfish.
The beach is packed on weekends and holidays. Since this is an Muslim-dominated place, bikinis and swimsuits are frowned upon. So it is wise to be aware of the dress code when going to this beach or to any beach around Basilan. (Rene V. Carbayas/JPA//MD//PIA9-ZBST)