Davao Car for Hire - The City's Black Taxis Are Among Philippines Most Modern

They are sleek and elegant connoting class and style, Davao City's Black taxis are becoming the rave in the city, owing to its mixture of riding comfort and digital technology.
A 25- unit fleet operated by the Davao City-based Mabuhay Taxi, the units are individually equipped with satellite Global Positioning System and a Point-of-Sale (POS) system which enables each taxi passenger to pay their fares using their debit or ATM cards and in the works is a system that can also process credit card transactions.
This feature puts Mabuhay Black Taxis ahead of its counterparts not just in the city but also in the rest of the country as well.
Pierre Ryan Tan of Mabuhay taxi says his inspiration for their Debit/ATM processing taxis was the ultimate riding convenience. "There was one passenger who asked the cab driver to go to the nearest ATM machine so she can pay the fare," Tan recalls.
Their taxi's are for passengers who don't have enough cash-on-hand to pay for their fares, they'll just use their ATM or debit card for payments, said Tan.
The cards must be Bancnet or Megalink cards for it to be processed. Tan said that they don't issue service charge or have no fixed minimum charges. "Even if your fare is just one peso, you can swipe it with your card," Tan added.
Other problems which will be solved by the cashless feature will include the driver not worrying about not having the exact amount of change particularly if the passenger pays up with bills of large denomination.
It's a Win-Win solution for the passenger and the taxi driver, says Tan about the POS feature which is partnership between the Mabuhay Taxi Company and China Banking Corporation (China Bank).
Currently there are about an average of 10 ATM/Debit card taxi fare transactions being monitored by the company daily.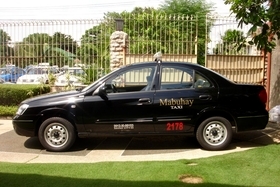 Another feature of these black taxis aside from the POS equipped taxis is their Global Positioning System. GPS-equipped taxis provide unrivalled safety and convenience for passengers.
In this set-up a prospective passenger calls the central call center which is manned 24 hours a day, seven days a week even during holidays. The call center monitors the locations of the taxis thru the GPS and messages the nearest taxi unit, the driver then receives the address of the passenger to be picked up.
Unlike Davao City's GPS equipped police patrol cars, Tan said that Black Taxis GPS system have real-time messaging features to relay to the drivers the exact addresses of waiting passengers. The device can relay messages, relay advisory and provide efficient dispatch.
GPS is also advantageous for the riding public, for instance when a passenger accidentally leaves his or her belongings in the cab and if the passenger remembers the taxi number the GPS can expeditiously locate the taxi and relay a message of the passenger's left item.
Tourism Feature
Tan said Black taxis were patterned after black-colored luxury car taxis found in other developed countries.
"We want our black taxis to be set apart from the rest; the black color denotes elegance and formality" Tan said. "But unlike other black luxury taxis abroad where there is much higher flag-down and tariff rates, Davao City Black Taxis have the same rates as regular taxis," he added
Tan said that Black Taxis provide comfort, convenience and safety to passengers. Black Taxi Drivers have stricter dress code, being mandated to wear black pants (no jeans, faded pants) and black leather shoes (no colored rubber shoes) they also undergo training to handle the taxis unique high-tech features.
On the works is a partnership between the Department of Tourism Region XI (DOT-XI) and the Mabuhay Taxi Company to feature It's More Fun in The Philippines ads similar to the Black Taxis in London England. It is hoped to be finalized and featured during the Kadayawan Festival in August.
Tan said that he has received reports that passengers prefer to ride the Black Taxis. He cites a taxi line where waiting passengers would let other passengers board other taxis so that they can ride the Black Taxis.
History
Pierre Ryan Tan was then a 14-year old teenager when he dreamt of a owning a taxi fleet. Together with the combined savings of his sister they were able to purchase a single unit of taxi. Their father, Manuel Tan M.D. bought more units and in 1994 Mabuhay Taxi was born.
"I was a teenager then so it was my father who managed the business," Tan said. Through the years their business grew to become one of the biggest taxi companies in the city.
At 34, Pierre is overseeing the growth of his new taxi baby. He says by next month he will be seeing Black Taxis to be a 40-strong fleet.
Tan says he is working on introducing new innovations for his taxi fleet, which he declines to elaborate classifying it as trade secret but he says will be using ultra-modern digital technology to bring unrivalled luxury and convenience to Davao's taxi riding public. (PIA/Rudolf Ian G. Alama)