The Best Philippines Surfing Spots

A surfing paradise for those seeking Philippines surfing is Siargao, located approximately 800 kilometers southeast of Manila.
Siargao Island sits just off of the Pacific coast of Mindanao and is the surfing capital of the Philippines. Surfing is best from July to November when strong waves are in constant motion. The powerful wave "Cloud 9" has been consistently mentioned as one of the world's five toughest breaks and has been frequently compared to the famous surf of Hawaii, California, and Australia.
Featured in "Surf Magazine", Siargao's "Cloud Nine" is one of the ten best waves in the world. It's a powerful right hand wave that breaks straight out of deep water and focuses it's energy straight at the beach. The Philippine Deep lies east of Siargao Islands and rises from 34,000 feet to a belt of reefs. This deep trench combined with the narrow continental shelf create excellent Philippines surfing in Siargo.
The Top Spots for Philippine Surfing:
1. Baler, Aurora Province. East coast of Luzon
This totally unexploited coastal town by the Sierra Madre Mountains in the northeast of Luzon carved out its own popularity in the movie, "Apocalypse Now." The Aurora Surfing Cup is an annual surfing competition held every September in Baler. It is a three-day competition with several different events and an open-to-all surfing clinic.
2. Catanduanes Island province off east coast of Luzon.
As an island directly lying in the course of Pacific typhoons, Catanduanes is popularly regarded as "Land of the howling winds".
3. Daet, Camarines Norte Province. East coast of Luzon
Considered to be one of the better surfing sites in the Philippines with swells reaching 3-6 feet which is ideal for beginners. On a lucky day it can reach up to eight feet.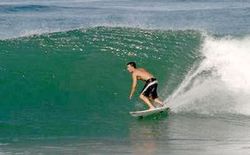 4. La Union Province. West coast of Luzon.
This coastal province at the Northwest of Luzon has a series of beach breaks for beginners and occasional challenging point breaks for skilled surfers. It is the closest spot to Manila.
5. Samar, the east coast of Samar Island and Leyte Island
Be ready for an impressive surfing trip in the rugged coastlines of these two islands and experience their great unsurfed waves.
6. Siargao Island, north east of Mindanao
Siargao has the most consistent waves in the Philippines and has made an impressive entry into the surfing world. The Cloud 9 Invitational is held every September, draws the biggest names in surfing from around the world and is sponsored by Billabong.
7. Vigan, Ilocos Sur Province, west coast of Northern Luzon.
About 400 kilometers north of Manila and a Unesco World Heritage Site.
8. Zambales Province. West coast of Luzon.
The town San Narciso and it's neighbor San Antonio are the areas to focus on for Philippines surfing. Pundaquit is one of the best surf spots in Zambales Province.
If you are thinking about doing any surfing, then the Philippines just might be your ideal spot. The country boasts some nice surf breaks and no matter what level you are at you can find a challenge. One of the nice things about Philippines surfing is that the waves are rarely crowded offering you the chance to enjoy the sport without the accompanying problems of crowds.