Subic Tourism Had a Fruitful Year According to SBMA

The year 2012 ended on a high note for the Subic Bay Metropolitan Authority (SBMA) in terms of tourism as the agency became more aggressive in promoting and drawing more visitors to the Freeport.
Marking a year of outstanding growth in its tourism promotions program, the Subic Bay Freeport received a certification from the Department of Tourism (DOT) affirming it as the "Premier Convention Capital of Central Luzon," with the Subic Bay Exhibition and Convention Center (SBECC) as the centerpiece.
Another highlight for 2012 was the inclusion of Subic among the top 10 tourist destinations in the Philippines for this year.
"All things considered, this has been a productive year for Subic tourism," said SBMA Chairman and Administrator Roberto Garcia.
"The distinctions earned by Subic in the national level only show how much passion the SBMA and the tourism stakeholders in Subic have put up to make this free port a great place to be," he added.
SBMA deputy administrator for tourism Raul Marcelo echoed the observation that 2012 has been a very fruitful year for the SBMA as far as tourism was concerned, pointing out the opening of a major shopping mall in the Freeport's central business district and the arrival of a cruise ship, the M/V Spirit of Adventure, as indicators of Subic's emergence as a major tourism destination.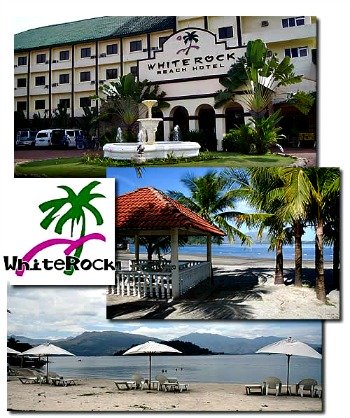 WhiteRock Beach Hotel - Subic Tourism
Marcelo also noted that sports tourism has given Subic much attention, with the recent Century Tuna 5i50 Triathlon and the NCAA Beach Volleyball games leading the various sporting events that were held here this year.
"We had our first Century Tuna 5i50, and it was very well-attended by elite athletes.
What makes this good news even better is the fact that we have also signed a three-year contract with the organizers, making Subic the official venue of this big international triathlon in the next two years," he said.
Because of these developments, Marcelo said that the number of tourist arrivals this year increased significantly as compared to previous years.
The uptrend is expected to continue well into the next years, he added.
"Next year will be basically the same (as far as major tourism events are concerned)," Marcelo noted.
"We just want to improve on our record in terms of the number of visitors, and hopefully create more attractions to generate more arrivals in Subic Bay," he said. Marcelo said that the SBMA is planning to promote Subic Bay further as a major sports destination.
"In fact, we are already promoting Subic Bay as a sports destination; we just want it validated," he said, noting how the DOT certified the Subic Freeport as a major destination for conventions, exhibitions, meetings, and incentive travels.
Early this year, SBMA Chairman Garcia said that tourism will be prioritized in the agency's master plan and has repeatedly emphasized the importance of making Subic Bay a premier destination for eco-tourism and sports. (CLJD / SBMA)