Baguio Philippines : The Summer Capital of the Country

When you speak of Baguio Philippines, you think of the cool weather that clips to a cooler but still bearable 14 degrees Celsius, although sometimes it comes down to a shivering 10 degrees Celsius;
a zigzag drive up on its main access route -- Kennon Road, rugged mountain shrouded in fog; a clump of pine trees here and there; an early morning mist; the pleasure of taking a leisurely walk without sweating, and a chance to wear clothes like sweaters and jackets.
It means walking down Session Road, hiking through forest trails, hiking up 202 steps to the Grotto of Our Lady of Lourdes, pony riding at Wright Park, golf and steak barbecue at Camp John Hay (CJH), sitting by the fireplace, waking up to the sound of birds chirping, listening to the buzz and silence, buying "pasalubongs" from the public market, the Good Shepherd or Mines View Park, or just going to SM mall, Baguio Philippines to relax and stroll.
People continue to flock to the city in the clouds because it is the country's favorite destination for honeymoons, summer conventions, school field trips and clean adventure. Many students prefer to study at the Baguio campus of the University of the Philippines, or at St. Louis University, and, of course, the Philippine Military Academy (PMA).
During the latter part of 1899, American forces in search of Filipino forces found their way up to these mountains of Benguet. They quickly fell in love with Baguio, which was then called Kalagway.
In 1900, William Cameron Forbes took on the responsibility of building Baguio Philippines, with the help of 4,000 men who carved Kennon Road from the mountains. Three years later, a resolution was passed declaring it the "Summer Capital of the Philippines."
Baguio Philippines is Cordillera Region's business center, producing agricultural products, handicrafts, as well as products for international markets from the export processing zone located near the Loakan airport.
It is also the venue of Panagbenga (flower festival), a Kankanaey word meaning "a season for blossoming, a time for flowering. For the whole month of February, Baguio is in "bloom" as it ushers in Panagbenga which is celebrated ever third week of February.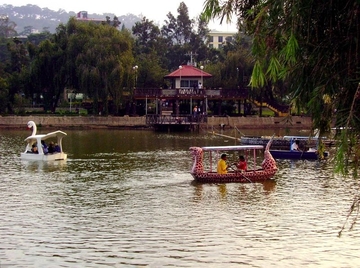 "
Baguio Philippines
Camp John Hay (CJH), the former rest and recreation haven for the United States Armed Forces, traces its beginnings back to 1900 when the 48th US Infantry set foot in Baguio Philippines and established an unnamed camp in what is now the site of CJH. In 1903, then US President Theodore Roosevelt officially designated this 535 acre camp as a military reservation, which they named after John Milton Hay, the incumbent US Secretary of State during that time.
From R&R for American soldiers stationed in the Philippines after the Spanish-American war, to a Japanese concentration camp and Army post during the occupation, to a bombed-out ruins after WWII and back to a beautiful and scenic mountain resort, CJH's history followed a colorful path for more than 98 years.
The Manor hotel in Baguio Philippines is part of a cluster consisting of 180 units; 102 studio units with double beds, 24 studio units with king-sized beds, 42 one-bedroom suites, and 12 two- bedroom suites. Dining is al fresco, enhanced by the historical Friendship Garden, where statues of President Manuel L Quezon and U.S President Abraham Lincoln can be found.
Similar to the Manor, the 289 unit CJH Suites offers the modern convenience of a world-class hotel. Amenities include a music lounge with a piano bar, fine dining restaurants, fitness center, novelty shops and more. The Luxury Hotel with 200 units offers the same.
On the other hand, the CAP-John Hay Trade and Cultural Center is an impressive two-level edifice that serves as a venue for a wide range of functions like conventions, seminars and special events in Baguio Philippines. The main hall can seat around 1,700 persons while the balcony is tiered with 1,000 fixed theater seats. Its spacious lobby and hallways can likewise accommodate exhibits or serve as an external function area for registration and buffet settings.
A few minutes away from the Baguio Convention Center, Burnham Park, Maharlika Shopping Center, and other points of interest is the Baguio Philippines Country Club (BCC), recognized as one of the best vacation establishments in RP.
At the heart of the four-storey building (with an attic and two basement floors) is the Roman Ozatea verandah, which serves as a coffee shop. Spanning two wings, the verandah wraps itself in the busiest outlet of the club with activities such as Sunday brunch buffet with Mongolian barbecue.
Malu Salcedo-Bondoc, BBC resident manager said "BBC has a fine reputation for food and accommodations. Apart from the popular Apollo Rice verandah, there are several cozy outlets to choose from. Near the entrance is a small pastry shop encased in glass. It offers tempting cakes, delectable pastries and the famous raisin bread."
The club has 114 deluxe rooms, 16 deluxe suites, a presidential suite and a penthouse unit. Fronting the clubhouse are 17 European-designed summer villas complete with living area, kitchen, three bedrooms and two bathrooms. These villas offer families and groups more space and privacy. Other facilities include a 500-seat ballroom, a 500-seat training center and several function rooms.
The 18th hole CJH Gold Course continues to be the home of the prestigious Fil-Am Golf Tournament, the world's largest amateur golf tournament with over 800 participants from the Philippines, US and the Pacific. It has been upgraded to a par 69 championship golf course by Golden Bear International.