Laoag Philippines SandBoarding Draws More Tourists

Couple Tina and Reny Tan, co-founders of the Laoag Eco-adventure Development Movement (LEAD movement), wanted this city's long stretch of coastal desert located in the village of La Paz to be more than a backdrop for movies.
From Tom Cruise's "Born on the fourth of July" to "Ang Panday," the La Paz sand dunes have had iconic movie exposure in the past.
Known as sports trailblazers, the movement first made the desert a home to off-road driving using four-wheel drive jeeps.
LEAD members, who have their own four-wheel drive jeeps, made off-road driving a regular activity and offered their jeeps for hire to those who would want to go "dune-bashing" (riding across the dunes and conquering steep slopes).
Tina said they thought of developing a sports adventure that would be unique to Laoag since it is home to the only extensive stretch of desert cover in the Philippines.
"We thought of developing sandboarding as a new weekend hobby. It is something new and unique," she said.
While the sport has been widely popular in other countries like the Middle East and the United States, sandboarding is merely a baby sport in the Philippines and is believed to have started in Laoag.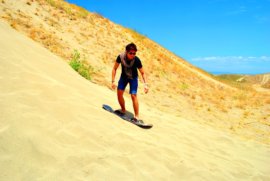 "There is no other place in the country like Laoag which boasts of this unique sand formation. Sandboarding in the Philippines was born in Laoag," Tina claimed.
What was a mere weekend adventure among Lead members and their families later became an added attraction to tourists looking for extreme adventure sports.
Tina would write about the sport in her blog and soon enough, sandboarding became viral among netizens and tourists came one after the other curious to try the latest sand adventure.
Tina said the Department of Tourism and tour operators pitched in their support by incorporating the sand sports in their tour packages.
The immense popularity of sandboarding led the group to host the first sandboarding competition on February 11, which became a festival highlight in the month-long Pamulinawen Festival.
"More than an adventure, the sand sport helps boost Laoag's tourism campaign. The trickle-down effect of the sport can be seen in the growing number of tourists coming in," Tina said.
"All tourism stakeholders benefit from the new attraction. More tourists come in. They fly, ride the bus, go to a hotel, ride the calesa or tricycle and buy drinks and food," she said. (ANL/Ma. Cristina C. Arzadon-PIA 1 Ilocos Norte)