Zip Lines - Bukidnon's Zip Zone Has Philippines Eco-Tourism Soaring

Bukidnon's 840 meter dual zip lines at the Dahilayan Adventure Park
Officials of the Department of Environment and Natural Resources (DENR) and Asian Center for Biodiversity (ACB) on Sunday cited Asia's longest dual zip lines as a boost to the country's eco-tourism industry.
DENR Public Affairs director Marissa Cruz said Bukidnon was successful in pushing for its eco-tourism program to attract investors.
Cruz said Bukidnon's rich natural resources, climate, and eco-tourism potentials are its assets to jump start an image building effort to "resell" the province as an investment destination.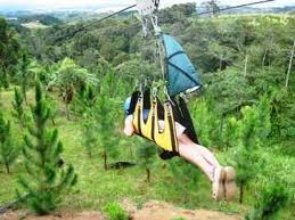 Zip Lines - Dahilayan, Philippines
In an earlier interview, incumbent Bukidnon Governor Jose Zubiri said that eco-tourism was a good entry point for better business environment in the province.
"Once eco tourism thrives, it is easier to attract real estate investors and other financial leaders," Zubiri said.
Over the weekend, Cruz and other officials of the DENR Central Office, DENR-Region 10 and Asian Center for Biodiversity (ACB) were here to check out the 840 meter dual zip lines at the Dahilayan Adventure Park, a buffer zone of Mt. Kitanglad in Barangay Dahilayan, this town.
The national government declared the mountain range as a national park of nature. It was also declared as ASEAN (Association of Southeast Asian Nations) Heritage Park in 2009 and cited by the United Nations Educational Scientific and Culture Organization (UNESCO) world heritage site last May.
The DENR and ACB officials took rough roads to get into the Zip Zone in Dahilayan, but for the visitors the road condition was part of their ecotourism experience.
They passed through vast pineapple and banana plantations, some of them owned by Del Monte Philippines.
Dahilayan is about 40 kilometers from Cagayan de Oro City, Misamis Oriental and passing by Del Monte Camp Phillips.
Dahilayan is like Baguio in its pristine days before due to its scenery and temperature. Earlier, there was so much development here, particularly at the Dacudao family farm.
Located across a rugged terrain, adorned with parcels of land planted to pine trees, owners have developed the site into a prime tourist attraction nine months after they opened their zip line facility.
Mechanical Engineer Elpidio "Elpi" Paras, owner and founder of Dahilayan Adventure Park, said that tourism business here has been good so far.
He said the park draws more than 10,000 foreign and local tourists a month to the Bukidnon Zip Line. "The number of visitors exceeded our expectations," said Paras who saw the potential of the place as an ecotourism potential.
In their first quarter of operations last year, some 3,000 visitors took their wired rides.
Paras said cool weather and their unique location, he said, helped them attract visitors after putting ads on the internet and in in-flight magazines.
"I saw this kind of tourist attraction when I traveled in the United States and Europe so I brought the idea here," said Paras, a leading technology innovator in Cagayan de Oro. He also founded the first cable system outside Metro Manila.
Dual zip lines are not yet offered by their competitors, he said. He said that that another edge was the use of a state-of-the art brake technology to ensure safety of riders.
In Bukidnon, zip line extreme sports adventure gains wider following and brings in more tourists.
The park offers the longest 840-meter dual cable zip line at introductory rate of P 500 as main attraction. The shorter rides – 320 meters and 150 meters – cost P 200.
ACB official Dr. Filiberto Pollisco said he and wife, Mitzi, got the thrill of their lives. "My wife and I had some kind of a bonding. It's one amazing adventure we can't forget!
ACB public affairs officer Angela Metin said she could not forget her experience flying by wire. "I was able to conquer my fear after taking the ride at Zip Zone," she said.
Many brave Asia's longest Dual Zipline as they zoom like Superman from a launch point at 4,700 feet above sea level and with an average speed of 45 kph, through lush greenery and breathtaking views only found in the mountains of Dahilayan.
Paras said the zipline riding is guaranteed safe and fun for every age. Zip zone has become the ultimate adventure destination for young and old alike, he said.
Since its opening in September 2009, Zip zone has been visited by over a thousand enthusiasts, including a courageous two-year old and a 77-year-old grandfather. (PNA/Joel C. Atencio)