Ilocos Norte Unveils New Tourist Attraction

The newest tourist destination in the province that showcases the indigenous arts, practices and cultures of the residents has been unveiled in Nueva Era.
"The "Tribal Village" of Nueva Era, expected to be the newest tourist attraction in Ilocos Norte, is located at 39.8 kilometers southeast of Laoag City.
The project was built through the joint efforts of the local government unit of Nueva Era, the provincial government of Ilocos Norte and the office of Rep. Imelda R. Marcos.
Rhea Rivera, the tourism officer of Nueva Era, said the structures of the Tribal Village were replicated from the facilities in the well-known Kota Kinabalu in Malaysia.
However, the big difference between the two is that the Nueva Era Tribal Village has its natural cool and fresh ambiance because it is constructed under big trees beside Mount Sicapao some 500 meters east of the town hall.
She said the place is an excellent venue for picnic activity, adventure walk, mountain biking and other forms of outdoor adventures.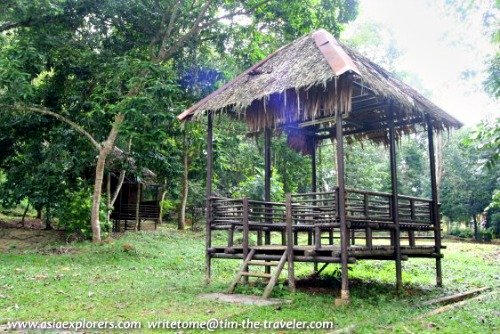 Philippine Tribal Village via asiaexplorers.com
The village has "tree houses" built at the main branches of the trees with connecting wooden ladders and bridges.
A long and horizontal structure for "canopy walk" was constructed and was hung in between trees for use in adventure activity at the site.
It has several attractive cottages and buildings made with indigenous materials.
To refresh the visitors, a 25–meter swimming pool with clear and free -- flowing mountain water was constructed in the middle of the village.
Aside from the facilities, an entertainment presentation dramatizing the lifestyles and cultures of the local residents will also be showcased.
For her part, Gov. Imee Marcos cited "Nueva Era Tribal Village" as another place in the province that will draw visitors and events.
She said that attractiveness of the place will encourage balikbayans and tourists to visit the province frequently. (PNA)JBP/lvm/Freddie G. Lazaro/rma/utb