Boracay Beach : Paradise for Sun & Sand Lovers

For so many certified sun-worshippers the world over, paradise goes by the name Boracay Beach. For, indeed, many visitors have come back to the place year after year. Some have even chosen to live on this paradise island.
Boracay is on the top of the list of destinations for local and foreign travelers. The sand is unique. Every particle that clings to your sun-drenched body is a spectacle of white coral and shell worn down by the powerful ocean currents.
With every wave, sand is deposited on and removed from the shore. Boracay's white beach is a delicate tribute to ecological balance. Keeping offshore coral communities retains its whiteness. It is white because there is neither quartz nor magnetite to stain the sand's purity unlike in other beaches.
Boracay beach island paradise was born in pre-history when a reef platform attached to northwestern Panay Island rose and revealed two islets. Sand accumulated between the twain, wedding them into a Philippine contribution to the world's natural treasures.
According to popular belief, two Ati (the dark-skinned, curly-haired, first dwelling aboriginal tribe in the Philippines) discovered a little knoll along the "other side" surrounded by rich marine life. As they trapped fish, the tide began to rise. Akay, the woman, continued heading for deeper waters. Her concerned husband shouted, "Bura 'kay!" (There are bubbles, Akay") The landmark knoll remains, as do Akay's nomadic descendants.
Sheltered from the fierce typhoons, Boracay beach can be found at the northwestern tip of Panay, in the west Visayas region, off the Sibuyan Sea. The place has managed to pack its thousand-hectare area with all the elements of a tropical paradise – crystal blue waters, powder white sand, liberal doses of tropical palms and flowering plants, and a healthy marine life underneath the seas.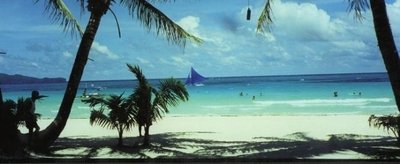 Boracay is made up of three little communities. Yapak in the north, Balabag in the middle and Manoc-Manoc in the south. A small bamboo bridge divides the white beach in Balabag into north and south. Hilly elevations of up to 100 meters above sea level characterize Yapac and Manoc-Manoc, while intertwining trails link the small villages together.
Boracay beach would have remained a national secret if not for a few foreign travelers who accidentally stumbled upon the place. Some say it was a movie crew who spread word about Boracay to other sun worshippers. Others swear it was German traveler Jen's Peter book, which includes rave review about Boracay that send tourists on their way.
The island, roughly shaped like a dumbbell, is seven kilometers and the narrowest spot is nearly a kilometer. Boracay Island is Aklan's pride aside from the Ati-Atihan Festival.
The most popular Boracay beach on the the island is four-kilometer "White Beach", also called Long Beach by the locals. It is situated on the west coast between the village of Angle and Balabag and Manok-Manok.
It is not only home to the famous puka shells but also of corals – green, pink, blue, brown, red and white. These are made into necklaces, bracelets and earrings both for export and local consumption. The government, to prevent destruction of the Boracay beache where these precious shells are "mined", has imposed precautionary measures.
The northern tip of White Beach offers an absolutely calming quietude — a tranquil magic away from the bustle of city life. You can choose to live just by candlelight and kerosene lamp and experience the charm of sleeping under a sheer mosquito net with nothing but sea breeze to cool you.
Other beaches worth exploring include Puka Beach in the north coast, which is famous for shiny white puka shells. To the north of White Beach sits the little village of Din-iwid with its 200-meter beach. On the northeast side of the island Ilig-Iligan Beach has coves and caves, as well as a jungle full of fruit bats.
Some of the new Boracay beach resorts on the island are Shangri-La, Fairways & Bluewater, Discover Shore, Pearl of the Pacific, and the renovated Boracay Tropics Resort and the Nami Private Villas, the hottest resort in paradise.
Boracay beach peak season runs from November to May and low season runs from June to October.
Boracay Food and Restaurants
In Boracay, you won't miss anything, including mushrooms for vegetarians, "kasseler and haxnstelze", sashimi, "bon hoi", spaghetti, curries, hamburgers, stews, "tanguinge" (Spanish mackerel), "lapu-lapu (spotted grouper) and blue marlin.
Among the Filipino dishes found in the island restaurants are rellenong bangus (milkfish stuffed with pork and raisins), longaniza (sausage), tapa (salted meat), pancit (noodles). Each restaurant's interpretation depends on the cook.
A barrio market gives a first glimpse of a pineapple still on its trunk, squid drying in the sun on bamboo sticks ready for grilling. Don't miss the relief of healthy buko juice — sweetish, clear, clean water of a young, green coconut.
Boracay's wine and liquor is celebrated for its surprising quality and diversity. Try lambanog (native liquor from palm) which is fast becoming a cocktail base. Or order a mixed drink flavored with kalamansi (the native lemon)
Getting to Boracay Beach
Philippine Airlines flies to Caticlan nine times daily. SeAir and Asian Spirit, both with smaller aircraft, offer a 40-minute direct flight from Manila to Caticlan. Aerolift has two flights daily from Manila to Caticlan.
One travels overland for two hours from Kalibo airport by non-air-conditioned bus or jeepney or air-conditioned bus, to the coastal town of Caticlan. Boracay may also be reached via the once a week Aboitiz Superferry trips during the summer season.
There are three boat stations along White Beach where bancas are chartered at P200 for an hour per person, P500 for three hours and P800 for six hours. Or you can try the tricycles. The fare is P5 to P20 per person. (PNA)