Zamboanga del Sur and Lakewood's Alindahaw Lakeview Resort

Zamboanga del Sur, Alindahaw Lakeview Resort and the Subanen tribe
The sun rises oozing with heat at temperatures between 32C and 36C. People living in non-air conditioned houses and those working in a non-air conditioned environment sweat it out the whole day. Young and old both long to have a deep plunge in some refreshing water to cool themselves off.
People with lots of money to spend go to new-found nook and crannies, beautiful beaches and resorts with the family, friends, and officemates for bonding time. But locals in the Zamboanga Peninsula need not go far. Thanks to Mother Nature for giving us Lakewood.
Where is Lakewood?
Lakewood is a 4th class municipality in the province of Zamboanga del Sur, Philippines. According to the 2000 census, it has a population of 16,317 people in 3,122 households.
Lakewood was named after Lake Wood, a large lake intersecting the town. The most popular species of fish in the province can only be caught in the lake: the `carpa and porang.
How To Get There
Lakewood is about 42 kilometers away from Pagadian City along the Zamboanga City - Pagadian City highway. Geographically, it is 7 degrees, 49' 60" north and 123 degrees, 9' 0" south.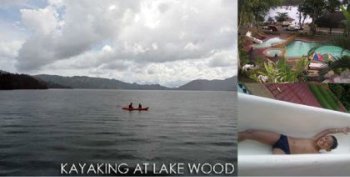 Lakewood Resort - Zamboanga del Sur
From Pagadian, vans leave every hour for Lakewood. While public buses pass through the Lakewood junction along the National Highway, the Alindahaw Lakeview Resort and the town proper are still several kilometers inside. It's best to take vans or hire a habal-habal when you get off at the junction. Or better yet, hire a private.
Melengas Wow Guests
The Subanen tribe is the major ethnic group living around Lakewood and Zamboanga del Sur. They cultivate vegetables and corn for their own use. Subanens have their own dialect, but they also speak Cebuano as a common dialect for conversation. They take pride in their rich heritage which they preserve and promote through the Melengas Dance Ensemble, that gracefully presents lovely Subanen and Moro dances. Upon arrangement with Alindahaw Resort management, they do a cultural presentation to wow guests.
Alindahaw Resort
Alindahaw's main attraction is the amazing stillness of the mystic 800 hectares of water named Lake Wood. Sometimes it is referred to as Lake Lakewood. The best place to enjoy the view of Lake Wood is at the Alindahaw Lakeview Resort in Brgy. Biswangan.
The resort has accommodations and kayaks for those who want to row around and many swimming pools of warying widths and depths to choose from.
Travel Mistress posted in Multiply some photos she had from Alindahaw Lakewood Resort. She said she had a quick visit to check it out and found that "it surprisingly had a modern facade with a clean and pristine lake."
Lakewood is being enjoyed most by locals here, it being near to Zamboanga del Sur compared to other provinces in the Zamboanga Peninsula. (Noemi Edaga/PIA9-ZDS)