'Destination Marketing Project' to Boost Iloilo City's 'MICE'

The launch of the "Destination Marketing Project" will strengthen the capacity and standards of Iloilo City for meetings, events, conventions or conferences and exhibitions or events (MICE) and make it at par with international tourism destinations.
The project was formalized through the signing of the memorandum of agreement between the Iloilo Business Club (IBC), the Local Government Support Project - Local Economic Development (LGSP-LED), and other stakeholders to strategically market Metro Iloilo and Guimaras (MIG) as a premier MICE tourism destination.
IBC Executive Director Maria Lea Victoria Lara said that this project came about with Iloilo City being shortlisted as one of the possible venues of the 2015 Asia Pacific Economic Conference (APEC) meetings.
Lara said that through destination marketing, there will be improved service quality with international standards, infrastructure improvements and development of attractions to create jobs and investments.
She said that this approach will effectively market MIG and its tourism circuits to encourage greater numbers of domestic and foreign visitors to stay longer in Iloilo City and visit sites and attractions in Metro Iloilo outside the core areas of Iloilo City as well as on the island of Guimaras.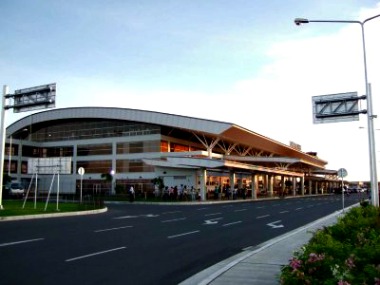 Iloilo City International Airport
In the project brief, MIG and its private sector partners have already prepared tour packages based on the existing tourist attractions and activities of these circuits but there is still much room for improving these sites, as well as the circuits over-all.
To support destination marketing, the following are needed: (1) quality market-driven marketing information and communication materials to enhance visitor experience; (2) quality human resources to deliver both tourism services and experiences, (3) adequate and functional tourism service centers and accommodation, and (4) ready tourism attractions are necessary to effectively promote MIG destinations.
MIG boasts of strong public-private partnership (PPP) that focuses on value for money in terms of reduced costs, better risk allocation, faster implementation, improved services and possible generation of additional revenue.
The goal of the partnership is to facilitate the conduct of priority trainings to improve the potential of the old Central Business District as tourism in attraction in MIG's Culture-Arts-Heritage Circuit and encourage DOT accreditation of tourism-related establishments.
Lara also said that trainings, marketing and promotional activities will be implemented by IBC with partners in public and private sectors in order to position Iloilo City and other MIG areas as a premier MICE destination beyond APEC 2015. (JCM/LTP/PIA-Iloilo)