Boracay Island Named One of The World's Best Beaches

Boracay Island, the Philippines' tropical paradise is one of the best beaches in the world, according to Grazia, a weekly Australian magazine featuring the high life of fashion, celebrity life and travel.
Reviews have noted it as 'an absorbing, exciting and eminently readable magazine that features an unrivalled mix of news and trends in travel and beauty.'
According to the Philippine Secretary of Tourism, "Our country's exposure in different renowned publications abroad show that we are continually on the world's blue list."
The tourism chief was referring to the number of investments in one of the country's prime tourist destinations. He added, "Boracay Island is an undisputed wonder. Travelers who have been here know that it is indeed among the world's best."
The island, blessed with crystal-clear waters and ultra-fine white sand, has been a constant in beach lovers' top ten list.
"Despite the number of developments on shore, its charms still captivate numerous travelers," Undersecretary for Tourism Planning and Promotions Eduardo Jarque, Jr., noted.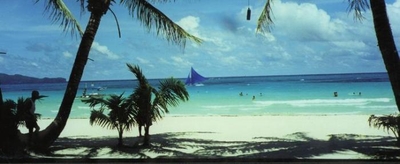 Tourists who are enthralled with a healthy mix of nature and island party vibe find the perfect combination on Boracay Island.
Varied activities are also featured, such as sea sports, beach volleyball, skim boarding, kite surfing, sailing and snorkeling tours, and bar hopping, sunset viewing, trail hiking, and mountain climbing, among others. Notable spas and wellness centers also dot the island, a convenience which travelers look for – the chance to be pampered after being active and basking under the sun.
Boracay Island tourist arrivals have continued to increase for the past year, reflecting a 5.61% growth rate for the final quarter of 2008. According to the Department of Tourism (DOT) Region VI, tourism receipts totaled to Php 10.6B from January to November of the previous year.
Grazia is a joint venture of ACP and Hearst Magazines International. ACP Magazines' Group Publisher Women's Lifestyle Pat Ingram, said: "There is a buzz and anticipation about Grazia that does bode well for its success. It's new, it's different and it has highly creative and experienced editorial teams research the best products, the finest destinations to promote to our readers."
"The magazine has been a huge success and we are confident that the Australian audience will respond enthusiastically to the magazine's fresh approach to lifestyle and travel," Jarque commented on the Boracay mention.