Lower Magat Eco-Tourism Park - Nueva Vizcaya's Eco-Tourism Center

Barangay Bugnay in this town connotes a colorful fruit called Bignay (Antidesma bunius Spreng) that abounds in its mountains.
But the village offers more than this cherry-like fruit-bearing tree. Bugnay is also home to many tree species and natural wonders. It is inhabited with committed and dedicated people whose love for environment is unparalleled.
The barangay metamorphosed into an eco-tourism attraction in Nueva Vizcaya. When the Department of Environment and Natural Resources(DENR) donated a portion of the 25,000 hectare forest reserve to the LGU of Nueva Vizcaya and the municipal government of Diadi, it was then tapped as the venue for weekly tree planting and regular fun and recreation centers of officials and employees of the provincial government.
Vice governor Jose Gambito said the provincial government saw the forest reserves' eco – tourism potentials which prompted them to embark in developing the Lower Magat Eco-Tourism Park (LMETP).
The weekly tree planting activity succeeded in increasing the number of trees in the forest. Construction of huts and cottages of offices of the provincial government within the 1.4 hectare LMETP eventually followed.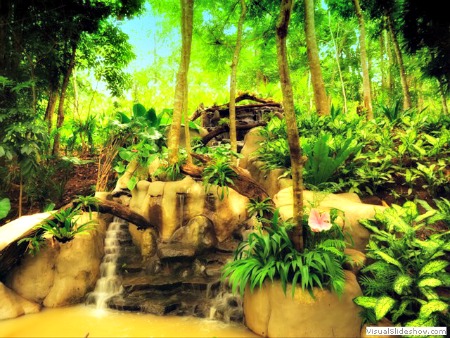 "We are encouraging other sectors to plant trees inside the park as their contribution in preserving it for future generations," said Dr. Benjamin Daquioag, the park's project manager.
He said that based on their Forest Enrichment Plan(FEP), visitors and patrons of the LMETP will be required to plant at least 10 tree seedlings per person to help in the preservation, reforestation and maintenance of the park.
"With this scheme, we hope to provide a whole year round of tree shade. When leaves of the teak trees fall, the leaves of mahogany trees will provide the shade," Daquioag said.
Facilities, Amenities
Early this year, the LMETP was named "Paraiso Tribu Biskayano" to showcase its distinction as an eco-tourism attraction.
It offers the following facilities and amenities such as souvenir stalls, parking area, log cabin, dormitories, pavilion, native cottages, picnic huts, swimming pool, boat riding, fishing pond, animal zone, eco walk trails, firing range, horseback riding, bicycle riding, coffee shop, water cascading restaurant, camping areas and the soon to be constructed hotel.
According to Daquioag, the LMETP is now generating an average income of P75,000 every week after its soft opening in March this year and has received more than 1.4 million visitors since then.
"More improvements are lined up so we could attract more visitors," Daquioag said adding that "we are inviting private organizations to join in our improvement and development programs."
"The provincial government cannot simply fund all the needed improvements of the LMETP so we are encouraging investors to come and pour their money in," Daquioag added.
The SN Aboitiz Power Magat which covers in part a portion of the forest reserve in Diadi being the operator of the Magat Hydro Power and Irrigation Project, has been donating funds yearly for the park's preservation. The firm will also be tapped to help in constructing hanging bridges as eco-walk trail.(Ben Moses Ebreo/PNA)