Philippine Culture, Customs and Traditions - Filipino Culture

The Philippine culture is rich in customs and traditions. Philippines culture reflects the complexity of the history of the Philippines through the combination of cultures of foreign influences.
Spanish colonization of the Philippines lasted for more than three centuries. There is a significant amount of Spanish-Mexican influence within Filipino culture, customs and traditions. Hispanic influences are visible in traditional Philippine folk music, folk dance, language, food, art, and religion.
Pre-Hispanic and non-Christian Philippine cultures are derived from the Indigenous tradition of the Austronesian primitive tribes called Malayo-Polynesian.
The Philippines was a colony of the United States from 1898, at the end of the Spanish-American War, until 1946. American influences are evident in Philippine culture by the use of the English language, and in contemporary pop culture, such as fast-food, music, film, and sports.
Other Asian ethnic groups such as the Chinese, and Japanese have been settling in the Philippines since the colonial period, and their influences are evident in the popularity of mahjong, jueteng, Filipino martial arts, and other Asian cuisine.
Family relationships are the basic building block of Philippine culture and society. Each Filipino is at the center of a large circle of relatives, usually extending to third cousins. Marriage is rarely permitted for members of the same kinship circle.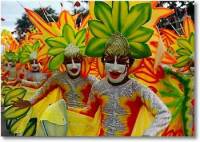 Philippine Culture
The kinship circle is customarily enlarged through ritual co-parenthood, the Catholic custom of selecting godparents to sponsor one's child at baptism. In the close-knit Filipino family, members are provided assistance when needed and expected to give their first loyalty to their kin. In rural areas the villages contain clusters of households supporting an extended family system within the Philippines culture.
The social support provided by these close-knit communities is reflected in the absence of retirement homes.
Philippine Culture and Tourism
The hospitality of the Filipino culture is one of the reasons why tourism in the Philippines is steadily growing
Foreigners and tourists who have experienced the Philippine culture and being with Filipinos find them very hospitable. This is a common trait that Filipinos are known for to most foreigners who have traveled around the country.
The attitude of Filipino people towards foreigners and other people is said to be exceptional. Even the humblest home along the road can serve as a shelter for a stranger who has lost his way. In Filipino culture, serving other people the best of what they have gives them an honor and a promise of true friendship. A typical Filipino house is not completely called a home without any facility ready for guests. It is filled with new and nice-looking items reserved only for them while ordinary ones are for everyday use.
Arriving at your host's house during mealtime may be awkward but if it's in a Filipino house, you will be asked to sit down and share what they have on the table. Because eating alone without asking others according to Filipino culture is considered rude. These manners picture how Filipinos accept and properly respect the presence of their visitors. A form of hospitality that comes truly from the heart, just like how the country made its image as the land of true smiling people considering the struggling economy, political confusion and rising poverty in the country.
You may be surprised to see how such situations are handled in Philippines culture. It is like taking everything from them except their love of joking. Joking and laughing at everything perhaps give them relief and makes them see things more positively.
Traveling in this country means more of building a rapport with its people and understanding the Philippine culture, customs and traditions. Filipinos love entertaining foreign visitors; whether to help, or for whatever reason, interacting with them is unavoidable. Consequently, aside from the country's stunning natural assets, meeting the Filipinos promises you true friendship and memories to keep.
Philippine History & Government
* Philippine History »
People of Malay descent are believed to have settled in the Philippines in several waves of migration after the 3rd century B.C...
* Philippine Government »
The Philippines is a democratic republic governed under a 1987 constitution...
* Philippine Presidents »
Philippine Presidents are locally known as "Ang Pangulo" and are the head of government of the Republic of the Philippines...
* Emilio Aguinaldo - First President of the Philippines »
One of the guiding forces of Philippine independence...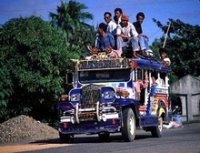 Philippine Culture
* Corazon Aquino; Known as the 'The Mother of Philippine Democracy' »
Fondly known as "Tita Cory" (Aunt Cory) to many Filipinos...
* Ferdinand Marcos; Martial Law Philippines and the Marcos Regime »
The bad boy of Philippine politics...
* Laban ng Demokratikong Pilipino - Fight of Democratic Filipinos - Philippine Politics »
The party is characterized by advocating the principles of democracy or social equality...
* Filipino Generals in U.S. Army - Filipino American Generals »
They achieved a high status within the U.S. Army and among Filipino-Americans...
* Philippines Flag »
The Philippines flag is full of symbolism representing truth, justice, peace, valor and patriotism within the Philippine culture ...
* Population of the Philippines »
The population of the Philippines as indicated by the final results of the latest census...
Philippine Holidays
* Philippine Holidays »
The Department of Tourism (DOT) is encouraging everyone to start planning their Philippine holiday vacations early...
* Commemorating the Fall of Bataan - Araw ng Kagitingan (Day of Valor) »
Araw ng Kagitingan (Day of Valor) is a Philippine national holiday which falls annually on April 9...
* Holy Week Celebration in the Philippines »
Holy Week in the Philippines is a unique and fascinating religious event...
* Filipino Independence Day Celebrated Since 1898
It was on June 12, 1898 when the first Filipino independence day from foreign repression was declared...
* Ninoy Aquino Day is August 21 in the Philippines »
There are notable Philippine heroes who have fought for freedom and independence
* November 30 is Andres Bonifacio Day in the Philippines »
Bravery is an act of courage to fight for something you believe is right. Many people have given their lives as a way of fighting...
* Philippines Christmas is the Most Anticipated Fiesta of the Year »
Christmas in the Philippines is a time for families. It is a time of gift giving and a time for warm friendships...
* Jose Rizal Day is December 30 in the Philippines »
Jose Rizal, a Filipino physician, novelist, and the national hero of the Philippines...
Philippine Culture & Literature
* Pilipino: The Filipino People and the Philippine Language »
Known for their warm, friendly and welcoming hospitality...
* Pinoy – How and Why? »
So, why are they called Pinoy, and what does it mean?...
* What is a Filipino? - Filipino Traits and Filipino Nationalism »
Answering the question about Filipino traits and Filipino nationalism...
* Pinoy Henyo - A Filipino Genius Creates Filipino Pride »
The latest Grandmaster in the Philippines who has been enjoying the limelight...
* Binatang Pinoy - Young Filipino – Ready to Succeed »
Today's young people are tomorrow's leaders and the future of the world...
* Filipino Surnames - Filipino Baby Names - Filipino First Names »
The most popular Filipino surnames names used in the country...
* 10 Filipino Mathematicians - Famous Filipino Mathematician »
The top 10 mathematicians in the country...
* Famous Filipino Scientists »
Scientists commended for their extraordinary work in their field of study...
* List of Filipino Biologist - List of Famous Filipino Biologists »
Recognized for their outstanding work in Biology and related fields...
* Philippine Heroes Then and Now »
Philippine heroes are the people that have fought for freedom and independence and against oppression...
* Filipino Heroes of the Modern Day Awarded By Yahoo »
Yahoo! Southeast Asia recognized seven modern day Filipino heroes...
* Philippine National Heroes - Every Teacher is a Filipino Hero »
Sharing your life in order to touch their lives...
* Philippine Literature Throughout the Years »
Philippine literature paves its way to popularity in and outside of the Philippine culture...
* Nobelang Pilipino - Filipino Novels by a Famous Filipino Writer »
Filipino novels have been written in Spanish, Tagalog, and English. ...
* Noli Me Tangere, Characters and a Summary of the Novel by Jose Rizal »
The Philippines' most influential novel...
* El Filibusterismo Summary by Chapter - El Fili »
The sequel to the 1887 "Noli Me Tangere" ...
* Filipino Short Story - Short Stories by Filipino Writers »
Philippine culture and the country's most popular and well-liked literary genre...
* Filipino Tula - Philippine Poems - Filipino Poems »
Philippine poems flourished during the late 19th and early 20th century...
* Filipino Poems - The Most Famous Pilipino Poem »
The most famous and widely read Pilipino poem...
* Filipino Talumpati - Talumpati Tungkol sa Wikang Filipino - A Filipino Speech »
One of the most famous Filipino speeches was never delivered...
* Philippine Epics, Folklore and Poetry »
Centuries prior to the occupation by Spain, Filipinos had their own Philippine epics, folklore, and poetry...
* Interesting Philippine Folktales and Philippine Folklore »
They give a glimpse into the talent of Filipino storytelling ...
* Philippine Folk Songs; Deeply Ingrained in the Culture are Filipino Folk Songs »
Indigenous rituals are part of Filipinos daily lives...
* Steps in Philippine Folk Dances - A Philippine Folk Dance »
Using the basic principles of concert dance and ballet, adapted to Filipino dances...
* Philippine Language Throughout the Archipelago »
The national language of the Philippine culture is Filipino, 60 percent of the Filipinos are using the language along with English...
* Philippine Legends »
Philippine legends are derived from Philippine traditional oral literature...
* Philippine Myths and Philippine Mythology »
Philippine myths and superstitions are very diverse...
* Symbols of the Philippines - National Symbols Related to the Philippines »
The commonly recognized national symbols of the Philippines...
* Philippines Art and Culture ; Reinventing the Vintage art of Balagtasan
Balagtasan is a de facto debate of two sides over a topic using rhymed dialogues...
* Yakan Traditional Filipino Clothes - Emanating Love for Art and Nature
Traditional Filipino clothes of the Yakans in Basilan...
* Ifugao - The Hudhud Chant is Intangible Philippine Heritage »
The Hudhud chant is considered the longest in the Philippines...
* Filipino Poet Promotes Book on Philippine History in Cebu »
Intended "for people who know little about the Archipelago."...
* Tribal Wedding Traditions in the Philippines Showcased at "Kaamulan" Festival
Tribal wedding traditions in the Philippines promote peace, unity and understanding...
* Native Tribe Bagobo, Philippine Cultural Village Showcased in Tibolo »
Volun-Tourism promotes Filipino culture learning experiences and cultural survival...
* Kapampangan Center Traces Roots, Preserves Heritage of Pampanga People »
The people of Pampanga (or Kapampangans), with their rich history and culture, are known for grandiose art...
* Agtas say Goodbye to Nomadic Way of Life
Ruben Sanchez, chieftain of the Agtas in Nagtipunan town considers himself and his fellow Agtas fortunate for receiving much attention...
* An Ibanag Offering to the World; Miss Supranational
She talks like a singing bird. She gathers asimmawa (Ilocano, abal-abal; Pilipino, salagubang) and eats them, too...
* At 75, Nana Miniang Still Makes the Best Native Chocolate in Ilocos Sur
Herminia "Nana Miniang" Makil started making native chocolates out of cocoa in the 1970s...
Philippine Entertainment
* Independent Filipino Films ; 'Busong' Takes Grand Prize at National Geographic Film Fest
"Busong," a critically-acclaimed Filipino independent film on the vanishing Palawan tribe in the Philippines...
* Philippine Entertainment »
Within Philippines culture, it is said that the need for entertainment is in human nature...
* Philippine Drama - Pinoy Channel »
Watching each episode has become part of everyday life...
* Pinay Celebrities - Filipina Celebrity - Well-Known Filipinas »
Ever since the 1960's, admired Pinay celebrities have been enjoying their popularity...
* Pinoy Scandal - Celebrity Philippine Scandal »
Being a celebrity is no easy task in the Philippines...
* Philippine Music Contains a Mixture of Western and Eastern Influence »
The Philippine music scene includes a number of alternative groups, and tribal bands promoting Filipino culture awareness...
* Kundiman Philippines - Filipino Songs - Filipino Love Songs »
Conveying love, devotion, romance, passion, or sadness...
* Downloads Filipino Free mp3 Music - Filipino Song Free mp3 »
Download Your Favorite Filipino Song Free mp3...
* Handog ng Pilipino sa Mundo - "The Offer of the Filipinos to the World" »
Considered to be the 2nd Filipino national anthem...
* Philippine Movies and Philippines Cinema »
Among Philippine arts, cinema is the youngest and still one of the most popular...
* Sexy Stars, Formerly called Philippine Bold Star, in Philippine Cinema »
Throughout the history of the film industry in the Philippines, several films tackled political, sexual, social and religious matters which are sensitive and controversial...
* Filipino Bold Actors - Bold Actors in the Philippines and Pinoy Hunks »
This popular form of art has slowly gained approval and adoration...