Falling in Love With Northern Samar's Pink Beach
One of the prettiest beaches in the Philippines is tucked along the coast of Northern Samar, endowed with rare pink sand.
What makes pink beach even more stunning is its waters that change color from emerald to turquoise and coconut trees that dot the beach and sway to the hum of the sea breeze.
On its opposite side, smooth black rocks and stones separate the pink beach from its neighboring white beach with coarser sand.
Located on the eastern side of the island village of Sila, San Vicente town, the beach is simply known as Pink Beach.
Pink Beach has been attracting "curious" tourists all year-round especially during summer when the shade of the sand becomes more prominent, said Tourism Regional Director Karina S. Tiopes.
"It is the only beach with pink sand here in Eastern Visayas and we are proud of it," Tiopes said.
Half of the beachfront is smooth powdery-fine sand while the rest is coral coarse sand.
"The sand is more of a shade of red to hue of salmon, when exposed to the morning and afternoon sun. That's why during summer or when its sunny, is the best time to experience the pink beach," said San Vicente Mayor Tito M. Luñeza.
The pink beach sits on a five-hectare coconut plantation. Luñeza is one of the owners of the property, which he and his siblings inherited from their parents.
"We constructed kiosks because many people come to visit the place and swim. We still have no accommodation facilities here. We allowed camping as long as campers help clean the area," said Luñeza in vernacular.
The beach is sheltered as a rock wall with reddish hue that separates it from the main village of Sila where about 250 families reside.
One has to climb a narrow pathway around 20 feet and walk another 30 minutes to reach the other side of the island. Another way is to ride a boat to the main village.
If you see the omang or little crabs dig in the shoreline, the color of the sand is still reddish and pinkish even if it is a foot deep.
The color of the pink sands comes from a mixture of fragments from red-colored corals and "foraminifera" – tiny sea creatures with red shells that are washed ashore during Habagat (monsoon) season.
As time goes by, the corals and the red shells are pulverized by the waves and other elements and mixed with the original white sand grains that resulted in its present color.
San Vicente is an island-town composed of seven islands of the Naranjo Island Group with a population of 7,447 based on the 2010 census. A sixth class municipality (annual income less than PHP15 million), San Vicente used to be part of nearby island-town of Capul.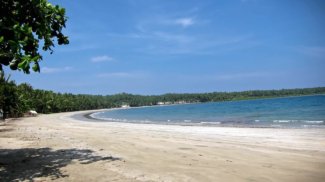 Pink Beach, Northern Samar
Aside from Sila, the six other islands form part of San Vicente. These are Sangputan, Destacado, Panganoron, Maragat, Medio and Tarnate.
San Vicente used to be called Barrio Mongolbongol (Destacado Island) of Capul until it became a town on June 18, 1966 by virtue of Republic Act No. 4761.
The town was renamed after its patron saint, St. Vincent de Ferrer. The seat of government is on the island of Destacado.
Fishing is the main source of livelihood although many residents also earn big from copra because coconuts are abundant.
Pink beach is very clean and almost spotless, which is 45 minutes from the poblacion of San Vicente.
It is not convenient to go to the island from Tacloban City, Leyte but the trip is all worth it.
It is a five-hour drive to Calbayog City from Tacloban on board a van-for-hire. The fare is PHP250 per person.
From Calbayog, tourists need to take another van that will take them to San Isidro town in Northern Samar for an hour, which is the jump-off point to San Vicente.
There is only one boat plying the San Isidro to San Vicente route at 2 p.m. daily except Sunday because people in the municipality believe that Sunday is a rest day.
The boat leaves the pier in San Vicente to San Isidro at 7 a.m. daily. Fare is PHP100 per passenger but tourists can rent the entire boat at the rate of PHP7,000 to PHP9,000 for one way.
There are a few homes in San Isidro that accept tourists at a friendly rate of P200 per person.
But there is no motorboat that sails directly to Sila Island where the Pink Beach is located.
There are boatmen who are willing to bring the tourists on board their motorized boat at PHP5,000 for a two-way trip from the town center to Sila.
Tourists, however, can drop by in the nearby Ternate village to buy food since there are no stores in the pink beach.
There is a wide variety of seafood to choose from – from fish, seashells, squid to crayfish which is sold at PHP1,200 per kilogram.
Minimal entrance fee is collected although the visitors can give a few hundred pesos to the caretakers who are maintaining the beach.
Although there are no available facilities, there are a number of activities that can be done while on the beach: meditate, walk around, do yoga, sunbathing, delight in the flying fish, watching the magnificent sunset and swim to your heart's content.
Snorkeling or scuba diving is a must. Shells can be collected but not the sands. A reminder is written on the huge rock on the beach "Bawal magkuha ug Baras" (Not allowed to take Pink Sands).
Some tourists also come from nearby Bobon, Sorsogon to experience Pink Beach. From Bobon town, it is only 2.5 hours boat ride to San Vicente then another 45 minutes to pink beach.
Pink Beach was one of the tourist destinations promoted by Northern Samar province during the "Summer Fun" campaign through its provincial tourism office in cooperation with the Department of Tourism regional office. (PNA) CTB/rck/SQM/Vicky C. Arnaiz