Nueva Vizcaya and the Capissaan Caves: A World-Class Tourist Attraction

During his childhood days, Ifugao Richie Angcuna could only wonder what lay beneath the cave in his native village of Capissaan in Kasibu town. Little did he know that the cave is home to endless wonders of nature that they can be proud of.
"We would only catch fruit bats a few meters inside its entrance, we did not know what really lay beyond the resting place of the bats," Angcuna, now a 23-year old cave guide said.
For years, the cave served as a regular place to visit among migrant Ifugaos to catch fruit bats as a native delicacy not knowing that it has more to offer than food for their table.
The fruit bats, locally known as 'Kaliputo,' guard the cave's entrance against curious eyes from seeing the inside beauty of the caves touted as a world-class cave on the international tourism map.
It was in the late 1990s when a group of mountaineers and spelunkers of Sang-at Salug Outdoor Club(SSOC) and GAIA Mountaineering Club(GMC) , while on an adventure search for alternative tourist attractions in Nueva Vizcaya, stumbled upon its beauty.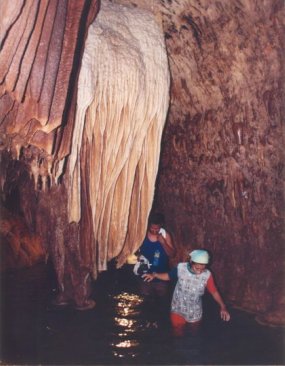 Capissaan Caves of Nueva Vizcaya
Their discovery reversed the tourism setback experienced by the industry after the 1990 earthquake which brought down the popularity of the Salinas Salt Springs, the once world-renowned tourism pride of Bambang town, as one of the eight wonders of the world.
And with its untimely death comes a new life and hope for the province's tourism industry – the growing popularity of the Lion-Alayan cave system. It's 250 kilometers from Manila and can be reached through a four to five-hour ride from either Bambang or Solano towns.
This cave system is now touted as the fifth longest cave system in the country, a geologists' paradise and ranked among the best. Marichelle Costales, supervising tourism officer said the Capissaan cave is now the major tourist site in the province that attracts young and old, local and foreign tourists.
Each year, hundreds of tourists marvel at its beauty - with varying rare calcite formations and unique stalagmite and stalactite features including a subterranean river that becomes a satisfying adventure for those aiming to traverse its four kilometer length.
Part of the multi-chambered cave network are the Lion and Alayan Caves, measuring 4.2 kilometers.
In 2001, the 1st national caving congress was held in this province, particularly in barangay Capissaan where the cave systems was earlier discovered, and gained national recognition.
Tourism officials in Nueva Vizcaya said they have instituted rules and regulations for tourists who visit and trek inside the cave systems to protect its natural formations from indiscriminate human activities.
Aggressive information education and communication campaigns are also being conducted among the villagers within barangay Capissaan and its adjacent barangays to instill environmental awareness and protection within the cave system.
This year, the province will be hosting another national caving congress next month to boost tourism in Nueva Vizcaya. The congress is expected to gather and attract national and international caving enthusiasts.
"It will be another opportunity for us to exchange ideas and concepts among environment advocates to further improve our systems which have been put in place for the protection of our tourism treasure," Costales said. (PIA/Ben Moses Ebreo)