Subic Bay Introduces Hop-On, Hop-Off Bus Transport for Tourists

Tourists to Subic Bay will now find it easier to visit various attractions here, thanks to the so-called "hop-on, hop-off" transportation mode, a system touted to be the first of its kind in the country.
Under this transport service concept launched recently by the Subic Bay Metropolitan Authority (SBMA) in cooperation with WoWCard, a business locator engaged in tourism promotion and marketing, Subic Philippines visitors can buy a one-day-pass ticket from WoWCard kiosks then enjoy one whole day of unlimited rides aboard any of the "Wow Subic" buses.
"Like eat-all-you-can, Subic's hop-on, hop-off transportation system is ride-all-you-can," said SBMA Administrator Armand Arreza. "And it also comes at a minimal price of P200."
Arreza said that Subic's hop-on, hop-off (Ho-Ho) buses took after Metro Manila's Wow Sakay Na! vans that ferry tourists to various attractions around the metropolis.
"But in Subic Bay, instead of vans we have commissioned double-decker buses so that visitors can see the area better and thus make their visit worthwhile," he said.
"With this system, visitors can just leave their cars at their hotels, and then hop on for a day of hassle-free sightseeing," Arreza also said.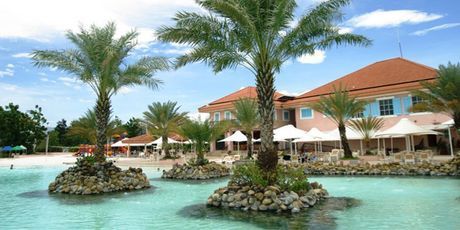 Raul Marcelo, SBMA deputy administrator for tourism, said the Ho-Ho bus system was conceptualized for tourists who usually end up having problems in going around the vast expanse of the Subic Bay Freeport Zone.
"How would they be able to visit all the Subic sites in just one day? What would they ride from Zoobic Safari to Ocean Adventure?
How much gasoline would they need if they use their car? These are things that always bothered tourists. So, we thought of having a hop-on, hop-off transport service for their convenience," Marcelo said.
The hop-on, hop-off tourism transport service, in particular, would be ideal for families and other big tourist groups, since they could stay together in one vehicle while touring the area, Marcelo added.
The buses start from Subic's Boardwalk area, then go around the Central Business District — stopping at shopping centers and some shops, then travel all the way to the Naval Magazine area where most of Subic's tourism attractions are located.
After completing the circuit, the buses head back to Boardwalk.
Marcelo said that after familiarizing themselves with the bus schedule, tourists with one-day Ho-Ho passes could visit various destinations at their convenience.
"If a tourist wakes up at 9:00 in the morning and decides to go shopping at the Royal Duty Free Store, for instance, he can take a Ho-Ho bus and return to his hotel using another one later.
Then, if he decides after lunch to go to Zoobic Safari, he can also take that trip with his one-day pass, then ride back to his hotel after," Marcelo explained.
Marcelo said that the Subic Bay Ho-Ho buses would provide the usual discounts to senior citizens and students.