Banig Weaving; Entwining Tradition With Art

In Barangay Can-ayan, some five kilometers northeast of Malaybalay city proper, near Bukidnon, old women spend the day weaving "banig" or sleeping mats inside their huts while their husbands prepare the materials they will use.
Tikog (Fimbristylis utilis), belongs to the grass family. It has been popular as an excellent material for weaving quality mats which are abundant in most areas of Bukidnon. It is one of the indigenous materials also used in making handbags as an alternative for plastic shopping bags.
With its lush colors and attractive designs, the mats made in Can-ayan are the most ubiquitous in town.
Enhancing weaver's skills
In order to help enhance weaver's skills with new techniques, the National Commission for Culture and the Arts (NCCA) and the Department of Trade and Industry here conducted a series of training sessions in selected towns involving farmer's cooperatives and women's organizations.
Some of the beneficiaries are the Impasug-ong Women's Organization, the Dahilayan Farmers' Multi-purpose cooperative in Manolo Fortich and the Pigtauranan Rural Improvement Club of Pangantucan.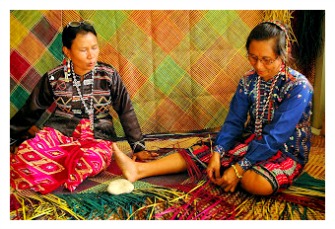 Banig Weaving via allaboutbanig.wordpress.com
The program follows basic skills training, product development and marketing, dyeing techniques and product designs resulting in an improved product line tailored to the contemporary market trends.
Augmenting family income
Many trained women are busy weaving mats that they would later sell in town to augment the income of their spouses. Others sell their mats to entrepreneurs who in turn bring them to be sold in neighboring towns and provinces.
Designs of the banig feature irregular arrangements of geometric forms set off in different colors. But the usual designs are checkered and embroidered. The sizes also vary.
Indeed, the craft helped unwaged women in the village learn the value of prudent saving as their home life centers around family.
Keeping the tradition alive
The Banig weaving tradition that has been handed down from generation to generation binds people to their past and connects them to their future.
The craft combines utilitarian role with aesthetic beauty, entwining their makers to the community and their people.
For Teresita Sumagaysay, a tikog mat weaver from San Jose village in San Fernando town, carrying on this art form is not just a way to connect with her family.
Sumagaysay explained that the craft is some sort of a magic charm pinned with hard work, determination, and patience.
"I saw that there were decreasing numbers of people interested in doing our tribal craft. But I love this work because this is one way to make use of the flourishing tikog reeds we have in our forests and keep my traditional craft alive," she said. (Ruby Leonora R. Balistoy-PIA 10, Bukidnon)