Enchanting El Nido Philippines : A Tourist Poster Destination

Enchanting EL Nido, a municipality located some 238 kilometers northeast of Puerto Princesa City, Palawan, Philippines , has continued to lure tourists because of its breathtaking natural resources that make it a tourist poster destination.
These nests, "nido" in Spanish, are the main ingredient for the gourmet nido soup.
El Nido is considered as a showcase of Palawan's geology and diverse wildlife.
El Nido, which is the top-of-mind choice among nature lovers, is named after the edible nests of Swiftlets found in the crevices of its limestone cliffs.
Its majestic limestone cliffs stand guard over clear waters, with hundreds of species of tropical fishes and corals, and three species of endangered sea turtles.
The town's forests are host to more than 100 species of birds, a large number of which are endemic to Palawan.
Tourism Operations Officer Arvin Acosta said that El Nido really is a magical place from its ageless towering marble cliffs to its white sandy beaches with crystal clear water, many refer to it as paradise.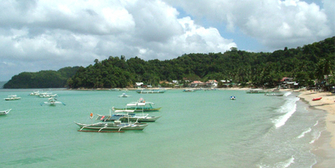 "There are over 50 beaches to discover, so many in fact that sometimes you feel as if you are on your own secluded private beach. You will also find enchanting lagoons with tranquil turquoise-green water, caves that can take you to hidden beaches, and a very diverse variety of wildlife", Acosta said.
He stressed El Nido is likewise a top destination for island hopping and scuba diving with over 30 dive sites ranging in depth from six meters to 30 meters.
"It is a truly relaxing and inspiring place", Acosta said, quoting Alex Garland who wrote "The Beach" while living in the town.
Other activities in the town include cliff climbing, waterfalls, kayaking, cave exploration, windsurfing.
El Nido's resorts in Lagen and Miniloc islands have earlier claimed a spot in Travel + Leisure magazine's 20 top eco-sensitive hotels.
Other notable activities shot in El Nido were the 3rd season of Robinson Expedisjonen, a Swedish version of Survivor in 1999, Leg 12 of The Amazing Race 5 in 2004, the "Desert-Island Special Challenge" or the episodes 59 and 60 of the 3rd season of the most-outstanding comedy program in South Korea, Muhan Dojeon in 2007, all 10 episodes of the 7th edition of Les Aventuriers de Koh-Lanta, the French franchise of the popular reality American TV show Survivor was entirely shot in El Nido in 2007 and was aired to seven million viewers in Europe.