Bicol Philippines -  Nature, Water Sports,  Perfect Cones, and Gentle Giants

What comes to mind when you think of Bicol Philippines? Some say it's the region's love for hot and spicy food and coconuts. Still some guys claim Bicol is known for its beautiful women and fine volcano ashland, particularly around the world-famed perfect-coned Mayon volcano.
But for most tourists and thrill seekers, the Bicol Philippines Peninsula presents several unique attractions and exciting adventures quite unlike any other place in the country.
Fascinating volcanoes, lush mountains, invigorating hot springs, tropical beaches, caves and waterfalls all comprise the natural wonders of this captivating region that attract thousands of tourists every year not just for mere sightseeing but also for related activities like hiking, camping, spelunking, mountaineering, surfing and scuba diving.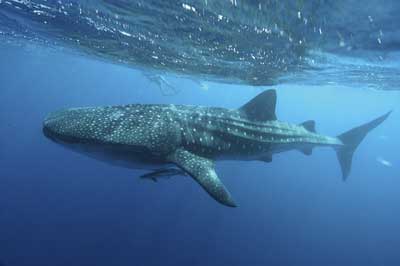 Whale Shark in the Philippines
According to public relations executive Daisy Sabangan, those who are big on water fun can start their Bicol sojourn with a stopover in Camarines Sur, which has become a favorite venue for aspiring and professional wake boarders from all over the world.
Even non-wakeboarders concede that this extreme water sport is one big adrenaline rush. And yes, it's a lot harder than it looks, said Sabangan. Starting with its neophyte-friendly cousin, knee boarding, it often takes multiple tries before one gains the confidence to stand on the wakeboard.
But once you get the hang of it, doing Big Air moves at 180 degrees and skating across the water's surface on your wakeboard at 25 miles per hour will only be a matter of practice. Seasoned wakeboarders attest that the appeal of the sport lies in its progressive nature where there's always something new to learn every time with every single ride.
Gentle Giants of the Sea; Butanding
The whale sharks or butandings of Donsol, Sorsogon are considered the living rock stars of Bicol Philippines. Contrary to the "shark" in their name, the filter-feeding fish is not known to eat humans and is actually a gentle animal that's even friendly enough to give swimmers a ride. Sabangan explained being up close and personal with this divine wonder is an experience one will never forget. Sure, you've seen them many times on Discovery's Animal Planet channel but no high-definition TV can come close to swimming side by side with the real thing.
Jaws can only drop in excitement as not just one but several butandings can be seen in an awe-inspiring display of aquatic grace, an encounter that no ocean theme park can ever come close to replicating.
Getting Acquainted with Mayon - the Perfect Cone
After all these water adventures, it's time to surface and proceed to Legazpi City, Albay for the main event: Mt. Mayon itself. "No trip to Bicol Philippines is totally complete without a glimpse of the legendary volcano with the perfect cone. Almost all tourists who visit Bicol consider it as the highlight of their itinerary," said Sabangan.
While just about everyone can get goose bumps with the glorious sight of the Mayon from anywhere in Legazpi City, even the most breathtaking view does not nearly come close to coming near its slopes, as Mayon-trekkers could personally attest, she added.
With sun block lotion, insect repellent, windbreaker and extra water and snacks in tow, climbers can experience Mayon's diverse terrains that include forests, grasslands, rocks, sand, and boulders. The vast and breathtaking view in its summit include sights like Mt. Isarog, Bulusan Volcano, the large island of Catanduanes and the bodies of water surrounding Bicolandia. This thrilling adventure need not be risky as Philvolcs and local authorities closely monitor the volcano's activity.
Rest and Recreation at The Oriental
In between all those days of unforgettable adventure and unexpected discoveries, the one thing most tourists will look forward is spending their downtime in style. Fortunately, Bicol Philippines is not lacking in its share of luxury accommodations and The Oriental Legazpi, a premier luxury hotel that just had its soft launch late last year is a fine example.
Located above Taysan Hill and boasting a picturesque view not only of Mt. Mayon but also of the stunning cityscape of Legazpi as well as the blue waters of the Gulf of Albay, The Oriental Legazpi, formerly Mayon Imperial, also serves as the jump-off point to all of the above destinations.
"We at The Oriental understand how important it is for our guests to enjoy their visit to Bicol and leave the place with plenty of fond memories," enthuses Wilbert T. Lee, president and CEO of the LKY Group of Companies that operate The Oriental. "To this end, our friendly staff and experienced management team can be counted on to provide assistance with the most popular tours of the region."
In addition to the tours, tourists can stay at any one of The Oriental's 115 exquisite guest rooms as well as enjoy the mouth-watering local and international cuisine at its 220-seat Jasmine restaurant.
Other five-star amenities to help keep them in shape for their adventures include an infinity pool, world-class spa and gym. The Oriental's business center and Wi-Fi connection will also allow guests to stay in touch with the rest of the world during their stay.
All told, the largely exhilarating ride provided by its top attractions demonstrates that, yes, it is more fun in Bicol Philippines. With its unique mix of fascinating volcanoes, challenging waters and even luxury accommodations, it is certainly a must-see destination for both local and foreign tourists alike. (Lily O Ramos/PNA/DCT)