Masbate Beach Promotes Fun and Adventure Throughout Masbate's Unbeaten Eco-Tourism Sites

The path leading to Masbate's magnificent eco-tourism spots remains unbeaten and the Regional Development Council (RDC) for Bicol is initiating moves to lure tourists looking for more fun and adventure to this magnificent island province considered ground zero of the Philippines.
Bounded on the north by Burias and Ticao Passes, south by the Visayan Sea, east by San Bernardino Strait and west by the Sibuyan Sea, between latitudes 11º 43' north and 123º09' east and 124º5' east, the island province which is one of Bicol's six provinces is among the hidden treasures of the Philippines with its undisturbed natural reefs and reserves.
Most noted for its agricultural pasture lands, cattle raising, superb scuba diving spots, white sand beaches and gold mines, Masbate is indeed a "tropical paradise" with clear waters, lush farm lands, rolling hills and friendly people who call themselves Masbeteños.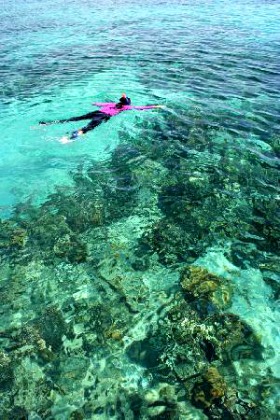 Bugsayon Marine Sanctuary - Masbate Beach
The province is among the country's richest in precious minerals with its gold and silver deposited in the mining town of Aroroy while its fertile pastures make the island known as the Cattle Country of the Philippines. Abroad, Masbate is famous as the Rodeo Capital of Asia and a yearly destination for rodeo games enthusiasts from all over the world.
National Economic Development Authority (NEDA) Regional Director for Bicol head Romeo Escandor, said a weekend expedition conducted by the group, "revealed anew the hidden treasures right at the heart of the Philippines".
Escandor said Masbate's undisturbed natural reefs and reserves, natural white sand beaches and clear blue water, natural rock formations, caves, waterfalls, flora and fauna, local delicacies, crafts, culture and heritage are among the province's pride and best destinations.
The trip started from Pilar town of Sorsogon, one of the gateways from this prime Albay city, to Masbate.
A two-hour fast craft cruise that offers eye-popping panoramas through Ticao Pass down to Masbate Pass ends the port of Masbate City that takes pride of the development of its eco-tourism development sites featuring its bio-diversity triangle formed by the Pawa Mangrove Park, Bugsayon Marine Ecological Paradise and the Buntod Marine Sanctuary.
Bugsayon is a 50-hectare marine reservation being maintained by the city government for eco-tourism and biodiversity conservation for its underwater system of live corals which was ranked by a recent study conducted by marine biologists as the number one most resilient marine sanctuary in Central Philippines.
The nearby Pawa Mangove is an ecosystem and wildlife Park of 300-hectare mangrove plantation serving Bugsayon's lifeline both as a tourism facility and biodiversity system, being Masbate City's biggest area of natural mangrove growth.
The park offers dramatic scenery along its 1.3-kilometer wooden boardwalk and fascinates bird watchers for its being a perfect place to see kingfishers, herons and other estuarine birds.
The Pawa mangrove park that offers serene and healthy atmosphere is ideal for bird watching, picnics and marine biology studies for students and researchers, among other worthwhile activities for nature lovers.
Buntod is 200-hectare marine reservation that ranks second as Philippines' most resilient coral reef area next to Bugsayaon based on the studies conducted early this year by marine biologists from the Siliman University's Angelo King Center for Research and Environment Management (SU-AKCREM).
It is the first marine sanctuary established by the city government over five years ago to preserve its hard and soft coral covers that highlight its majestic underwater sceneries that is attracting huge arrivals of tourists.
Also visited was Ticao Island where the group, Escandor said, recommended to the RDC consolidated efforts and measures in the implementations of its five municipalities' respective tourism development plans which could be packaged into one investment brochure for dissemination to potential investors.
Ticao has beautiful beaches, diving sites for manta rays, whale shark interactions and watching, coral garden for snorkeling, natural springs and waterfalls.
Off to Burias Island, the ggroup took an outrigger boat from Pio Duran, Albay for a 30-minute cruise through Burias Pass down to Claveria town where seafoods are fabulous along the five-kilometer stretch of fine white sand in Barangay San Isidro that is facing the Sibuyan Sea.
The local government in that historic municipality is working on the rehabilitation and improvement of road networks leading to San Isidro Beach and Boca Engaño, the local tourism sites rich in cultural experiences, beautiful sceneries, religious antiquity, superb cuisine and impressive hospitality.
In culture, every man or woman of arts and sciences could try becoming an archaeologist for some moments in time by diving their way to the underground cave in Boca Engaño where stone caskets with human remains believed to be more than 500 years of age exist, according to Escandor.
It is only by way of diving and swimming underwater that one could get inside the cave whose entrance is the open sea. "You have to get wet first in order to have a glimpse of the glorious past of your might-be great-great-great grandparents," he said.
"If Miami Beach is to Florida, USA and Cancun to Mexico, San Isidro which is one of the world's finest beaches that offers a portrait of timeless exquisiteness and youthful exuberance is to Claveria," Escandor said.
Lacing the southern strip of Burias Island and spanning more than five kilometers of pure white sand and turquoise water and boasting of diverse marine ecosystem that houses endemic species of sea plants and animals, San Isidro Beach is more of a sanctuary for the fairies and for those searching souls severely bruised and beaten by the intricacies of urban living.
For those introverts trying to avoid the din that originates from bars and entertainment houses in the cities, the entire length occasionally interrupted by a few thrusts which serve to decorate it for more effects, the beach is an enchanting paradise for the living coral reefs and crustaceans that outnumber the people residing alongside its shores.
Another showcase of Burias Island is San Pascual town that is separated from Claveria by a 58-kilometer unpaved road where few public transport vehicles, mostly motorcycles known as "habal-habal" ply.
San Pascual town boasts of several islands, including Sombrero that is a sea turtle sanctuary, Tinalisayan islet and sandbar and Guindoyanan point sunken galleon that serves as the reference point or geographic center of the Philippine archipelago, among others. (Danny O. Calleja/PNA/LAP/cbd/)