Subic Bay Tourism - It's More Fun-tastic in Subic Bay!

Explore, Experience, and Enjoy Subic Bay Tourism
This is the offer of the Subic Bay Freeport to tourists and investors, as it ripens into a self-sustaining hub for commerce and investments, finance, infrastructure, maritime and transshipment activities, and a tourism destination in the Asia-Pacific.
The Subic Bay Freeport Zone (SBFZ), created under R.A. 7227, is the first Freeport in the country and is being managed by the Subic Bay Metropolitan Authority.
Once the largest United States military naval base in Asia, it is the Philippines' first successful case of a military base converted through volunteerism into a tax- and duty-free zone similar to Hong Kong and Singapore.
Subic Bay is one of the key flagship projects of the Philippine government in Central Luzon towards economic development.
As a destination, Subic Bay has maintained its allure that once charmed US servicemen and their families. Its community continues to preserve and protect the bay, its surrounding forests and its flora and fauna.
Subic Bay entices nature lovers to experience the thrilling challenges of its infinite land, sea and air, where everyone can literally swim with whales, come face to face with tigers and other wildlife, take a glimpse of century-old trees and shipwrecks, take a breathtaking adventure and commune with mother nature, or simply engage in fun and sports activities.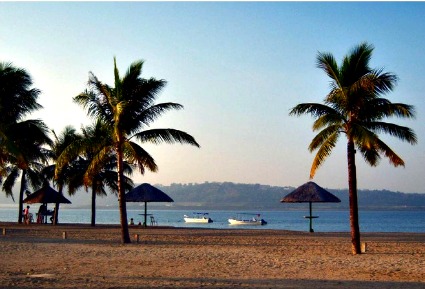 Subic Bay Tourism
Inside its vast confines, fun and entertainment is limitless and, as they say, 24/7!
Enjoy sunny picnics and dips in the beach, pamper the mind, body and spirit while enjoying a taste of tropical living, and get a front row seat to nature's sunset show. Or you can simply gather a crowd and party the night away.
Everything inside the Freeport is within easy reach wherever you are, in an array of tourism facilities including 38 hotels, 73 restaurants, two casinos, 21 spas, 12 duty-free shops, and ten various recreational and sports facilities.
Land and air travel options include a smooth and less than two-hour drive from Metro Manila via the Subic-Clark-Tarlac Expressway (SCTEX) or via the rehabilitated Gapan-San Fernando-Olongapo Highway. The Subic Bay International Airport inside the Freeport is open to chartered flights and private planes and its proximity to the Clark International Airport, which is only 50.4 kilometers, makes it as accessible as ever for foreign tourists.
"It's more fun-tastic in Subic Bay!" This is the promise of Subic Bay – a unique vacation lifestyle filled with adventure, exciting bay life & ethnic culture. An ultra-safe haven of accommodations, blissful indulgences and thrilling activities set amidst nature's best and finest that can only be found in Subic Bay.
…Explore, Experience and Enjoy! (Allen M. Villa/PIA)