Tubbataha Reef Lures Underwater Lovers With its Exotic, Aquatic, Coral Reefs

Tubbataha Reef National Park (TRNP) lying in the middle of the Sulu Sea near Palawan, Philippines, continues to attract more diving enthusiasts from within the country and abroad, to experience the underwater wonders consisting of unrivaled coral reefs in the Pacific region.
Scuba diving tourists from around the world flock to Tubbataha, the country's only marine natural Park and a World Heritage Site listed by the United Nations Educational, Scientific and Cultural Organization (UNESCO) in 1993.
Tubbataha Reef, located some 150 kilometers southeast from Puerto Princesa, Palawan, can be visited strictly by live aboard and are best visited from March to June because of the clear skies, calm waters, and excellent visibility.
Luis Cuison, Philippine Ports Authority-Puerto Princesa manager, said that more boats have docked nowadays at the port of Puerto Princesa, which serves as usual jump-off point for visitors and dive boats going to Tubbataha.
Tubbataha Reef was expanded from 33,000 hectares to 96,828 hectares by virtue of Proclamation No. 1126 signed by President Gloria Macapagal-Arroyo on Aug. 23, 2006.
The park is composed of two atolls with such rich marine life that this reef has become known across the world for the best diving that anyone can possibly experience. It is composed of the North and South atolls and the Jessie Beazley Reef.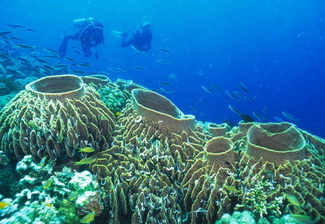 From majestic whale sharks to elusive seahorses - Tubbataha supports an unparalleled variety of marine creatures. Colorful reef fish crowd corals growing in the shallows while sharks and manta rays haunt the steep drop offs to the open sea.
It contains unique, rare and superlative natural phenomena, formations and areas of exceptional beauty. Tubbataha represents a unique example of a pristine atoll reef, with a very high diversity of marine species.
The reef components include a 100 meter perpendicular wall; an almost pristine reef crest and reef edge; extensive reef flat; extensive deep lagoon with coral beds and giant clams; shallow lagoon with seagrass beds. It is an important area for threatened marine turtle species; and emergent islands used by both birds and turtles.
The name Tubbataha is a Samal word for "long reef exposed at low tide". Samals are seafaring people of the Sulu Sea.
The Tubbataha Reefs in the Sulu Sea are the largest reef atoll in the country and serve as sanctuary for the majority of wonderful marine life in the region.
Since the establishment of the Tubbataha Protected Area Management Board in 1998, divers and commercial boats are allowed to enter the reef after paying conservation fees.
The reef is home to 10,000 coral reefs, 483 species of fish, two nesting species of marine turtles and nine species of marine mammals.
The reef's islets are among the last breeding strongholds of seabirds in Southeast Asia.