Attractive Tourism Adventure Hub Launched by Ilocos Town

The tourism and local government officials of Narvacan, Ilocos Sur launched an adventure zone to promote its attractive tourism industry near the coastal areas in Barangay Bulanos here.
The tourism adventure zone was dubbed, "Narvacan Outdoor Adventure Hub (NOAH)."
Mayor Zuriel S. Zaragoza said the NOAH has a tourism complex building, which serve as the tourism office, and had the activity areas, which features boating, via ferrata (hard road), zipline, and rappelling.
"Our desired transformation is indeed growing fast and we have steered now a wider economic venture for our town as we continue to aim for our vision of making our place as the Agro–Industrial and Eco–Tourism destination of Ilocandia in the 21st century," he said.
Last October 2012, the tourism activities in the area such as the 520–meter (m) zipline; the 280–m vertical via ferrata within the wallstone of Bantay Abot; and the 100-m rappel were softly opened.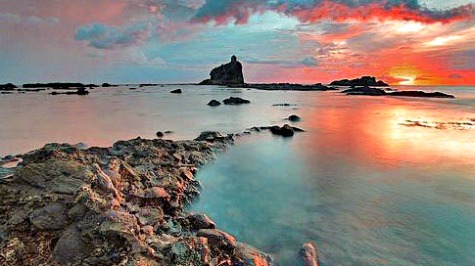 Narvacan, Ilocos Sur via www.explorephilippines.net
To note, the 280-m vertical via ferrata in Narvacan, Ilocos Sur is the first tourism adventure in the country while the 520-m zipline is considered the longest in Northern Luzon. It was learned that these tourists' activities were designed using high –quality equipment from abroad to ensure safety of all users.
"The creation of the NOAH is one of the facets of our tourism investment plan. As we can see now, our 520-m zipline is now zooming and operational which runs from the majestic Bantay Abot down to the Bay Boulevard," he said.
"All these tourism activities are novel approaches that will develop our geographical areas with potential value which will dovetail our numerous tourism developments within the bay area of our town facing the West Philippine Sea," he added.
He assured that the municipal government of Narvacan will continue to achieve extra- ordinary strides in order to manifest innovations and excellence especially in the creation of job opportunities for local residents and generating broad range of development initiatives to boost the economy and tourism industry.
He added that such initiative of LGU–Narvacan is in line in achieving the Philippine development plan for trade and tourism and Region 1's vision of Agri-Business, Tourism Powerhouse in the Northern Philippines as contained in the Regional Development Plan. (ANL/Freddie G. Lazaro-PIA 1, Ilocos Sur)