Puerto Princesa Underground River and DOT Prepare for More Tourists After Win
Puerto Princesa Underground River included in New 7 Wonders of Nature
The Department of Tourism (DOT) and the city government of Puerto Princesa will intensify efforts to prepare the Puerto Princesa Underground River (PPUR) for more tourists following the latter's win as one of the New 7 Wonders of Nature (N7WN).
"The Department is one with Palawan and the Philippines in celebrating this latest triumph. We congratulate Mayor Edward Hagedorn and the people of Puerto Princesa City for this victory. Now, however, the real work begins, as there is more reason than ever to strengthen environmental protection measures, optimize accommodation and touring capacities, and the like. We look forward to working on these with our local government and private sector partners," said Tourism Secretary Ramon R. Jimenez Jr.
As vice chair of the PPUR-N7WN Task Force created by President Benigno Aquino III in June, the DOT led a tri-media launch of the official promotional campaign last July at the Radisson Blu Hotel in Cebu. A month prior, the Department had already conducted promotion activities for the PPUR during "Filipino Homecoming" road shows in North America.
The DOT also accomplished the following in support of the campaign: conducted student forums in July to encourage blogging and tweeting about the PPUR; hosted familiarization trips with print and broadcast media in August; provided voting stations at the 2nd Cebu International Travel Expo in July and 22nd Philippine Travel Mart last September; and promoted the PPUR while participating in travel fairs such as the Japan Association of Travel Agents (JATA) World Tourism Forum and Travel Showcase last September and October.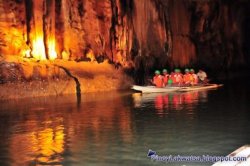 via PinoyLakwatsa.blogspot.com
In addition, the Department shouldered collaterals on the PPUR for distribution at local governments and Philippine embassies, as well as placed advertisements in leading newspapers and posters at the MRT, LRT-2 and NAIA to encourage voting for the PPUR.
As a culminating activity for the campaign, the DOT sponsored the Tunog Wunderground concert series this month in coordination with Wunderground United, an all-Filipino celebrity project for the PPUR-N7WN campaign.
The New 7 Wonders of Nature website describes the Puerto Princesa Underground River as reputedly the world's longest underground river system, featuring an 8.2-kilometer navigable river through an impressive limestone landscape. It joins the Amazon in South America, Halong Bay in Vietnam, Iguazu Falls in Argentina and Brazil, Jeju Island in South Korea, Komodo in Indonesia, and Table Mountain in South Africa on the exclusive list after a two-year vote among 28 finalists that concluded last 11 November 2011.
As of October 2011, 196,959 foreign and local visitors have been tallied at the Puerto Princesa Subterranean River National Park (PPSRNP) for the year, already more than the 172,827 visitors for the entire 2010.

<!- BEGIN RSS Buttons -->




[

?

] Subscribe To This Site

<!- END RSS Buttons -->



Return from Puerto Princesa Underground River to Home