Philippine Eco-tourism Sites Promoted in Eastern Visayas Exhibit
Twelve ecotourism sites in Eastern Visayas took center stage at the ecotourism exhibit organized by the Department of Environment and Natural Resources (DENR) recently.
The Biri-Larosa Protected Landscape and Seascape in Northern Samar is one of the featured ecotourism sites, according to Purificacion Daloos, regional information officer of DENR. It is one of the awesome destinations in the region with its unique and amazing rock formations aptly named the Biri Rock Islands Rock Formations.
It is one of the 25-destinations vying for the Top 10 Philippine Gems organized by the Isla Lipana and Company, together with the Philippine Tourism Promotions Board of the Department of Tourism (DOT) and global communications firm FleishmanHillard.
The DOT also provided two laptop units and wi-fi facilities at the exhibit venue in Robinsons Place here to invite and guide the visitors to vote online for Biri as emerging Philippine Gems.
The other sites in focused were Guiuan- Calicoan Surf Camp in Eastern Samar, The San Pablo and San Pedro Islands in Hinunangan, Southern Leyte is also included.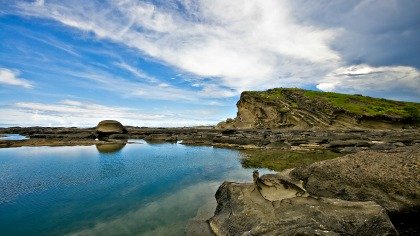 Biri Rock Islands Rock Formations, Northern Samar, Philippines
Also included are four sites in Leyte province, namely Lake Danao in Ormoc City; Kalanggaman in Palompon; Hindang Cave in Hindang and Cuatro Islas in Hindang and Inopacan Protected Landscape and Seascape.
In Samar province, the eco-tourism sites that are included, are the Sohoton Natural Bridge/Natural Park in Basey Samar; Calbiga Cave/Langon-Gobingob Cave and the Lulugayan Falls in Calbiga and the Torpedo Boat Ride, Paranas.
The exhibit was put up in cooperation with the Samar Island Natural Park (SINP) to heighten the awareness of the public that these destinations are eco-tourism ready that need to be conserved for the next generations to appreciate and enjoy according to DENR regional executive director Manolito Ragub said Daloos.
Earlier this year, the DENR issued Administrative Order No. 2013-19 which sets the guidelines on ecotourism planning and management within the protected areas that included coastal, marine and wetland regions.
According to Daloos, all those sites on exhibit are not protected landscape and seascape but are eco sites ready.
According to Corazon Makabenta, division chief of DENR's Coastal Marine Management Division, in terms of physical attraction, the sites are ecotourism ready, but there are conditions which have to be met, the facilities and services have to be put in place before these are socio-economically ready.
The exhibit anchors on the theme "Sustaining local Socio-Economic Growth Through Community-based Ecotourism." (PNA/CTB/PGL/VCARNAIZ/EGR)