Calamba City and The Healing Wonders of Pansol's Hot Springs

Barangay Pansol in Calamba City is a popular tourist destination for hot spring resorts. In fact, it was dubbed as the hot spring capital of the Philippines due to the number of resorts most of which are located in Barangay Pansol.
Accordingly, there are 120 cold resorts and 630 hot spring resorts existing in the area, a place where you can find peace of mind and relax in complete privacy.
Calamba City is located 54 km southeast of Metro Manila and an hour's drive from southern Manila, cities of Paranaque and Las Pinas. It is one of the most accessible destinations where you can avail of a hot spring experience at a very affordable price.
Some elders in Pansol claimed that hot springs help relieve physical pain and stress. It renews the body within an hour or less by soaking in the spring's hot therapeutic water.
"Believe it or not, I am now 57 years old and oftentimes some parts of my body ache, but then every time I feel such aches, I dip my body in the hot spring from 5 in the morning until before 7 in the morning, it's wonderful, the hot spring relieves my pain" says Sally "Dadang" Miranda dela Cruz, barangay chairwoman of Pansol, Calamba City.
"Submerging the body into the hot spring helps improve blood circulation through increased oxygen flow, the heat coming from the hot springs helps relax muscles and removes toxins in the body through perspiration" she added.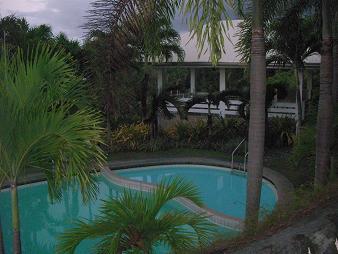 Calamba City Hot Springs - Laguna Philippines
Accordingly, the volcanic geological springs of the resort are made of odorless and crystal clear carbonated water famous for their mineral content and legendary healing powers.
It is widely claimed among elders that the hot water from Pansol springs acts like a natural spa that softens and whitens skin. It helps improve sensitive skin suffering from diseases such as eczema, skin itchiness, and nerve pains. It also helps those with physical pain, high blood pressure, atherosclerosis, arthritis, heart diseases, paralysis, and insomnia for them to heal and recover faster.
Some of those attesting to these claims and observations as to the healing wonders of the hot springs were: Frankie Fernandez from Las Pinas City; Bert de Ocampo of Sampaloc, Manila; Nonie Salvador of Tandang Sora, Quezon City; and Shankar Chandumac, an Indian national presently residing in Ayala Alabang, Muntinlupa all in their late fifties frequenting Pansol to dip in one of the many hot springs to relax, relieve physical pain as well as stress and other health benefits.
Kapitan "Dadang" noted that groups frequenting the hot spring resorts are senior citizens from Marikina City, groups of cyclists, basketball players, athletes, elderly local and foreign tourists and picnickers from nearby towns, cities, provinces and regions.
She also mentioned that most of the private resorts have complete amenities like cable television, billiard, and videoke. On the other hand, bigger resorts normally have function rooms that can be used for company seminars, team building, birthday parties, weddings, debuts and special events in Calamba City. (CPG/PIA-Calabarzon/Norito Cabotaje)