Business Philippines

Pursuing business in the Philippines is something you should research carefully before proceeding.
The Philippines is an Asian country with a developing economy so the business environment and the way of thinking is completely different than in a developed Western country.
Let's take a look at the 3 different ways you might be involved in a business opportunity. My first recommendation is an online business. You keep your assets and banking relationships in your home country where everything is familiar to you. The other possibilities are a small to medium-sized business in the Philippines or a medium to large-sized business in the Philippines
Online Business - Your Ticket to Freedom
An online business is one way to go in today's environment. I have spent hundreds of hours researching online small business opportunities. There are a lot of offers on the internet that claim to generate an income for you. Most of them are get rich quick scams that will give you nothing in the long term. And on the internet you should be thinking long term.
There are legitimate, honest, business people who have taken a logical, intelligent and sincere approach to conducting business on the internet. Creating an online small business and building an income online can be done. It requires effort and some time, but the freedom, time with loved ones, and control of your destiny ARE WORTH IT!
Small Business in the Philippines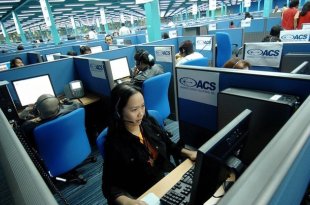 Business Philippines - Call Center
If you are considering a small business in the Philippines be aware of the risks involved. The number one risk is not having a clear understanding of the culture and the style of doing business.
The Philippines is a tricky place to try to succeed with a small business. A lot of knowledgeable, intelligent business people have lost money here. My recommendation is to start extremely small and build your business slowly. The best thing for a small or mid-sized business owner is a business savvy Philippine spouse that can be trusted.
The biggest downside? Filipinos can be very jealous of your business and they might try to destroy your business. You become a target. Keep a low profile and keep your assets in the country to a minimum. Don't show off – no flashy cars, expensive houses, jewelry etc. There are dozens of scams currently being used, so be careful. Be extremely cautious who you do business with. Occasionally the result of a business dispute is an assassination attempt. When something goes wrong there really isn't much recourse. The police and the judicial system are extremely slow moving and don't provide much protection for the small business owner. I don't recommend having partners.
Medium to Large Business in the Philippines
When thinking about making a substantial investment for a medium to large sized business in the Philippines, I think that location is the most important issue. Try to locate your business in a protected business park if possible. These are sanctioned and protected by the national government. The government also provides tax incentives or tax breaks to businesses in these areas. These business parks are referred to as export processing zones, IT parks, and special economic zones. Some of the primary zones :
Cebu Special Economic Zones
Manila and Luzon Special Economic Zones
The Cebu Government Investment Promotions Center has a website of useful information for the investor interested in investing in Cebu. CebuInvest.Com
The Philippine government produces a list of preferred economic activities that are pre-approved for tax breaks. This list is referred to as the I.P.P., the Investment Priorities Plan. The 2 government agencies to coordinate with are the Bureau of Investments, B.O.I., and the Philippine Economic Zone Authority, P.E.Z.A.
Cebu Furniture Industry
• Why Furniture From A Cebu Furniture Exporter Is The Best »
Cebu has been dubbed the "Milan of Asia", and if you know your geography, you know what it implies...
• History of the Cebu Furniture Industry »
It's only right perhaps that furniture manufacturers Cebu can trace its beginnings to an American, the US being considered its top export market...
• CebuNext - Cebu Furniture Exhibition »
For a 21-year old exhibition, the Cebu International Furniture and Furnishings Exhibition has held its ground as the not-to-miss exhibition...
Business Philippines - Recent Headlines
• Phil. Economy 2012 Outperforms Other ASEAN Economies Amid Global Uncertainty
The Philippines has remained resilient to the effects of uncertainties in the global economy than most peers...
• Philippines Investment Opportunities; BOI Discloses Preferred Investment Areas
The Philippine Board of Investments (BOI) disclosed the priority areas of investments as indicated in the approved 2012 Investments Priority Plan (IPP)...
• The Coconut Juice Capitol - Davao Oriental, Philippines »
The coconut haven in the South is again in an aggressive mood...
• Philippine Renewable Power, Alternative Energy are the Target of ADB US$ 1-B Investment »
Renewable power development has a strong potential for growth in the Philippines...
• Philippines Call Center and Business Process Outsourcing Continue to Soar »
Cebu has emerged as the top BPO destination for global business outsourcing operations and Philippines call center...
• Philippine Peso and Philippines Money »
Notes and coins used as Philippine currency...
• Outsourcing Philippines one of World's Most Attractive BPO Destinations »
Early this year, the Business Process Association of the Philippines (BPAP) said it was expecting a "cautious" growth of 35 percent...
• Philippines Economy Sickman of Asia No More? »
The Philippines economy, previously branded the "Sickman of Asia" is seen to lead growth this year compared to many of its Asian neighbors...