Indang, a Haven for Cold Springs and Some of the Best Resorts in Cavite

Some of the best resorts in Cavite are the cold spring resorts
Plunge yourself into the refreshing waters of the various cold springs in the town of Indang, located in Cavite, Philippines.
Better yet enjoy your vacation paradise at Villa Dominga Forest Resort situated on a hillside in Barangay Lumampong with its Olympic-size pool with cottages and campsites ideal for retreats and team building activities.
On the other hand, Rio Villa Nuevo Mineral Water Resort, at Barangay Tambo Kulit is the most popular of the spring resorts as it is built along a river which ensures cool running fresh water and a very "forest" feel surrounded by luscious green and fruit-bearing trees that filter the heat of the sun.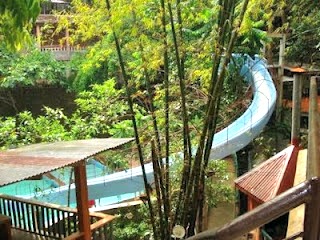 Rio Villa Nuevo Mineral Water Resort, Cavite
The Resort started in 1993 with only 2 swimming pools built along the river, it has now grown to 11 swimming pools for all ages and still growing. Their special pride - the abundant fresh water supply from the mountain spring. This allows all of their pools to have continuous flowing water which is replaced everyday - absolutely no chlorine added.
If you are looking for a quiet getaway, Balay Indang is the perfect place to visit. A very private and peaceful bed and breakfast inconspicuously situated in Mahabang Kahoy. Balay Indang is a hectare of well-manicured lawns peppered with several cottages within pockets of landscaped gardens. It also has a swimming pool and recreation area ideal for relaxing, yoga and similar activities.
For those who want to experience the historical side of the town, visit the illustrious church of Indang with its breathtaking painting of St. Michael, the Archangel at the right side of the altar. The church's history dates back to 1611 when it was still attached to the parish of Silang. The greater part of the church and the one-third of its present convent were constructed and dedicated to St. Gregory the Great.
And at the town plaza itself, you can find a variety of local delicacies like the famous Barrio Buna Lejos selling delicacy Kalamay-Buna made from glutinous powdered rice called "malagkit" mixed with coconut milk and "panutsa," a molded muscovado sugar. Taste it and you'll definitely adore it! (CPG/PTO/Ruel Francisco, PIA-Cavite)