Savoring Camiguin Island Philippines' Nature


Have you ever been to the island-province of Camiguin? If you have not yet been there, try to visit the place one of these days!
It was a weekend when my family went to Camiguin upon the prodding of my eldest daughter, Hannah Lou, who was the one arranging the trip. Initially, some members of the family were not too eager to go considering the long trip from Dipolog City in Zamboanga del Norte to Camiguin, passing through the provinces of Misamis Occidental, Lanao del Norte and Misamis Oriental. But the planned family trip did happen on a weekend very recently.
Package Tour
A very reasonable package tour of P1,100 per person for a group of four has enabled the family to set foot on the island-province. It covers one night accommodation with one breakfast and a tour to seven tourist spots within the island.
On the first day, we were brought to Sto. Niño Cold Spring, four kilometers north uphill Catarman town, Soda water spring at Barangay Bura, Catarman, Old Ruins of San Roque Church, Convent and Belfry in Gui-ob, Bonbon, Catarman, Sunken Cemetery which is just a few meters away from the ruins of San Roque Church, and to Katibawasan Falls and Ardent Hot Spring in the capital town of Mambajao.
Inviting Waters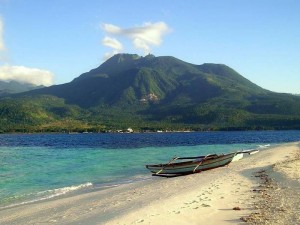 Camiguin Island Philippines, Mt. Hibok-Hibok
The cold, soda and hot springs are all crystal clear water oozing up from the ground. Running spring waters are contained in big swimming pools beckoning both the young and old to take a dip and soothe out their weary soul.
Excited to see the 70-meter Katibawasan Falls and the Hot Spring in Mambajao, the group just stayed for a few minutes at the cold spring, soda spring, church ruins and sunken cemetery. Upon reaching the Katibawasan falls whose waters sloshing down from a run-off river, the urge to take a dip seemed irresistible. And when we got down there, we could not help but take a swim in the cold, clear water.
After getting out of the cold waters at Katibawan Falls, we proceeded to Ardent Hot Spring, which is six kilometers southwest of Mambajao. It was around 6:00 p.m. when we reached there, but the place was fully occupied. People from all ages were there to frolic in the hot spring.
The water there is indeed soothing and relaxing to the body because its penetrating heat seems to massage your weary muscles.
White Island
Early morning on the following day, a pump boat operator woke us up to bring us to White Island, a white sandbar with Mt. Hibok-Hibok and Old Volcan as a backdrop. It is just a 10-minute ride from Yumbing, Mambajao.
Top Tourist Destination
Camiguin has a number of beautiful natural spots. It has two other waterfalls called Tuasan and Binangawan, another hot spring called Tangub, a four-hectare Mantigue Island, seven volcanoes and diving spots. In fact, the Department of Tourism (DOT) has identified this island-province as one of the top 25 tourist destinations in the country, and number seven diving spot in the world.
This pear-shaped volcanic island, which is 10 kilometers off the coast of the province of Misamis Occidental, has a total land area of 238 square-kilometers. It is also known for its sweet Lanzones fruit which is ubiquitous in all of its five municipalities of Catarman, Guinsiliban, Mahinog, Mambajao and Sagay.
Its unique landscape and pristine natural environment are an enticement difficult to resist for any nature lover. Want to go there? ( Franklin P. Gumapon/PIA9)