Well-Preserved Vigan Heritage is also Model for Community Efforts

Vigan, which was inscribed on the World Heritage List in 1999 by UNESCO, is considered the best- preserved example of a planned Spanish colonial town in Asia.
The former Ciudad Fernandina, founded by Juan de Salcedo in the 16th century, is considered the only World Heritage City in the Philippines earning the World Heritage Centre's (WHC) highest award for Best Practice in Sustainable Conservation and Management of World Heritage Properties.
In the 40th anniversary of the World Heritage Convention held in Kyoto, Japan, Director Kishore Rao, director of the World Heritage Center, commended the city's leaders that despite their limited resources Vigan obtained the highest level of support on good management practice in heritage conservation.
Credit goes to the local community as well because of their participation in the many aspects of the sustainable conservation and management of the city's heritage.
Rao said discussions have been going on for years within the world heritage community about establishing recognition related to management of heritage sites and values including the sharing of best practices among heritage sites and managers.
The heritage committee requested the WHC based in Paris, France, with the support of advisory bodies to explore ways of recognizing and rewarding best practices at the closing event of the world heritage Convention.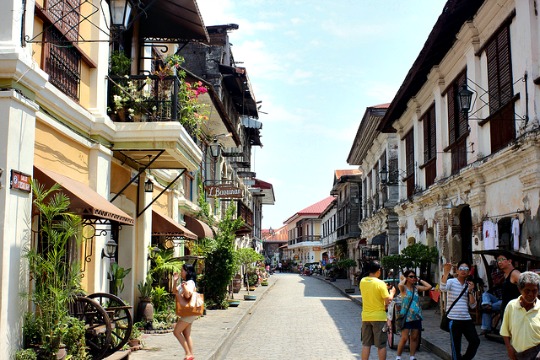 Vigan, Philippines World Heritage City
He cited Vigan's achievements in mounting a successful and sustainable management of a heritage practice beating other finalists like the Wet Tropics of Queensland in Australia, Gros Morme, National in Canada and Jiuzhaigon Valley Scenic and Historic Interest Area, China .
Vigan's Heritage Conservation Program dislodged other 28 entries in best practices worldwide by a 10- member Selection Committee consisting of representatives of the UNESCO's regional groups, the Advisory Bodies and the World Heritage Centre.
Vigan's architecture reflects the coming together of cultural elements from elsewhere in the Philippines from China and from Europe, resulting in a culture and townscape that have no parallel anywhere in East and South-East Asia, the director said.
He said Vigan reflected how sharing positive examples can be developed further as a capacity building measure to the benefit of a wider world heritage community.
We trust that this initiative will stimulate best management practices and provide inspiration for other sites," he added.
For its part, the city government established a Heritage Conservation Office with trained personnel to ensure that all physical interventions within the protected zone are properly carried out according to approved engineering and architectural plans.
Engineers, restorers and researchers underwent extensive training to help in the preservation and restoration of the Vigan heritage village.
Mayor Eva Marie Singson Medina tapped the members of the Association of Architects of the Philippines and the University of Sto.Tomas to provide trainings on heritage conservation and preservation for the restoration team.
Medina said the journey towards preserving Vigan's heritage was long and arduous especially for a small city like Vigan with limited material resources.
This limitation however did not hamper nor discourage us to move forward, she said.
Medina said Vigan's well-preserved heritage has generated huge tourism advantage that trickled down to every Bigue especially small businessmen, hotel and restaurant workers, empanada vendors and even kutseros (drivers of horse-drawn carriages).
The Vigan experience shows that by maximizing the participation of all sectors, we can use the legacy from the past which is our treasure today and prepare for a better tomorrow for future generations," the mayor said. (MCA/BEN P. PACRIS- PIA1 Ilocos Sur)