Bohol Tourism Ideal as Niche Destination Says Renowned Author
Sustaining Bohol tourism and the environment
For Bohol tourism to be truly sustainable, the government has to make a choice: dive into mass tourism and put everything at stake or go the path less traveled in niche tourism destination and bank on sure-fire lessened human impact to the environment.
These are the statements of a world renowned author, travel journalist and mining expert, globetrotter and professor of Istanbul Technical University, Dr. Orhan Kural, upon seeing Bohol's immense potential as a choice destination.
Kural said niche tourism would make Bohol cater only to few but more environment and culture conscious learning tourists than plain sightseeing visitors.
The professor has suggested ways to make Bohol an environmentally sustainable tourism destination in a meeting with Bohol Governor Edgar Chatto at the Mansion.
"Keep Bohol as it is, go slow on development that impacts the environment and maintain the rustic feel that Bohol offers," Kural said.
He added that the roads are adorable but niche tourists are not much interested in the roads that push cars to speeds and make tourists miss the sights they really want to see.
"Tourists come to sight-see, let them have that," Kural, who is also a respected author of mining books, remarked.
Himself, one of the world's most traveled writer, with more than 400 travel articles printed in world's newspapers, Dr. Kural is by no means a stranger to world tourism trends.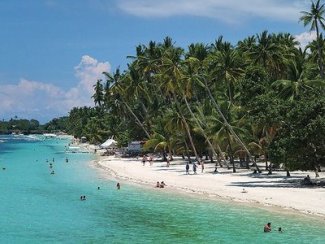 Panglao Island, Bohol
Seeing the way tourists have known and flocked to Bohol, Dr. Kural and his 16 other Turkish companions agreed that with so much that Bohol offers, these too may not last long.
He said the more people come, the more they impact the environment. Ironically tourists want to come to an environment that has been preserved with less negative impact.
Dr. Kural said Turkey learned this when its southern beaches facing the Mediterranean became the playground for Europeans.
Likening it to Bohol he said, the tourist areas are cheap so that many tourists come. When they leave, everything is dirty and garbage is everywhere, Dr. Kural shared.
Appointed as Turkish ambassador to Benin and a self-confessed admirer of the vast African continent, Dr. Kural said some African nations now know they can go niche tourism and earn the same.
The Istanbul-based professor and chairman for the Turkish Travel Club said it would also be good for Bohol, to rid of plastics and cellophanes, which tourists could bring in to protected areas.
Plastics take decades or even hundreds of years to decompose, leaving litter literally everywhere while marine animals mistake them for food and choke in the process. (mbcn/Rey Anthony H. Chiu/PIA-Bohol)