Best Restaurants in Manila Joined by Re-Opened Spiral

Spiral, Sofitel Manila's flagship restaurant, introduces unparalleled gourmet offerings from various internationally acclaimed master chefs!
For the re-opening of the New Spiral, the best buffet restaurant in Manila, Sofitel has appointed new executive chef Eric Costille to spearhead the operations. This is no minor distinction as Costille also serves as the regional executive chef of Sofitel Asia Pacific.
The award winning chef is a veteran of three-star Michelin restaurants such as Georges Blanc in Lyon and Moulin de Mougins in Cannes. He has also worked for Makati Shangri-La, the Ritz Carlton Osaka, Jakarta and Seoul, and the Raffles Hotel in Singapore, and recently opened 12 restaurants at the Marina Bay Sands in Singapore.
"We are thrilled to have Chef Eric on board to lead Spiral into a new era," says Aleks. "He is truly a master chef, and it is only fitting to have someone of his caliber to drive such a unique and special product as Spiral."
The excitement is mutual as Costille shares his enthusiasm in satisfying Sofitel's discerning clientele. "It is a pleasure for me and my team to bring the kitchen out to Spiral, giving our dining patrons the chance to participate in the preparation of their food," he says.
"All they have to do is choose their favorite ingredients and we cook it in front of them. My team has chosen only the best and freshest ingredients from suppliers utilizing natural farming techniques as well as key ingredients flown in from abroad.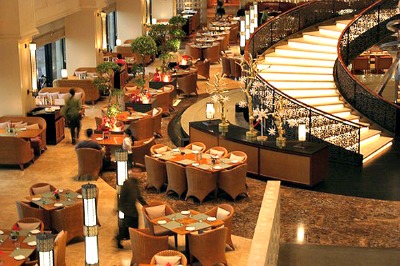 Spiral, Sofitel Manila
At the end of your meal, it would be an achievement for my team when you say you found your personal favorite corner at Spiral."
Guests can also enjoy the best of Sofitel's gourmet offerings whether at home or on the move with the featured Spiral-to-go counter. There, feast on Spiral's exquisite homemade pralines and fresh breads, which make for perfect presents or pasalubong for friends and loved ones.
To dine at Spiral is now, more than ever, an event that goes beyond perfection, beyond passion, into a transcendental feast for all the senses. There's a Spiral-shaped hole in Manila's heart that only the Sofitel can fill, and at last it again beats true.
Have a magnifique interactive dining experience at Sofitel Manila's Spiral!
To book a table online, please go to http://www.sofitelmanila.com/en/spiral.html.
To discover Sofitel Manila, please visit the official website at http://www.sofitelmanila.com.
Sofitel, World Class Hotels & French Elegance
Sofitel is the only French luxury hotel brand with a presence on five continents with 130 addresses, in more than 50 countries. Sofitel offers contemporary hotels and resorts adapted to today's more demanding and more versatile consumers who expect and appreciate beauty, quality and excellence.
Whether situated in the heart of a major city like Paris, London, New York or Beijing, or nestled away in a country landscape in Morocco, Egypt, Fiji Islands or Thailand, each Sofitel property offers a genuine experience of the French "art de vivre".
Sofitel Philippine Plaza Manila
Sofitel Philippine Plaza Manila Hotel is a unique 5 star luxury hotel in Manila with a resort setting close to Mall of Asia, Manila Ocean Park, Intramuros, US Embassy, PICC, and major tourist spots in the Philippines. Sofitel 5-star accommodation includes 609 rooms and suites boasting of balconies and spectacular views of world famous Manila Bay sunsets.