The Annual Baguio Flower Festival Fills the Air With Excitement

The annual opening on February 14th, of the Baguio Flower Festival Panagbenga always spurs high occupancy rates of hotels and other lodging houses in this mountain resort 250 kilometers north of Manila Philippines.
With the theme, "Our Festival…Yours Too!" the Annual Baguio Flower Festival has it's grand opening on February 1, the Market Encounter from Feb. 1 to March 8, the Fluvial Parade on Valentines day February 14, "Let a Thousand Flowers Bloom."
On Feb. 22, Abanao Nights from Feb. 26-28 and the most awaited Grand Street Parade along Session road on Feb. 28. The float parade is on March 1, at the same venue.
Since 1993, the month-long Baguio Flower Festival has become the greatest tourism stimulus here, attracting an average of a million local and foreign visitors coming especially for the street dancing and flower floats parade -- the main features of the festival.
On February 1, more than 3,000 students of 28 elementary and high schools in Northern Luzon take part in the field demonstrations and dancing contests. Their respective bands also participate.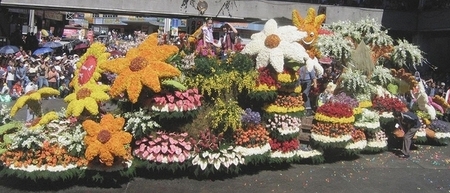 Right after the street and float parades, Session road is cleared for the "Session Road in Bloom," from March 2-March 8 where floral-themed accessories are sold and flower-inspired activities done within the area. Promenaders and café-goers are also encouraged in the area.
On March 7, Baguio Pony Boys and fun riders have their day at the Baguio Flower Festival of exhibition rides, games and activities on horseback. Known as "Gymkhana," the event is reminiscent of olden Baguio days when horse aficionados would come together and prove their mettle on horse games. Horses then were the primary mode of transportation to and from the agricultural and mining areas.
Getting to Baguio City
By Land - The three main access roads leading to Baguio from the lowlands are Kennon Road, Marcos Highway, and Naguilian Highway. Kennon Road road is the fastest route to Baguio but is the most dangerous with frequent landslides during the rainy season. Marcos Highway and Naguilian Highway are more roundabout routes but are much safer than Kennon Road and are the only routes permitted to buses and trucks. Major Bus lines from Manila go straight to Baguio City all hours of the day.
Buses that ply Manila-Baguio City route:
Dagupan Bus Lines: New York St., Cubao, Q.C. Tel # 929-6123, 727-2330
Partas Transport: Aurora Blvd, Cubao, Q.C. Tel # 724-9820, 725-7303
Victory Liner: Edsa, Pasay Tel # 833-5019 & Cubao, Q.C. Tel # 727-4688
By Air - Manila Domestic Airport to Loakan Airport in Baguio and vise-versa.
Asian Spirit has one flight only per day - in the mornings and only when there is absolutely no cloud cover.