Cebu Scuba Diving Pictures and Scuba Diving Facts

The scuba diving pictures here show you why the Philippines has been consistently ranked among the top 3 dive spots in the world.
Scuba diving in the Philippines, specifically around Cebu Island, offers some of the best scuba diving in the world and in the case of Mactan Island, just a short taxi ride away from the hustle and bustle of sunny Cebu City. This is definitely one of the best destinations for your family holidays to the beach.
Cebu Island with more than 400 kilometers of coastline and coral reefs developed over millions of years offers several marine sanctuaries with a lush underwater world that can be explored only a few meters from the island's shorelines. You will fall in love with the clear water, lush marine ecology, exotic tropical fish and abundant corals.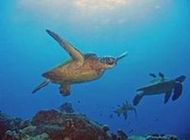 The most popular dive spots around Cebu:
• Mactan Island
• Moalboal and Southwest Cebu
• Sumilon and Southeast Cebu
• Malapascua and Northern Cebu
Mactan Island
Mactan is connected to Cebu City by 2 bridges and is the gateway to Central Philippines via the Cebu International Airport and is home to economic zones, sprawling five-star hotels and resorts, and exotic restaurants. Most of the resorts on Mactan have in-house dive shops and offer diving at their house reefs. Just a short boat ride off the west coast of Mactan are several islets that have established fish sanctuaries that are excellent for diving.
Hilotongan Island is well known for the hundreds of batfish known to thrive there.
Gilutongan Island is a favorite for its resident schools of barracuda and great for taking scuba diving pictures.
Nalusuan Island nearby is famous for the stingray gliding through the water.
Olango Island boasts thresher sharks, dolphins, and various species of sea turtles and starfish.
Talima, the biggest sanctuary in Olango, stretches to 14 hectares and is home to parrot fish, groupers, mandarin and aquarium fish. The advantage Mactan has over the other beautiful dive spots around Cebu is its convenience and proximity to Cebu City.
Moalboal and Southwest Cebu
Approximately 3 hours southwest of Cebu City is the birthplace of scuba diving in the Philippines. The sleepy little market town of Moalboal has drawn a large number of international divers since the early 1970's.
It is definitely worth the trip from Cebu City as you will be rewarded with a large number of protected reefs to explore. There are at least 14 dive sites in the area that have been established over the years.
One of the most popular dive spots is Pescador Island which draws large barracuda, sea turtles, sharks, and frogfish. Depending on the season you might also meet up with whale sharks and manta rays.
Panagsama Beach is the primary area for a number of small resorts, pension houses, and dive shops. The house reefs at Panagsama Beach offer fantastic night diving with eels, octopus, and sponge crabs making a great diving experience.
The magnificent and varied dive spots, superb opportunities for taking scuba diving pictures combined with reasonable prices and a laid-back atmosphere make Moalboal a must see for all scuba divers.
Sumilon and Southeast Cebu
Travel straight south on the highway out of Cebu City and you will hug the coastline and pass through several picturesque towns and small villages each unique in its own way. All of the towns have their own fish sanctuary with Sumilon Island having the oldest fish sanctuary in the country.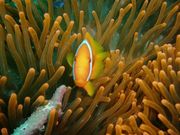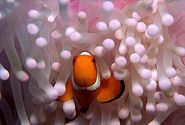 Sumilon lies just off the coast near the town of Boljoon and is largely undiscovered by most tourists which means you'll have the dive spot all to yourself. Boljoon is a quaint town about 2 1/2 hours south of Cebu City and offers the diver astonishing colorful coral gardens, eels, rare gobies and the chance to practice taking extraordinary scuba diving pictures.
Be sure to check out a few of the other towns in the area such as Santander with its aquarium-like Pasil Sanctuary and sharks and turtles, and Alcoy with its barrier reef at Tingko Beach.
Malapascua and Northern Cebu
Start your day with the skies tinged purple and the sun just starting to peek over the horizon.
On Malapascua Island divers gear up before sunrise to catch the thresher sharks at Monad Shoal. These unique sharks, with tails as long as their bodies, go to the shoal after breakfast to be serviced by the millions of cleaner wrasses that school there.
Divers usually go back after lunch to catch the manta rays at their own cleaning schedule. There is an underwater cave featuring sleeping black tip sharks at Gato Island.
There are a few vintage World War II wrecks nearby that make for good exploring and scuba diving pictures. Diving is also done in the neighboring town of Sogod, off Kapitansilyo in Bogo, and Tulang on the Camotes Islands.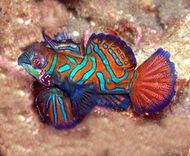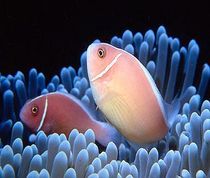 There is plenty waiting for you to see and scuba diving pictures to be taken under the sparkling seas surrounding sunny Cebu!
Latest Scuba Diving Headlines
• Cebu Hosts Some of the Best Diving Spots in Philippines, Exec Says
DOT will promote the country's diving industry and make the Philippines the number one destination for underwater activities...
• Top Scuba Diving Trips - Philippines Ranked Among World's Top Dive Destinations
The Philippines ranked among world's top 5 dive destinations and scuba diving trips...
• World's Best Scuba Diving Travel - 2 Philippine Dive Sites on the Top List
Two dive sites in MIMAROPA listed as among world's best scuba diving travel sites...
• Tubbataha : One of the World's Top Scuba Diving Places »
The Tubbataha Reef and surrounding waters have been declared a National Marine Park...
• Great Diving Locations Identified by SEA Knights Near Biliran, Philippines »
The SEA Knights is an organization of scuba divers from Cebu City...
• Ingenious Marine Conservation Project; Religious Icons Protect Double Barrier Reef »
Marine Conservation and the Danajon Double Barrier Reef...
• Dive in Romblon, Scuba Diving in an Exquisite Island in the Philippines »
Sting ray and other coral fish are abundant in the area...
• Philippines Coral Reefs - Apo Reef; A Scuba Divers Heaven »
You can't help but be amazed by the beauty of the place...
• Biri Island Samar; An Uncharted Scuba Diving & Eco-Paradise of the Philippines »
Biri Island, Samar - some of Asia's top dive sites...
• Philippines Video - The Phabulous Philippines in HD »
Slated for presentation at the Scuba Show in Long Beach California, the largest consumer scuba show in the U.S...
• Philippine Scuba Diving Ranked in Top 5 by Japanese Divers »
Philippine scuba diving was recently ranked and awarded by Japan's leading diving magazines as one of the world's top 5 diving areas...
• Whale Sharks, Gentle Giants of the Sea »
They are actually quite gentle and can be playful with divers. Divers and snorkelers can swim with this giant fish without any risk apart from unintentionally being struck by the shark's large tail fin...
• Biggest Ever Sea Turtle Weighing 200 kg. and a Century Old Found Near Tanauan, Leyte »
A huge green sea turtle weighing more than 200 kilograms and believed to be more than 100 years old, was literally assisted and helped back to its natural habitat....
• British Scuba Diving Magazine Focuses on Philippine Diving Sites »
Recently, the British Scuba Diving Magazine, Sport Diver, produced the Ultimate Dive Destination's special anthology, "100 Dives to Do before You Die" took deep interest in Malapascua and Apo Island...
• Philippines Diving Makes a Splash in UK Dive Show »
Philippines diving consists of more than 7,100 islands for the scuba diving enthusiast...
• Philippine Coral Reefs Underwater Paradise Preservation Promoted by Conservation Group »
Commenting on Philippine coral reefs in Sogod Leyte, James Adair said, "I haven't seen anything like it in the world," relating to the wealth of marine life that includes...
• Guv Lauds Scuba Dive Operator for Boost to Local Tourism »
Siquijor Philippines Provincial Governor recently lauded Sea Explorers, a dive operator on the island for landing it big...
• Ocean Ambassadors Visit Leyte »
The shores of Tanauan, Leyte are fast becoming known as a haven of ocean ambassadors, the sea turtles...