Roxas Boulevard, Manila to be Restored to Serve Pedestrians – DOT

In more or less three years time, Roxas Boulevard, according to a tourism official, will not just be known as a main carriageway, but also a service road—in other words, a "shopping street".
In the Roxas Boulevard Park Project, the Department of Tourism (DOT), Department of Public Works and Highways (DPWH) and acclaimed Filipino architect, Paulo Alcazaren team up to restore one of the major arteries in Manila's metropolitan network back to shape.
"The Roxas Boulevard Park Project is the only project today that seeks to transform what should be already a touristic road [and] restore it to its proper place in icons of tourism," Tourism Secretary Ramon Jimenez said, during a press conference at the Diamond Hotel on Friday.
"It is meant to restore Roxas Boulevard to the people in order to serve—the pedestrians," he added, explaining that cars were only incidental to get tourists somewhere else.
Jimenez explained that the vision was to use four phases of the redevelopment project to turn the boulevard into a common space, as well as to deepen business impact.
"Part of the problem DOT has noticed, is our revenue from hotels was reduced by the fact that we have no gathering places for tourists," Jimenez said.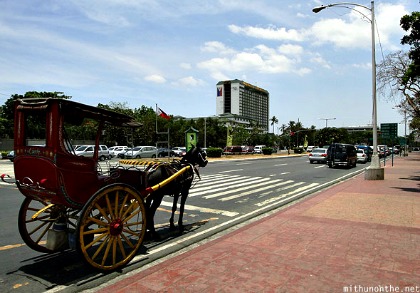 Roxas Boulevard, Manila via mithumonthe.net
He said that tourists in the country, after dropping their bags inside their hotel rooms, would "just sit down and wait at the lobby" being "afraid to step outside because what [they saw] outside wasn't welcoming".
"If the service road is redeveloped as a shopping street, [tourists can] arrive at a hotel, drop [their] bags, walk down the street to a flea market, department store, or art gallery because that's what the street is about," he said.
"It not only broadens the revenue income of the visit but also increases the value of property all round," he added.
He further stressed that although the project would provide an effective and well-planned impetus for growth, the real progress was no different from tourism in any part of the Philippines.
"There is no such thing as successful tourism that doesn't begin from the ground up," Jimenez said, explaining the importance of joined efforts between private and public partnerships.
"I can draw up a list of the most successful touristic areas in the Philippines and it is exactly the same list as those where the local government units and private stakeholders are most activists at the subject tourism," he added.
Meanwhile, architect Alcazaren, explained that the timeline for the Roxas Boulevard Park Project involved a four-phased project which is aimed at showing outcomes by 2016.
It involves the cleaning and clearing of debris from past improvements and beautification projects as well as hardscape streetscape improvement (street, pedestrian and landscape lighting etc) and softscape improvements (replacement of all planting soil, additional large shade trees, instant coconut and accent palms) along the boulevard.
At present, Jimenez said that although the final project cost has not yet been determined, the first phase of the project will be covered by the P250 million budget from the Department of Budget and Management (DBM) as well as one of its stakeholders, PAGCOR.
"[It is] expected to cost a bit more than what has been initially released by the DBM," Jimenez admitted, referring to the project's duration until 2016. "We are still working on the numbers." (Azer N. Parrocha/CTB/PNA)