Zamboanga del Norte Aims to be Tourism Capital
Development projects in the province of Zamboanga del Norte are underway aimed to make the province as a tourism center.
Zamboanga del Norte Gov. Rolando Yebes said three new hotels are under construction, two of which are located in Dipolog City, the province' capital and one in Dapitan City.
Yebes said once completed, the hotels could accommodate the number of tourists both domestic and foreign that would visit the province.
He disclosed that an integrated bus terminal, a golf course and a casino will be constructed next year to lure tourists into the province of Zamboanga del Norte.
Yebes is optimistic that Zamboanga del Norte could become the tourism capital, citing it is very accessible by plane and boat travel from key cities in the country.
He said Dipolog City will soon have four flights daily from Manila and other flights that connect other cities in the country.
At present, there are two major air carriers plying the Manila-Dipolog City route and vice-versa.
Also, Dipolog City is just three hours by boat from Dumaguete City and four hours from Cebu City and the ferries to the two cities in the Visayas region have a 24-hour trip.
Zamboanga del Norte, which has two cities and 25 towns that are clustered into three congressional districts, is bounded on the north and west by the Sulu Sea, one the east by Misamis Occidental, and on the south by Zamboanga del Sur.
The province occupies a total land area of 6,618 square kilometers. It has an average elevation of 243.8 meters, with Mt. Dabiak in Katipunan town as the highest peak at 2,600 meters.
Other parts near the coastlines are plains and the province's irregular coastline runs 400 kilometers from north to south.
Dubbed as the "Twin-City Province," Zamboanga del Norte has been made famous by the beauty and charm of the Orchid City of Dipolog and the historical, rustic quaintness of the Shrine City of Dapitan.
Dapitan City is where the country's National Hero Dr. Jose Rizal spent fruitfully his last four years in exitle from 1892 to 1896.
The original estate of Dr. Rizal in Dapitan has been declared a national shrine and is being administered by the National Historical Institute.
Zamboanga del Norte is equally famous for Dakak Beach, the province's foremost natural attraction.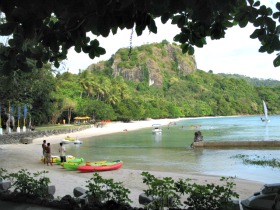 Dakak Park and Beach Resort
The very popular Dakak Beach is most known for its beautifully shaped cove and powdery white sand and as a diving mecca in Mindanao.
Pristine blue waters, excellent dive sites with an abundance of coral reefs, and a magnificent sunset horizon characterize this tropical eden.
Dakak Park and Beach Resort boasts 15 hectares of wooded land, a natural reservoir for native plants and animals, and a 750-meter private white-sand beach.
Dipolog City is also famous as the producers and supplier of bottled sardines and sweet mangoes.
Companies that run two of the largest and most well-known shopping malls in the country are now scouting for lots where to construct malls.
Yebes is optimistic that the province of Zamboanga del Norte could be a tourism capital with all the natural habitat and development underway.



<!- BEGIN RSS Buttons -->




[

?

] Subscribe To This Site

<!- END RSS Buttons -->