Tagum City, Davao del Norte, Promotes "Trayxi" Tour Around the City
In an hour, Tagum City's tourist spots in Davao del Norte Province can be explored on board a "trayxi" (short for tricycle).
And for only P100 per person, this mode of transportation will bring tourists to must see places of Tagum City.
Edwin B. Lasquite, city information officer said the journey starts towards Rotary Park -- the center for sports activities and physical fitness and the site of the beach volleydrome, the only in Mindanao.
Specially arranged by the city's tourism office, Lasquite said one can make a call to any of their tourism officers to get numbers of available tricycle drivers.
And with a text message, the specially selected tricycle will be right at your doorstep in a matter of minutes.
Lasquite said the P100 tour is guaranteed safe and secure as the tricycle drivers are trained by the Department of Tourism (DOT).
They can converse in simple English to cater to foreign visitors.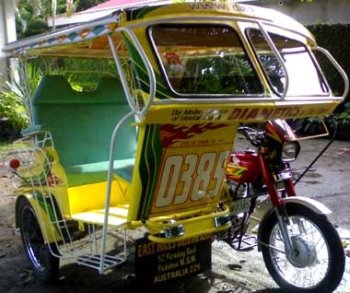 He said there are only 30 of them for now but they will train more as these drivers are their frontline service providers for visitors to Tagum City.
In the city's motor pool you can see how the city government assembles their own material for infrastructure and makes their own raw materials.
He said the one-hour tour would end with a meditation at the Regina Rosary where a huge statue of Mother Mary is built.
The tour will also pass the public market, where one can find the best fresh fruits in season like mango, watermelon, pomelo, pineapple and the king of all fruits, the Durian.
Towards Barangay La Filipina is the best public cemetery. "It's actually a park and you would think it's a graveyard at first glance," he said.
Several kilometers away, the New City Hall described as iconic and the only one of its kind in the Philippines.
Proceeding to Barangay Apokon is the 28-hectare Energy Park which houses national government and region center agencies, camp site, park and football field.
A trip to the Banana Chips Processing Plant is part of the tour where one can munch the export-quality snacks after which they can proceed to the New Christ the King Cathedral, the biggest basilica in Mindanao adorned with life size religious structures and sculptures.
It also earned the title holder of Guinness World Record for the biggest rosary in the world. (PNA/DCT/LOR/DDB/ldp)