Leyte Gulf Philippines Site of Landings Commemoration

Leyte Gulf Philippines annually witnesses the attendance of dignitaries coming from the U.S., Allied Forces, and Japan to attend the Anniversary of the Leyte Gulf Landings every October 20.
The Leyte Gulf Philippines Landing Anniversary commemorates the successful liberation by American and Allied forces of the Philippines from Japanese occupation during WWII.
The celebrations mark the arrival of American General Douglas MacArthur and his men who landed on the shores of Palo, Leyte, as comemmorated by the statues shown in the picture. MacArthur had been forced to retreat from the islands two years earlier by advancing Japanese forces at which point he valiantly vowed: "I shall return".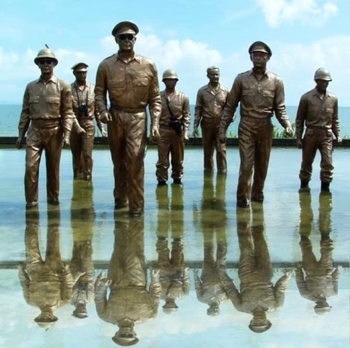 The landing preceded the Battle of Leyte Gulf Philippines on Oct. 22-27, 1944 that involved more than 739 ships in what is considered history's largest sea battle.
In 1944, the Leyte Gulf Landings made history and left a lesson which is relevant even today: "sacrifices today will bear lasting rewards for the country and people tomorrow."
In 1944 Filipinos and Americans had to make a decision whether to remain complacent under foreign invasion or together protect the patrimony of the nation. Today, Filipinos are being called to be one in their fight against the current problems the country is facing.
Because of the sacrifices of the Filipinos and Americans during World War II, the Philippines now enjoys freedom from foreign invasion. Some were even called to sacrifice their own lives which they willingly did just so the future generation will enjoy lasting peace.