El Nido Palawan and Pangulasian Island, PHL's Newest Eco-Luxury Getaway

Pangulasian Island, El Nido Palawan's newest premier eco-luxury destination, has started its commercial operations to cater to the growing foreign and domestic tourists.
The resort mixes contemporary Filipino and cutting edge "green" design with luxurious amenities as well as impeccable and personalized service, making it the ultimate eco-luxury destination in the country today.
Pangulasian Island is built with contemporary Filipino design, fronting a pristine beach surrounded by crystal-clear waters, with a house reef teeming with marine life, and a backdrop of lush tropical forest.
It has 42 deluxe villas, which share a pristine beach almost a kilometer long. It has a swimming pool, gym, spa, resort center with restaurant, library, boutique and a conference room, among other facilities and activities.
Eight Canopy Villas, closest to the forest, will give each guest a perfect view of Bacuit Bay.The 24 Beach Villas boast of a private beach front view and easy access to its pristine waters. The six Pool Villas each have their own pool and four Kalaw Villas, at a secluded cove of the island, a cluster which has a private pool and a Kalaw sala, ideal for private dinners and intimate gatherings.
"Pangulasian is the island which will give you a perfect view of the sunrise and sunset, whether you are at the resort, or kayaking by the bay. This is truly another premium brand of El Nido Resorts, which will join Miniloc and Lagen Island Resorts in El Nido, and Apulit Island Resort in Taytay," said Joey Bernardino, Director of Sales and Marketing.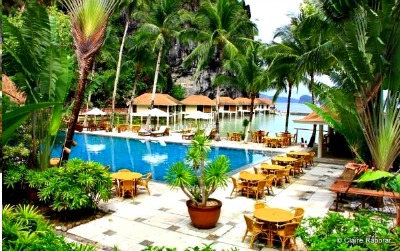 Pangulasian Island Resort - El Nido, Palawan
Last Oct 15, Pangulasian welcomed its first guests, a Taiwanese couple who were given a grand El Nido Resorts reception.
The Taiwanese honeymooners stayed in Pangulasian for two nights. The rest of their 8- day stay was split on Lagen Island and Miniloc Island in El Nido-- two of the four island resort properties of El Nido Resorts.
El Nido Resorts now maintains and operates four island resorts in El Nido and Taytay, Palawan, with sustainability and eco-tourism as its thrust. They put a premium on integrating the protection and preservation of the environment, the beauty of Palawan, modern facilities, technology, and luxury.
Set within a marine protected area, towering limestone cliffs, beautiful islands, and the majestic Bacuit Bay, El Nido in Palawan is said to be the last frontier-- a heaven here on earth for those who have seen its beauty.
It boasts 400 species of corals, more than 800 species of tropical marine fish, five species of endangered sea turtles-- perhaps the reasons why the Philippines is known for marine biodiversity around the world.
The resort's commitment to sustainable practices is visible in all aspects of Pangulasian, from its conception, design, construction, and operations.
Also it provides grandeur, modern comforts and exceptional amenities, excellent food and services--truly, a fun place for relaxation and a meaningful holiday.
For almost 30 years now, El Nido Resorts and its dedicated environmental team has been in the forefront of investing in educating both locals and resort guests.
This is needed for sustainability and appreciation of the environment. That is why El Nido and Palawan still have one of the richest diversity of flora and fauna. (Genivi Factao/PNA/hbc/jcf)