New Tourism Trail Explores Other Side of Ilocos Norte

There is more to Ilocos Norte than beaches and famous landmarks
The provincial government has unveiled a new range of cultural heritage and eco-tourism through its new tour itinerary 'Anaraar'.
'Anaraar' (meaning first glow in sky before the sun rises in the east) offers an exclusive tour in the eastern part of the province which includes the historical towns of Sarrat, Piddig, Dingras, Banna and Nueva Era.
The trail features the heritage and architecture sculpted by the rich culture and history of the province and the eco-cultural and lifestyle of the Ilocanos.
Ianree Raquel, provincial tourism officer said, the tour is a new approach in introducing another tourism product in the province.
"This tour will be different. You will not be seeing beaches which Ilocos Norte is known for. But we will be seeing lots of heritage which was preserved and delicately restored for everyone to see our rich history," Raquel said.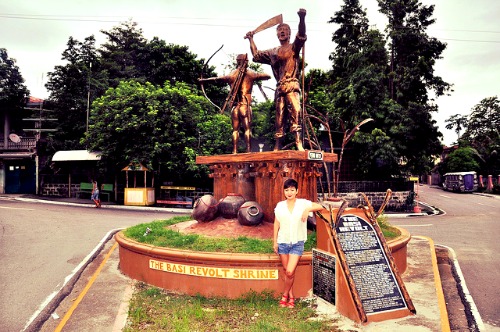 Basi Revolt Shrine in Piddig via blauearth.com/tag/pedro-mateo
The tour consists of the Sarrat Heritage Walk including the Marcos Birthplace, Sarrat Guesthouse, Sarrat Presidencia, Convent Ruins, Sarrat Central Elementary School, and famous Santa Monica Church.
Second stop is the origin of 'Basi Revolt' and home of another historical church, the St. Anne Chruch and the 15th Infantry Memorial honoring the heroes of World War II built at the town's plaza.
Dingras the "Rice Granary of Ilocos Norte" is the third stop which features bricked ruins of the St. Joseph Church and museum and the Girl Scouts of the Philippines founder monument, Josefa Llanes Escoda.
A taste of gastronomic goodness in Banna will be a different experience with their authentic products from their homegrown root crops and their aromatic rice coffee and tea.
The town of Nueva Era, the last destination is known for its distinct Tingguian culture and practices.
Another world-class tourist destination here was launched on December 28 dubbed the "Tribal Village"
This consists of huts and tree houses, to tribal costumes and dance, with canopy walk and greatest eco adventure and genuine tribal experiences
"Nueva Era which has a very cool climate and unspoiled landscape fits as culminating area of the tour for relaxation and accommodation," Raquel said.
Anaraar tour is made available for tourists by schedule with the Provincial Tourism Office. (MCA/Cherry Joy S. Discaya/PIA-1, Ilocos Norte)