'Pilgrim City' Escapades are Diversely Religious, Historic and Exciting in Naga City

Next to Manila and Cebu, Naga City is the third oldest Spanish-colonial city, known for its deeply religious, historic structures and monuments.
It is also known for its culturally diverse attractions that can be worthily dubbed as tourism hot spots.
Smack in the center of Camarines Sur — the center of the Bicol Region — Naga or the Pilgrim City is also bounded to the north by Camarines Norte, to the south by Albay, to the east by Catanduanes and southwest by Masbate.
Metro Naga is composed of 16 local government units (LGUs), 15 of them municipalities with Naga at the center. These all offer unique select destinations and attractions that complement each other.
During a recent press conference on Naga Excursions or simply Naga X, which is Metro Naga's new brand of tourism, Naga City tourism officer Alec Santos presented some of them which were part of four different packages the brand offered.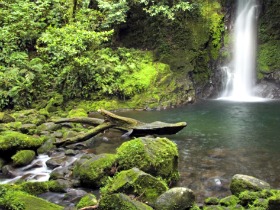 Mount Isarog National Park, Naga City
"We are in a very strategic position," Santos said. "From Metro Naga, you can go anywhere in the Bicol region. If you're going to explore the Bicol Region, start in Metro Naga."
Santos explained that Naga X was the brainchild of the Metro Naga Development Council (MNDC), the alliance of the 15 municipalities where Naga is the flagship city.
"When we talk of Filipino travellers in excursions, it is going to a place with friends and family and coming back home, (and later) going to other attractions," he said.
Since Naga has a strategic position, it is only sensible enough to make Naga the place to settle down after a long day's worth of travelling across the Bicol region, he added.
Exciting excursions
For any type of traveller, Metro Naga provides various select destinations for one who would prefer to see sights on the spiritual, historical, cultural or ecological side.
One of the first places that should be visited for the traveller edged on the spiritual border would be any of the Spanish colonial architectural churches, one of which is the Penafrañcia Shrine which houses a fresco that depicts the Blessed Mary's life.
The Holy Rosary Major Seminary, on the other hand is a function seminary that houses two museums—the Archeological Museum that houses burial jars, artefacts and the Ecclesiastical Museum that contains religious vessels, ornate church altars and the memorabilia of the first Filipino bishop, Jorge Barlin.
In the Plaza de Nueva Caceres, a tapestry that depicts the pre-hispanic arrival and colonization of Naga and the 1898 independence of Naga from Spanish rule can be found and among many other spiritual structures and monuments.
On the eco-tourism side, a traveller must visit the Mount Isarog National Park, one of the oldest and largest national parks in the country and home to endemic species of mammals and reptiles. This park is also favorite among mountain climbers.
A tropical lush rain forest can also be found 15 minutes away from Naga, home of the cold waters of Malabsay Falls which is located within the protected area of Mt. Isarog.
Only 10 minutes away from that spot is the Panicuason Hot Springs Resort which geothermal hot springs and pools measure a temperature ranging from 29 to 39 degrees Celsius.
It also has a river running through it wherein additional facilities like a zipline, 300 feet above the river can be enjoyed as well as other activities like wall-climbing and rappelling.
These are only some among the many activities that can be enjoyed in Naga City.
Bicolano Cuisine
Of course, any travel would not be complete without experiencing the locality's famous cuisine.
The dishes and snacks are one of a kind and as Filipino as it can get.
There is the Bicol Express, which according to Santos "embodies the Bicolono's dry passion, fierceness and spiciness". It is, to simply put it, pork cooked in coconut milk with shrimp paste and chillies.
Also among the Filipino favorites includes Laing (gulay na natong), which is made of taro leaves, shrimp paste and coconut cream and milk and jalapeno pepper.
Santos explained that the process of cooking Laing was both an art and a science because while preparing it, the leaves should be dried at the right time and temperature.
Aside from that, the coconut milk placed in the Laing should simmer and not be mixed too early or too late, otherwise it will be a bit itchy to the throat, he said.
Pinangat is a dish composed of taro leaves in coconut sauce. It was undeniable that if a dish had coconut sauce, it was characteristically Bicolano.
Some unique Naga delicacies include Kinalas which was a noodle dish made of either pork or beef broiled for several hours. Customers could even customize their own sauce using vinegar or fish paste.
The perfect partner for Pinangat was Naga's toasted siapao. Santos said that it is a Bicolano baker's ingenuity: A toasted bun with ground pork and egg with minced onion and garlic as its filling.
Of the almost 3.7 million tourists last year, 67.61 percent went to Naga and/or Camarines Sur.
The mayor said that the local government looks forward to an upsurge in the number of tourists by 20 percent by 2016. (PNA/hbc/Azer Parrocha)