Ecotourism Vacations in the Philippines: Mantianak Botanical Garden and Zoological Park

Who would have thought that there is a place in Misamis Oriental where you can enjoy ecotourism vacations, sightseeing of the natural wonders as well as witness different kinds of animal species?
Anyone would be happy to learn that there is such a place in Sugbongcogon, not far from Cagayan De Oro City. It is called Mantianak Botanical Garden and Zoological Park.
Although the name sounds like a dark Filipino folklore, the place is completely the opposite. Tourists will be astonished by the collection of more than 500 types of birds varying from local to foreign from parrots, pigeons, love-birds, seagulls, peacocks and many others. Varieties of other animals are present as well, such as crocodiles, monkeys, snakes, reptiles and the newest edition, the four Bengal tigers.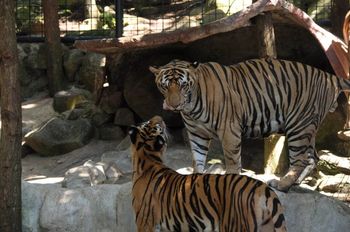 This park was officially opened to the public in 2007 offering an educational experience to local residents, students and institutions.
The park eventually became popular even with neighboring municipalities, tourists and nature lovers.
Children and even adults are enthralled by the countless collection of bird species and other animals in the area. It is perfect for school field trips and even family or group adventures.
In the beginning, the local government LGU of Sugbongcogon and the Department of Environment and Natural Resources (DENR) partnered in the project Adopt a Tree.
This was massively participated by the Sugbongcogon National High School and its Central School where every student was mandated to plant a tree as requirement before graduation.
These students tend their planted trees until they get out of school. Thus, such program paved the way of creating the Mantianak Park.
In 1998, then Mayor Benedict Lagbas partnered with Municipal Development Fund Office (MDFO-LOGOFIND) in a project to implement the sanitation facilities and perimeter lighting and fencing of the park.
Governor Oscar Moreno also assisted by funding the equity of the project. Consequently, the Philippine Tourism Authority granted funds to put up structures and cages for the birds and animals. Now, Mayor Jerome Lagbas continues to maintain this park.
As an Eco-Tourism site, the place is pure nature-friendly. Enclosed by huge wood panels and surrounded by big trees, heat from the sun is hardly ever felt.
Organized for public viewing, animals in the park are lined up and visitors are led to specific walkways to witness and scrutinize each creature. They are also labeled with names, typically their scientific name and corresponding common name.
And of course, anyone can take out their cameras to take photos or videos of the magnificent location and unique animals.
According to the park manager Samson J. Sabuero, the park has already gained Php1.2M as income from January to October this year, a sign that tourists indeed flock in the place.
Now, even international tourists are curious and are spending time with family in the park too.
Aside from the leisure it provides, tourists don't have to worry about where to stay. The park has amenities and can accommodate anyone who wishes to stay longer.
They have travelers' inn, a zipline and a botanical garden for everyone to take advantage of. Snacks are also available for purchase anytime while in the vicinity. Parking spaces are also available if you intend to bring your personal vehicle.
It is open all week long from 8am to 5pm. At present, the entrance fee is Php100 for adults and Php50 for kids.
If you love nature and want to relax and see different kinds of animals, then this is the perfect place for you.
Located just along the national highway in Barangay Poblacion, it is accessible by any vehicle. A visible sign of the park can be seen just on the side of the road.
If you come from Cagayan de Oro, you just allot one and a half hour to get here. You can also make this as a side trip if you wish to go to Camiguin or Duka Bay in Medina. The park is worth the trip.
Sugbongcogon is a 5th class municipality of Misamis Oriental, Region 10. As of May 2010, it has a total of 8,164 inhabitants as reported by the National Statistical Coordination Board (NSCB). (Jasper Marie Oblina-Rucat/Elaine O. Ratunil/PIA10)