Britania Island : A Paradise for Tropical Islands Vacations

Mesmerizing, enchanting and absorbing are some of the adjectives that describe the Britania Islands in the Philippines.
The unsullied beauty and exquisite uniqueness of the islands have amazed adventurous spirits and the contemplative souls visiting the islands.
Located in Barangay Britania in the municipality of San Agustin, province of Surigao del Sur; Britania Islands is actually a conglomeration of 24 islands and islets, magnificently distributed along the stretch of Lianga Bay, facing the great Pacific Ocean.
These 24 islands and islets are distinctly different from each other; varying in shapes, sizes and features. However, all their shorelines are endowed with very fine white powdery sands that are in par with the famous beaches in the country like Dakak, Boracay and El Nido, sans the structural developments.
Among the 24 islands and islets comprising Britania Islands, only five are considered to be the main tourist attractions. These are Boslon Island, Hiyor-hiyoran Island, Panlangagan Islands, Hagonoy Island and the Naked Island.
Boslon Island is the most visited island among the group. It is surrounded by different and unique rock formations on one side; while on the other are the powdery white sands stretching along it picturesque shoreline. Its idyllic and unique landscape is an ideal place for sunbathing, swimming and overnight camping.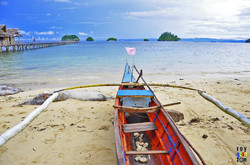 Britania Island - via apples-and-lemons.blogspot.com
About a hundred meters away from Boslon, the three islands of Panlangagan (the Panlangagan Cave Island and the two Panlangagan Forest Islands) will come into view. Panlangagan Cave Island is groomed to be the ideal venue for caving and adventurous explorations as it used to be an old burial ground of Japanese soldiers during World War II. The unique thing about these three islands is that they can be traversed by foot from Boslon Island, during low tide. These islands are the most sought after venue for adventure and nature-loving tourists.
On the opposite side of Boslon Island, the Hiyor-hiyoran Island can be found. This captivating island is the second most visited island after Boslon. Its scenic landscape and pristine surroundings makes it an ideal place to unwind and relax. It is also a perfect place for swimming, snorkeling and beachcombing. Its shoreline is a home to a variety of seashells, particularly, the little bear conch, locally known as "sikad-sikad."
Further away, for about a five minute boat ride, the Naked Island can be found. It is a long stretch of pure powdery white sands lying idle and naked in the middle of the bluish green sea waters. It has neither vegetation nor any foliage, just raw and pure powdery white sands. During summer season, Naked Island is the abode of a number of migratory birds, taking refuge on its long stretch of sands after a tedious flight. On rare occasions, birds can be seen hovering, feeding, frolicking and jesting to and fro on its bare powdery white sands.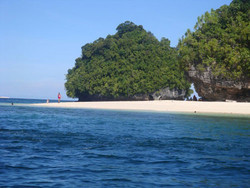 Britania Island - via caraganon.com
Lastly, not far from the Naked Island, is the Hagonoy Island. Coined as the lover's island, it's long stretch of powdery white sands, bluish clear waters, picturesque landscape and lush vegetation that exudes a romantic ambiance. It is a perfect romantic getaway for couples, a romantic venue for their honeymoon and pre-nuptial pictorials. It is also an ideal venue for overnight camping, star-gazing, swimming and snorkeling.
And now, with the steady influx of local and foreign tourists in Britania, the Local Government Unit of San Agustin has constructed a footbridge and a landing dock for pumpboat and ferries to the island.
The LGU also has established a Reception Hall to help attend and facilitate the needs of the guests; like ferry to the islands, answering queries, disseminating information and providing venue to rent some gears/equipments (chairs, snorkel, life jackets, etc.) for a comfortable and enjoyable stay in the islands. There is also a Pasalubong Center for those who want to buy some souvenir items.
Generally, there are no structures being built on the islands. All the structural developments, like resorts and restaurants are concentrated in the mainland Britannia. At present, there are about four establishments operating in the area, the La Entrada Resorts and Restaurant, the Mac Arthur's Place, La Isla Gloria de Britania and Joan's Resort. All of them offer food services, cottage rentals and overnight accommodations.
For those who are interested in visiting the island, it is a three hour ride from Butuan City and six hour ride from Davao City through private vehicles or by public utility vehicles plying the area. It can be reached also through public utility buses (Bachelor Express) plying the Butuan-Tandag Route, if point of origin is in Butuan City or the Davao-Tandag Route, if from Davao City.(LGU San Agustin, Surigao del Sur/(Franklin Navaja)